Is your Magento store falling short of your business needs? Or maybe you require a newer eCommerce solution to keep up with dynamic market demands? Whether it's necessity or innovation driving your switch from Magento to Shopify, this guide has you covered.
Migration from Magento to Shopify, though beneficial, has challenges like payment gateways setup and smooth data transfer. You likely want it to go swiftly and risk-free, maintaining your current processes and customer experience. We'll help do just that by navigating you through every step and obstacle along the migration journey.
GenovaWebArt is an expert in replatforming from Magento to Shopify. Knowing the intricacies of both eCommerce platforms, we'll assist you in bridging the gap between them. Having handled a series of successful migrations for such clients as Kit & Kin, Progressive Automations, Workout Meals, and more, we'll show you how to switch platforms without disrupting your processes.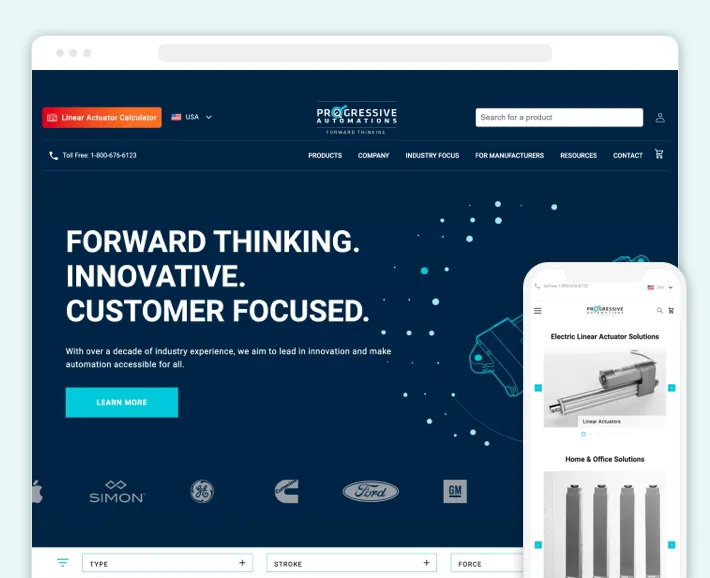 Why Migrate from Magento to Shopify?
If you're reading this, you're already considering the move to Shopify. We've got a few more compelling reasons and benefits of replatforming from Magento to Shopify to support your migration decision.
Security and Compliance
Commitment to security and compliance is Shopify's best point, as this eCommerce platform takes payment processing and data protection seriously. Switching to Shopify from Magento allows you to keep your online store safe without hiring security specialists.
Lower Maintenance Costs
Say goodbye to the headaches of running a costly, complex infrastructure with Shopify eCommerce. While this platform covers server management, updates, and technical issues, you can allocate resources for growing your business.
SaaS Platform
Shopify is a software-as-a-service platform. Unlike Magento, it frees you from handling servers, updates, and ecommerce maintenance processes. Shopify does this behind the scenes, offering you a performant and up-to-date online store.
Faster Load Times
Shopify prides itself on its mastery of server management, which translates to lightning-fast load times. You no longer need a specialist to fine-tune server performance by moving to this platform.
Scalability
Shopify effortlessly scales as your business grows. This platform handles increased traffic and accommodates your expanding product catalog, allowing you to fulfill your eCommerce ambitions.
User-Friendly Interface
Shopify's interface is designed with simplicity in mind. It allows you to manage your online store with simple drag-and-drop features — no technical knowledge is involved.
What Can Be Migrated from Magento to Shopify?
The Magento to Shopify migration isn't just about changing platforms — it's about preserving your store's identity and continuity. Thankfully, you can transfer plenty of valuable data for your business. Here are several examples:
Product Information
Everything that defines your products — names, SKUs, descriptions, images, prices, and even the most intricate details — can be transferred. You can seamlessly migrate products from Magento to Shopify, leaving your offerings untouched.
Categories and Collections
Your eCommerce website's structure matters. You can migrate category and collection names, descriptions, statuses, and images to the Shopify store.
Order Data
Your migration process must include transferring order histories. You can move order dates, statuses, detailed product information, shipping addresses, and customer information to Shopify, retaining valuable interactions with each buyer.
Customer Data Migration
Customers are at the core of your business. Migrating their information — first names, last names, emails, newsletter preferences, and more — ensures you maintain your connections and can continue serving them seamlessly.
Customer Reviews
You may want to include customer feedback in the Shopify data migration process. Transfer reviews, ratings, and usernames to instill trust in your online store.
SEO Metadata
Your search engine optimization efforts shouldn't go down the drain. Migrate necessary SEO metadata like titles and descriptions to maintain your website's ranking.
What Can't Be Migrated Directly from Magento to Shopify?
While Magento to Shopify data migration is remarkably all-encompassing, certain elements don't make the journey as seamless. Here's what you cannot transfer directly:
Customer Passwords
For security reasons, you cannot transfer customer passwords. It means your customers will have to re-set their passwords when migrating from Magento to Shopify.
Transactional Emails
Transactional emails, like order confirmations and shipping notifications, are platform-specific. Thus, you'll need to recreate these templates in Shopify.
Extensions and Plugins
Magento's extensions and plugins won't translate directly to Shopify. The good news is that you can leverage Shopify's rich app ecosystem for equivalent features.
Design and Themes
Each platform has its design language. While you can replicate your Magento store's essence, it's a chance to embrace Shopify's design options for a fresh look.
Third-Party Integrations
Third-party integrations unique to Magento may not have a direct analog in Shopify. Thus, you may need to explore alternative solutions.
Language and Localization
Language preferences and localization settings won't automatically transfer. You'll need to configure them in Shopify to match your target audience.

Yet, even when facing the aspects you cannot fully move from Magento to Shopify, our company steps in with a solution-oriented approach. While things like customer passwords, transactional emails, or themes can't be directly transferred, we can find alternatives to ensure a seamless transition.
Important Steps to Move from Magento to Shopify
Having learned what data can and cannot be transferred, you're ready to discover how to migrate Magento to Shopify. This process takes the following steps:
1. Pre-Migration Preparation
Before moving from Magento to Shopify, it's always best to back up your existing store. Here's how you can do this:
Go to your Magento admin
Select System, then Tools, and Backups
Choose the necessary backup type among the three available (System Backup, Database and Media Backup, or Database Backup)
Create the name for your backup
Voila! Now, your online store data is safe.
2. Shopify Store Setup
After you preserve all critical information on your Magento store, create a Shopify account. This process takes just two steps:
Go to the Shopify website and click on the Start free trial button
Register with your email, password, and other relevant information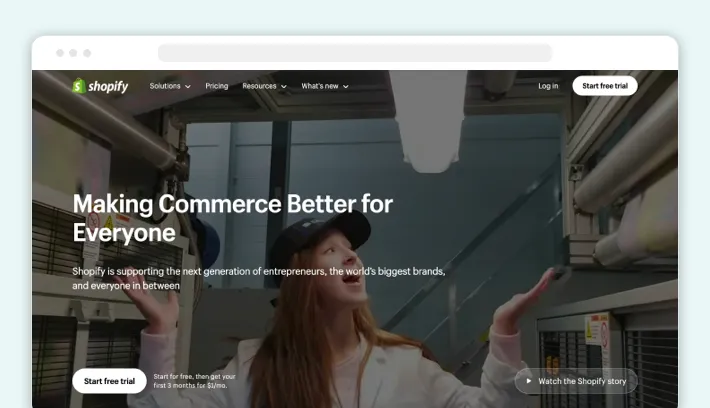 Since Shopify's free trial version allows you to access this eCommerce platform's capabilities for only three days, you should also select a suitable pricing plan. There are several options:
Shopify Basic — $32 monthly for individuals and small businesses
Shopify — $92 monthly for small businesses
Shopify Advanced — $399 monthly for medium and large businesses
Shopify Plus — starting at $2,000 monthly for enterprises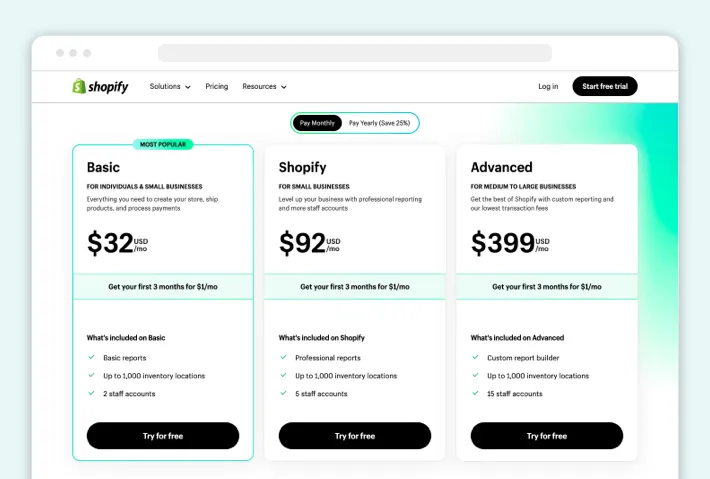 3. Data Migration
During this pivotal step, export your store's data from Magento and import it into Shopify. You have two options: using migration tools like Cart2Cart or performing a manual migration.
For manual migration, begin by exporting data from your Magento store. Here's what you can do:
Go to your Magento admin
Select System, then Data Transfer, and Export
Choose the Entity Type (Products, Customers Main File, or Customer Addresses)
Select the CSV Export File Format
Once you've gathered this data from Magento, import it into your freshly set up Shopify store. Here's the tutorial for manual product migration, but the same applies to other store data:
Go to your Shopify admin
Select the Products section
In the right corner, click on the Import button
Click Add file and attach the Products CSV file you exported from Magento
Click Upload and then Continue
Do the same with other CSV files you have.
4. Design and Theme Migration
Visual continuity is essential when transfer from Magento to Shopify. In this step, select a Shopify theme that aligns with your brand identity and business goals. Customize it as necessary. The theme shouldn't replicate your Magento store's look one to one, but you can tailor it to reflect your company's essence.

By the way, Shopify's theme selection is significant. You can choose among 12 free and 143 paid design templates — all highly customizable and mobile-responsive.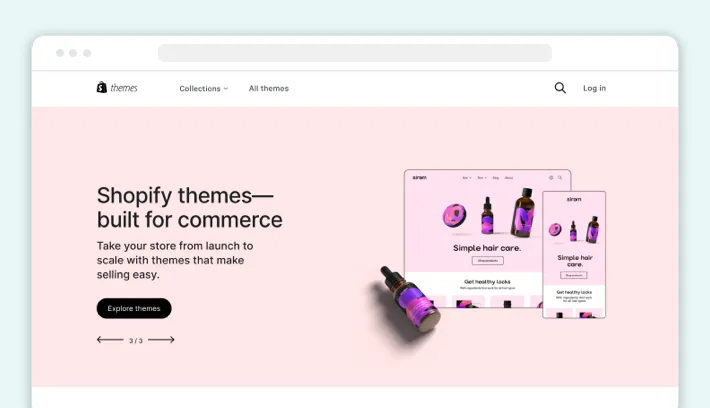 5. Apps and Integrations Setup
Shopify App Store offers over 8,000 apps and extensions to enhance your store's functionality. Select those that mirror the features you relied on in Magento and install them. Your options may include analytics tools, email marketing software, and payment gateways.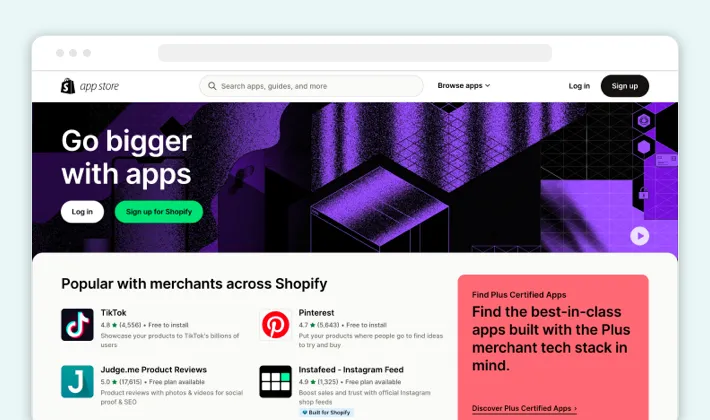 6. SEO and URL Handling
Ensure consistent ranking and visibility in search engine results by covering SEO and URLs. Shopify uses its own URL structure, so set up 301 redirects to guide your existing Magento URLs to their new Shopify equivalents.
7. Testing and Quality Assurance
Thoroughly test every aspect of your new Shopify store before launch. Ensure you check product listings, navigation, payment gateways, forms, templates, and any custom functionality. This step will prevent you from unpleasant surprises post-launch.
8. Data Verification
Before showing your store to the public, double-check your migrated data from Magento to Shopify. As we said at the beginning of this post, you should transfer products, categories, collections, orders, customer info, customer reviews, and SEO metadata. Make sure everything is in its place.
9. Launch and Post-Migration
With thorough testing and verification complete, it's time to launch your new Shopify store. Announce the change to your customers and followers, and closely monitor the store's performance post-launch. Be ready to address any unexpected issues promptly.
5 Tips for a Smooth Migration from Magento to Shopify
As you can see from the numerous steps above, Magento to Shopify migration is a challenging process. Yet, you can streamline it by leveraging the following tips:
Choose the right timing. It would be best to migrate during low traffic or sales to minimize disruptions. For example, Black Friday is definitely not the right time for replatforming.
Test on a development environment. Before making your new Shopify store live, thoroughly test your migration on a development environment. This way, you'll identify and fix bugs before they impact the customer experience.
Inform your customers. Before you move from Magento to Shopify, communicate with your customers about the upcoming change. Tell them about potential downtime and any steps they might need to take, for example, resetting passwords.
Offer customer support. During and after the migration, anticipate customer queries and be ready to provide clear instructions and help.
Update SEO efforts. Check your existing SEO metadata before simply transferring it to the new store. You may need to make it more effective to reach better online visibility.
Typical Challenges and Solutions of Migrating
Moving from Magento to Shopify can present certain challenges, but each obstacle has a solution that ensures a successful transition:
Data Loss or Inaccuracies
Replatforming can lead to data transfer issues if done incorrectly. That's why it's always better to partner with reliable Shopify developers like GenovaWebArt, where data migration is a hassle- and risk-free experience.
SEO Ranking Drop
Your store may experience a drop in SEO rankings due to URL changes and structural shifts. Tackle this by creating 301 redirects from your old URLs to their new counterparts and reconsidering your SEO efforts.
Customer Passwords
Migrating customer passwords is challenging due to privacy concerns. Notify your customers about password reset beforehand and tell them how to do this in your new Shopify store.
URL Redirection Issues
Mistakes in URL redirection can lead to broken links and poor user experiences. Thoroughly audit and test the redirects to ensure seamless navigation.
Payment Gateway Reconfiguration
Magento payment gateways differ from those in Shopify. Plan to reconfigure them during migration.
How Much Does It Cost to Migrate from Magento to Shopify?
The price of replatforming depends on numerous factors. Here's our Magento to Shopify migration checklist regarding costs:
Functionality and customizations required — some custom features may be costly to develop, while, at the same time, you can leverage free apps for your store
Migration data volume — the more extensive your product catalogs and customer base are, the more time and cost it takes to migrate them properly
Design and theme selection — you can choose between free and paid store templates, influencing the final migration price
Third-party integrations — reconfiguring payment gateways, OpenCart stores, CRM systems, and other tools can impact the final cost
Shopify pricing plan — the larger your business, the more advanced Shopify subscription you'll require
As you can see, many aspects impact the migration price. Though we don't have a one-size-fits-all answer regarding the costs, here are our approximate estimations:
For smaller, less complex stores with basic data migration needs, the cost can start at around $300 to $500
For larger and more sophisticated stores with extensive data, custom features, and specialized functionalities, the cost can range from $1,000 to $10,000 or more
GenovaWebArt Experience in Migration from Magento to Shopify
Since 2012, GenovaWebArt has been delivering comprehensive Shopify design, development, and replatforming services. We can migrate your store to this cutting-edge platform in two ways:
eCommerce Migration to Shopify
Our team ensures products, categories, customers, orders, reviews, and cart migration from popular eCommerce platforms to Shopify. We have hands-on expertise in Magento, WooCommerce, and WordPress replatforming.
Custom eCommerce Migration to Shopify
Our experience extends beyond well-known platforms. We can migrate your shopping cart, products, customers, and everything from outdated eCommerce solutions to Shopify.

Our successful ecommerce migration cases encompass Kit & Kin, where we ensured a seamless transition with minimum disruption to buyers; Workout Meals, where we elevated the store's functionality with Shopify; and numerous others.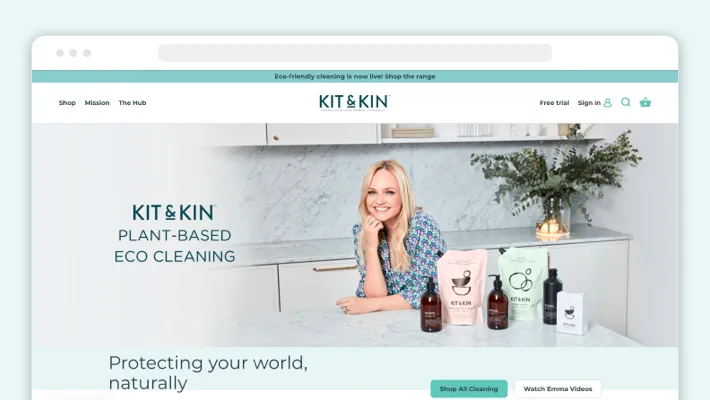 Want to learn more about our Magento to Shopify migration expertise? Check out our extensive portfolio.
Conclusion
Having explored our step-by-step Magento to Shopify migration guide, you know all the intricacies of this process. In addition to Magento, we also specialize in Wix to Shopify migration, ensuring a comprehensive solution for various platforms.
While it poses some challenges, the applications of our tips will help you re-platform as smoothly as possible.

Or you can opt for an alternative way — delegate this task to professionals. At GenovaWebArt, we guarantee that not a single piece of data is lost during transfer and ensure a high-performing, functional Shopify store. Let's simplify your replatforming journey together. Contact our team for a detailed consultation.
Frequently Asked Questions
Will my SEO rankings be affected by Magento to Shopify migration?
Yes, the migration has a temporary SEO impact. But with proper 301 redirects and SEO strategies in place, you can minimize the negative effects.
How long does the migration process from Magento to Shopify take?
It depends on your business requirements, the store's complexity, and the transferred data volume. Usually, the process takes from a few days to several weeks.
How do I handle design and themes during migration?
You cannot preserve your Magento theme during migration. But you can select one from the Shopify Theme Store and customize it following your needs.
Can I migrate my order history and transaction data from Magento to Shopify?
Yes, you can. In fact, it's one of the most essential steps of your Magento to Shopify migration.
How do I start the Magento to Shopify migration process with GenovaWebArt?
It's as simple as possible. Just
contact our team
through our website and outline your requirements, and we'll get back to you in no time.