Your Shopify store might be your pride and joy, but how much traffic does it really get and how to increase it from Google Search via SEO optimization?
Multiple tools can help you SEO optimize your Shopify store. Still, you might find it hard to know where to start and how to use them properly. We're here to help you navigate through them.
In this ultimate Shopify SEO guide, you'll learn the best ways to optimize your Shopify platform.
Learn how to increase organic traffic for your Shopify shop by following the seo tips that Genovawebart uses for all of our clients.
Shopify SEO Optimization Measures We'll Discuss in this Article
Basic SEO steps: how to register your custom domain, set up Google Analytics, add your Shopify store to Google Search Console and Bing Webmasters Tools, and use pre-paid Shopify apps and tools.
On-page SEO optimization steps: how to add SEO keywords to Shopify, site structure, page and product titles and content, and images and design internal link strategy.
Technical SEO steps: mobile-first testing, website speed, working with navigation menu and URLs, fixing duplicate content, and adding structured data.
High-quality link-building strategies for Shopify store: outreach, adding in business directories, citations, and links from forums.
Local SEO options: setting up Google My Business and listing in other popular directories, working on the Contact Us page, and adjusting your Shopify store to specific states and states (if needed).
Basic Shopify SEO Checklist for Each Shopify Store
If you're unfamiliar with SEO optimization for Shopify websites or don't know how to boost your SEO efforts, don't worry — some Shopify SEO best practices to guide you on your way. Don't forget these fundamental SEO steps when setting up a shop on Shopify and creating an online store!
Though you can do a lot of different things to improve SEO on Shopify store, some basic elements of SEO optimization apply to all sites and can significantly impact your rankings. There's no need to go overboard here. Incorporating these principles on your Shopify store will help ensure that a search engine understands what your site is about and directs more traffic there.
Keep in mind though, that every website has unique components, and its structure should be factored into your SEO strategy. The goal here is not to create an exhaustive list but to give you a sense of how easy it is to get started with simple optimizations and build up from there as necessary.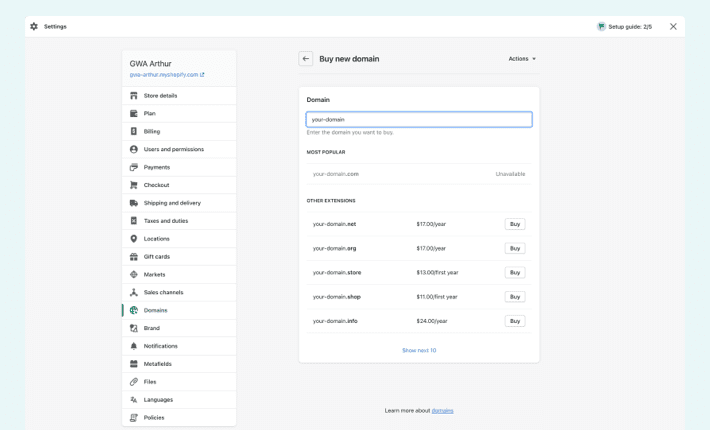 Register Your Custom Domain
Using a custom domain is the basic step in working with your search engine rankings. When you're just starting, your own domain on Shopify gives you more credibility and authority for further development and fighting for popularity. A lot of people make the mistake of using their personal email addresses when setting up their store. This is a big SEO no-go because it doesn't give off an authoritative vibe to potential customers.
When Google indexes your Shopify site, it uses various factors and variables when determining what your website should rank for. One of them is called link popularity. It is crucial for Google's algorithm because it measures how many other sites link to yours. The higher a particular site ranks on Google, the more links its competitors need to beat them out of that spot to be ranked higher than them. That's why ensuring your domain uniqueness is one of the answers to how to improve SEO for Shopify.
Registering a custom domain with Shopify is a quick and easy way to kickstart your link popularity. Besides, having your own domain makes it easier for people reading about you online or sharing your store on social media to remember where they found you so that they can refer back later on.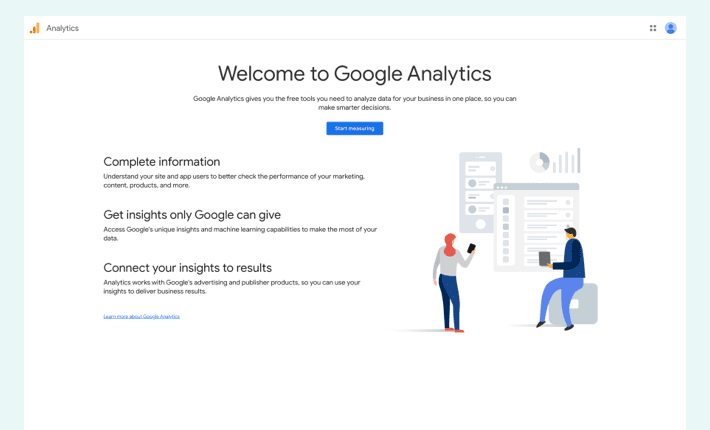 Set Up Google Analytics
Google Analytics is an invaluable tool that helps you track your website's traffic on Shopify, identify top customers and monitor your site's performance and improvements over time. That's why we highly recommend setting it up as soon as possible. Thus, you'll have all the necessary information about your site performance at hand.
As one of the most popular analytics tools on the market, Google Analytics comes free with a Shopify account. To start tracking your website traffic, just sign in to your dashboard, click Online Store in the top navigation bar, pick Preferences, and paste your Universal Analytics property in the Google Analytics Account field. For this, make sure you have a Google account, haven't already enabled Google Analytics for another web page, and have set a Universal Analytics property in Google.
Once installed, Google Analytics will help you optimize your SEO efforts by showing you how people are finding your store and what they're doing once they get there. It also provides valuable information about bounce rates (how many people leave after visiting only one page), conversion rates (how many visitors make purchases), and other parameters valuable to optimize SEO on Shopify.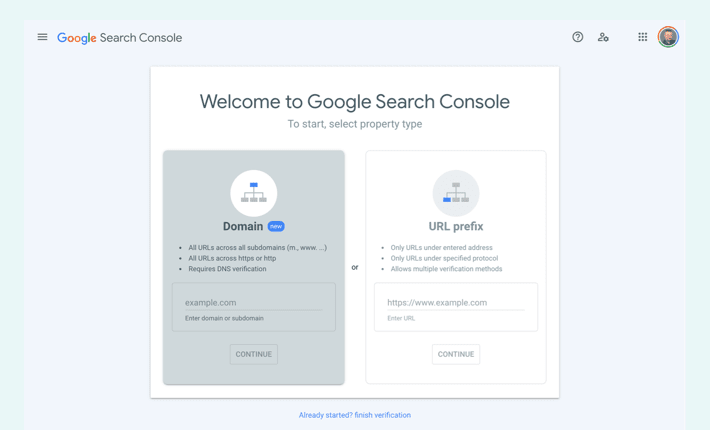 Add a Site in Google Search Console
Google Search Console is another powerful tool for businesses to manage their presence in search results. In particular, setting up a Google Search Console account and adding your Shopify site there allows you to start seeing SEO data from Google directly.
To start using Google Search Console, you need to verify your Shopify store there. For this, enter Google Search Console itself and click on Start Now. Reach the dropdown menu on the top left and select Add a Property. There, you can add your Shopify account in two ways: Domain or URL Prefix. If you've chosen the latter option, make sure you can reach the Edit Code menu in Shopify and paste the HTML Tag displayed in Google Search Console.
With Google Search Console, you'll get access to different technical aspects of your website, including the number of indexed pages, security issues, number of links, number of impressions and clicks for selected keyword searches, robots.txt file, and your website sitemap. This information is the basic data SEO specialist works with. That's why adding your Shopify store to GSC is essential for website management.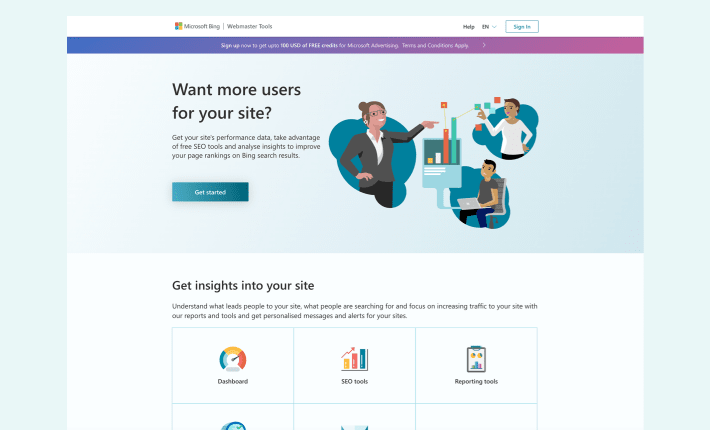 Add a Site in Bing Webmaster Tools
Another important verification to do is linking your Shopify store to Bing Webmasters. This step helps search engines index and crawl your site, which will, in turn, help you rank higher in SERPs.
Adding a site to Bing is similar to Google Search Console: you need to go to their website and click on Add Your Site. Also, you can use an SEO tool like Yoast or Screaming Frog to do a crawl of your Shopify website and make sure it's properly linked up with Bing Webmaster Tools.
After entering your domain name and verifying ownership of it by clicking on a verification link sent via email, you can create a title and set tags and descriptions. Although these don't show up in search results right away, they are an essential way to help search engines crawl through your store pages.
Use Shopify SEO Apps and Tools
Once you get a paid version of Shopify, you can access the platform-native apps and Shopify SEO tools that can improve your Shopify SEO optimization strategy even more.
Similar to WordPress plugins, Shopify apps work as adds-on that allow you to extend your Shopify site SEO functionality. Among the possible options pre-installed, pay attention to:
Use them to optimize your Shopify store, upload more products, create social media profiles, integrate with third-party tools, and do more. If you want to start optimizing for search engines like Google, these SEO apps are essential.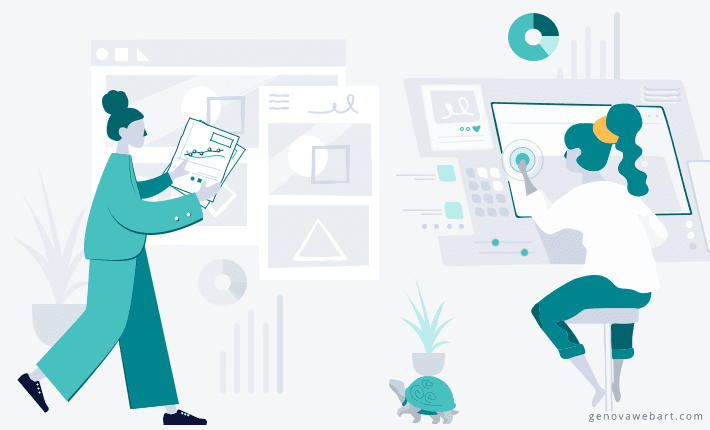 On-Page SEO Optimization on Shopify Website
Improving on-page SEO is a must-have step for optimizing your Shopify store in search engines. You can achieve the most basic level of Shopify SEO optimization through simple on-page elements. For instance, a properly optimized title and product descriptions that utilize relevant keywords, which we'll describe below in detail. Following these steps will lead to a higher number of visitors and enhance usability and user experience as well.
Keyword Research
In SEO, you'll hear a lot about keywords. Keywords are terms that people use when they search online (like "how to plant tomatoes"). They can be single words or short phrases. When someone searches on Google, one of their main goals is to find exactly what they're looking for. What does it mean for you? Having an exact match of a keyword phrase in your business title, meta description, and content can help boost your visibility.
That doesn't mean you should stuff your pages with keywords, but do aim to add related terms that reflect what searchers might type into Google in relation to your product or service.
One of the most effective tactics for keyword research is using Google's Keyword Planner. This tool will show you how many people search for a given term each month and what their average cost-per-click (CPC) is. Of cours"e, it's not 100% accurate, but it gives you a good idea of popular terms and how much advertisers are willing to pay to get their ads in front of searchers. You can also use tools like Semrush, Ahrefs or Ubersuggest to come up with new keywords.
Optimize Shopify Website Structure
Website structure is the skeleton of your Shopify store, linking all the places your visitors can get there in one system. For convenience, a visitor should be able to locate a product in two or, in some cases, three clicks. If it's not possible, you have too many sub-menus on your site. It forces users to scan through all of them just to get what is wanted. Avoid such situations at any cost.
To optimize your Shopify website structure, ensure that all of your pages are being indexed. The great news is that Shopify automatically generates a sitemap — and so, each website change, be that a product page or a blog article, will be updated in this sitemap. Also, you can use an SEO tool such as Yoast, which will give you a list of URLs to add to your sitemap. Once you've done that, perform a full crawl using Google Search Console or Bing Webmaster Tools and add any new URLs found during that process. Doing so should help Google better understand your website and improve its indexing/ranking capabilities. The more data it has on your site, after all, the more likely it is that searchers will see it in search results.
Page Optimization
Optimizing each page on your Shopify store is a complex step that requires filling in different types of information, but this is necessary to achieve the best results beyond a homepage or a store blog. In this section, we'll describe in detail how to
work on your page and product titles,
create content for product pages, and
paste images correctly.
1. Get Your Page and Product Titles Right
One of the basic Shopify SEO optimization steps is to create keyword-rich titles for main and product pages. Not only do keywords help search engines identify and categorize your site and its content, but they also help potential customers to find what they're looking for.
Choose good titles and summaries. They should accurately tell what your store offers customers. Also, optimize them with keywords that describe the type of products or services sold in your shop. You can also use SEO tools from Shopify stores to find relevant keywords.
When preparing SEO copy, writing great meta descriptions is another thing to keep in mind. Most sites have a meta description box where you can write up to 156 characters of copy that gets included under your title tag on most search engine results pages (SERPs). This section of text should also be relevant to what people see above it and entice users into clicking through.
Keep in mind that getting it right takes time and testing. While many tools are available to make that process easier, you can't rely on them to solve all of your SEO problems. Instead, pay attention not just to specific words or phrases but also to how you arrange them on-page and as a whole.
2. Add Content to Product Pages
Adding content to Shopify product pages is one of those SEO techniques that seems simple enough but can quickly become complicated. The trick here is finding a balance between providing too much information and not enough.
If you try to include every possible detail about each item, you will overwhelm visitors who aren't interested in reading everything from beginning to end. On top of that, if you include too little information, customers may be left wondering if they're making a smart purchase decision based on limited data points.
The best practice is to provide clear, concise descriptions while still allowing room for creativity.
Use keywords in product description to boost its rankings in Google Search.
3. Add ALT Text and Image Names
Alt Text is an HTML tag that allows you to add additional information about a picture. Alt tags are important because they are what SEO tools scan to gather data about your Shopify site.
Thus, keywords and phrases placed within alt tags have the potential to appear in search engine results. Also, don't neglect the place for image names within image files — and aim at making them descriptive and catchy.
All in all, the more data search engines have about your business and your products, the likelier your potential customers will find you. Note that these same rules apply to other areas on a page (especially title tags) as well. However, images are where optimization happens first and is usually most effective. So it's definitely worth your attention.
Internal Link Strategy
Following separate SEO tips for Shopify stores should result in a unified internal link strategy that lets visitors who want to go from any one point on your site to another do it via internal links.
Internal links are links from one web page to another within your own site. On this blog page, you can visit another place on our website thanks to them — for example, we can direct you to our blog post on implementing 3D models on Shopify or directly to our Shopify services.
Internal links are useful for helping with SEO and improving user experience.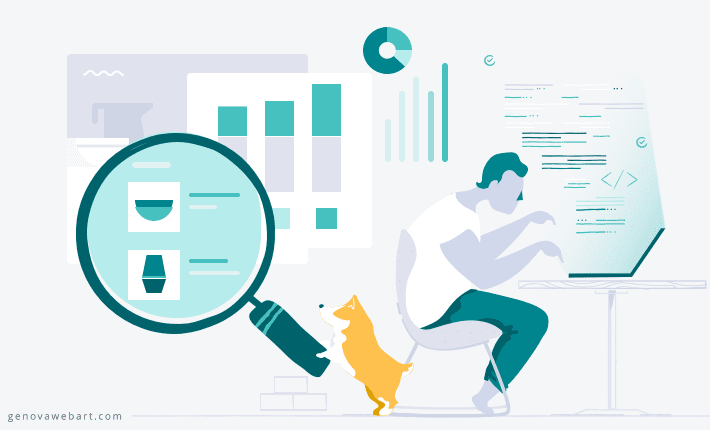 Technical Search Engine Optimization for Shopify Website
Shopify SEO optimization, like any other SEO-related area, is technically complex and requires high levels of expertise. There are many technical aspects that search engines like Google take into account to rank your website high, and working on this goal requires specific knowledge and skills.
Before you can even think about creating a technical SEO strategy for your Shopify store, you need to know how search engine friendly your site is. If a search engine can't correctly crawl and identifies your pages as noindex (or if it doesn't recognize parts of your site as searchable), then it won't rank you in organic search results.
An in-depth overview of technical SEO for Shopify is outside the scope of this Shopify SEO guide, but here are some useful ideas to get you started.
Mobile-Friendly Test
One of Google's important search algorithm updates is its mobile-friendly requirement. A large percentage of internet traffic comes from mobile devices (over 50% in some countries). So it's vital to make sure that your Shopify website is optimized for smartphones and tablets. This can mean a higher volume of organic visitors, more engagement with your content, and ultimately more sales and revenue.
To check if your site is ready for prime time, you can use Google's Mobile-Friendly Test: simply enter a URL into Google's Mobile-Friendly Test page in Google Search Console. The tool will display either Mobile-Friendly or Not Mobile-Friendly. More importantly, it will provide tips on what changes you can make to improve your score. For example, Google suggests adding a viewport tag to enable mobile devices to render your page correctly. It also recommends adding structured data markup. With it, Google can show rich snippets — such as reviews — in search results. All these things are practical tips you can use right away.
Boost Your Website Speed
A slow Shopify site is bad. If users can't easily navigate your site, they'll leave and go to a competitor. It doesn't matter how beautiful your design is if it takes too long to load. Make sure your site loads fast, ensuring that search engines love you.
To work on your site speed, you need to know what's slowing it down. There are many tools out there that can help you with that. Google PageSpeed Insights is a great place to start. It will analyze your page and give you suggestions on how to improve it. It even gives you a score between 0 and 100, letting you know how far from an ideal your website speed is.
You can also use GTMetrix or Pingdom Tools (they're both free). With these tools, you can see where your load time is affected by things like images and scripts and then adjust accordingly. Whichever one you choose, be sure to check your mobile optimization as well since that plays a huge role in SEO as well.
Shopify Apps add elements to your themes, which can also affect your website speed. To have good apps yet maintain the site speed high, we recommend making a choice in Shopify App Store wisely and downloading only those that you really need.
Build a Convenient Navigation Menu
Convenient navigation is good for user experience. Also, it makes your Shopify site easy to be indexed by search engines. In this regard, a menu bar is a straightforward way to provide navigation links and can include category, shopping cart, or account links.
Don't want a persistent navigation menu at all? Then, make sure each page has its own links back to the home page. It will improve usability and indexing by search engines.
The common practice is to create a navigation menu bar and place it on top of each page (below the header area), so visitors can quickly go back to the home page from any place on a website. This method helps improve user experience, just like what Amazon does with its navigation menu bar at every location on its site.
For new users, that can help them go back to the homepage to find what they want more quickly. For returning ones, that reminds them about the site's main purpose and encourages them to come back to shop again or even make purchases right away!
As mentioned before, having a navigation menu helps search engines' bots crawl your website better and index your pages properly since they know how deep they need to dive into in order to find content.
Optimize URLs
Optimizing your SEO-friendly URLs means that you make it easier for search engines to understand what each page is about and rank it appropriately in search results.
An example can help understand it. Suppose you have a page on your site called Coffee Maker. In fact, it tells about how to clean a Keurig machine. Unfortunately, Google might not recognize which content is most relevant in their algorithm. Thus, the rank suffers.
To prevent miscommunication with search engines, create a 301 redirect from Coffee Maker to Keurig Cleaning Tips. This way, when someone types in "coffee maker" into Google or another search engine, they will be taken directly to your post on cleaning Keurig machines instead of being confused by seeing irrelevant content first. And for the URL, choose "keurig-cleaning-tips."
In the same manner, work on every page on your Shopify store and reach consistency in all the elements.
Fix Duplicate Content
Duplicated content is another problem that requires close attention from an SEO specialist. Duplicate content doesn't only show up on a page, it can be found on entire websites that are littered with similar articles.
Because it is so prevalent online, Google has created a lot of algorithms to combat duplicate content and give search results based on relevancy rather than popularity. These algorithms also help them reduce their ranking factors when showing search results to discourage you from following bad SEO practices.
In the given circumstances, it's vital to eliminate all the duplicate content to improve ranking. How to do it? You can use canonical tags or 301 redirects to prevent search engines from indexing duplicates. Another way is by using a plugin like Yoast SEO which will automatically check your website for any duplicates and provide suggestions on how to fix them.
Among things you can do manually on your Shopify website, we recommend checking titles, meta tag usage, and wording in URLs.
Structured Data
Rich snippets, as an illustration of structured data markup implementation, make it easier for search engines to figure out your website and its type of content. They help users understand what your pages are about. On top of that, they provide Google with useful information about your products, for instance, pricing, availability, ratings, and review numbers.
A snippet can also work as a brochure on Shopify stores that gives specific information about your eCommerce business, like logo, address, contact information, social media links, founders, and subsidiaries. That's why utilizing rich snippets can make your SERP look more attractive to search engines. And also to buyers! It, in turn, contributes to a higher ranking and a better click-through rate.
Product Structured Data
Overall, Shopify is doing a good job with structured data. Most Shopify themes have Product markup out-of-the-box and provide Google with key information such as your product's name, description, and price automatically.
You can improve this situation even more by working on expanding structured product data to collections pages, which means adding a product link to each product on a product listing page.
Article Structured Data
Article structured data is also available for Shopify. It's better to apply it to your Shopify blog as it is a Google-supported schema type specifying that your blog content is journalistic.
A structured data schema of Article seems to be the one that Google seems to prefer since that's referenced in their official documentation. That's why we recommend finding a place to apply for it.
BreadcrumbList Structured Data
BreadcrumbList structured data is an addition of easy-to-use internal links. Breadcrumbs are essential to eCommerce websites because they tell users where they are within the website. In addition, this technique can help Google better understand your website's structure and organization.
That's why we suggest adding breadcrumbs on Shopify sites and marking them up with BreadcrumbList structured data to get Google on the right track.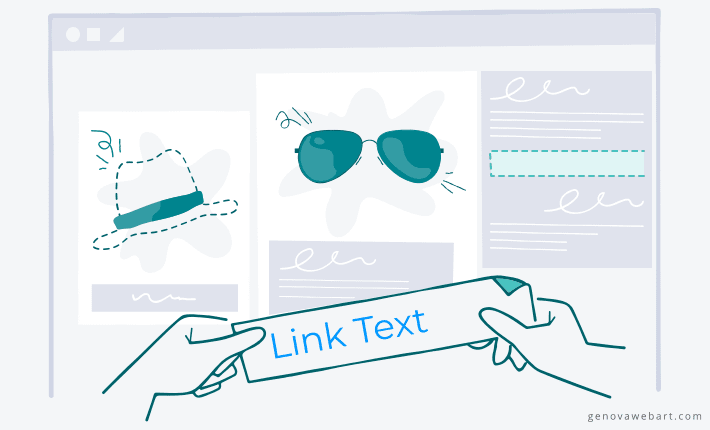 Link Building on Shopify: Get Quality Backlinks for Your Store
Link building is the strategy of getting your Shopify store noticed by placing its link in various places on the Internet, including forums and social media. When it comes to Shopify and SEO, you should focus on gaining high-quality backlinks. Relying on spammy techniques such as buying links or writing pointless content just to get a backlink would be the wrong way.
Just as it's important not to put all your eggs in one basket, you don't want to rely on just one or two backlinks for all of your traffic. But the quality of your source matters a lot too. Sites with a lot of outgoing links — like Quora, Reddit, and Wikipedia — will give you the most link juice, so it's worth asking these sites to link back to your website. But don't run for popularity only: being linked to by low-quality websites can hurt your own SEO or brand image significantly.
The main (and safe!) link building strategies include
Outreach: Reach out to various websites, blogs, and forums and ask them to place a link back to your website in exchange for something in return.
Adding in business directories: Submit your website to several local, national and international business directories. It will increase your search engine rankings and improve your overall visibility online from their clients.
Citation: Build links from other sites that already have your target keyword in their content. For example, if you want to build a backlink to your Shopify store with the keyword "dog food," you should find a website that has already mentioned dog food and contact its webmaster to get a backlink from it.
Links from forums: Create a thread in a relevant forum and post your link in it.
You can pick the most convenient strategy from this list, but we highly recommend using all these strategies together to get a better result.
What About Local SEO for Shopify Store?
It's important to remember that SEO applies to local searches as well. While some people type in their specific city and state when they search, others don't know or simply don't care.
Local SEO practices exist to ensure your website is optimized for local search engines. In addition to your basic Shopify online store Search Engine Optimization methods, you should tailor them specifically to local search engines such as Google Maps, Bing, and Yahoo. In this section, we'll describe some basic steps needed to be done in this direction.
Set Up Google My Business (Google Business Profile since 2023)
To increase your local search rankings, add your business to Google Business Profile and other local listings. It will ensure you have a verified listing on Google. The fastest way to do this is by claiming your existing listing (if there is one) or adding a new one to the Google Business Profile page.
List Your Website in Popular Directories
Getting your Shopify site listed on these pages will allow search engines to quickly discover it. Also, users can find you through their search queries. Google places high value on these listings and will make them a top priority for its search engine results page (SERP).
For the Shopify store, the best options, in addition to Google My Business mentioned above, are Manta and Yelp. Manta is a great resource for finding specific details about local businesses such as hours of operation, address, and phone number. You should also verify your listing here to ensure everything looks accurate and includes your company's hours, address, and other important details like whether or not you accept credit cards.
If you also decide to try Yelp Premium status, prepare at least 50 quality photos on your profile. They will be used throughout all listings, including Google maps, and should reflect what type of services or products you offer. A solid review count is also crucial: aim for 10+ positive reviews and 5+ endorsements from employees.
Make Your Contact Us Page Perfect
In an ideal world, every new customer would instantly fall in love with your brand and become a loyal follower who visits your site regularly. But that's not how things work — people have questions and problems that they need answers to before committing their money to you. And so you need a Contact Us page that gives customers instant access to someone who can help them out.
If customers can't find you when they're ready to buy, then you are missing out on opportunities to drive traffic and sales through your site. And so you need a Contact Us page that gives customers instant access to someone who can help them out. Work on keywords, length of titles, and accessibility of the information presented there.
Remember that Shopify SEO means search engine optimization for Shopify stores, not search engine enhancement. It isn't about building links or earning rankings. It's about helping users reach your website and making sure they don't bounce back off because they don't get what they expected.
Think about Pages for Specific Cities or States
It's a great practice to create certain pages dedicated to local events or city/state specifics. For example, a high ranking will show up when someone in Florida searches black Friday deals on Google. Of course, you might think that no one would ever search for black Friday deals from Florida, but it happens all of the time – thanks to local SEO.
If your Shopify shop doesn't target any cities or states by name (that is, if it targets users everywhere in North America), you can disregard this tip about locations and focus on broad keywords and phrases instead.
What About International SEO for Shopify Store?
When you have one store on Shopify but sell your products to several countries, we recommend paying attention to the language settings of your website. A good idea is to choose a reliable translation app among those available in the App Store. To address the needs of international SEO, Shopify has recently launched Shopify Markets which solves most problems with multilinguality and takes over basic SEO-related questions like hreflang.
But if you have several stores that sell your products to several countries in several languages, you should think about how to link them via hreflang tag. This way, search engines understand that these pages are not your store duplicates, but different language versions of it. To solve this problem, pay attention to a Shopify app titled Hreflang Manager.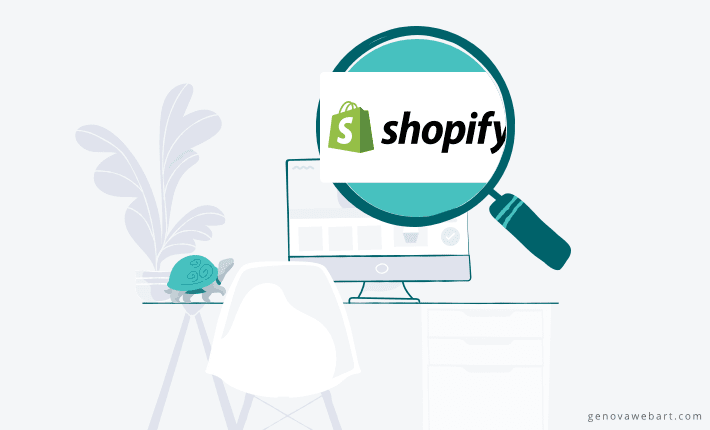 Final Thoughts About Shopify and SEO Optimization
In this list of tips for Shopify SEO, we aimed to provide you with a comprehensive overview of all the measures on search engine optimization relevant to your Shopify store. As you can see, the well-designed Shopify SEO is the complex of basic, on-page, and technical measures, in addition to building a high-quality link-building strategy and tailored local SEO activities.
Of course, it's hard to cover everything at once, but understanding the entire set of needed activities increases the chances of getting a successful Shopify store.
We at GenovaWebArt specialize in the design and development of Shopify stores and are ready to consult you on all SEO-related aspects of Shopify stores. We create the technical preparation for your Shopify store for each client consistent with the principles described here.
Feel free to contact us and get more information on our service and SEO strategy for your Shopify store.
Frequently Asked Questions
Should each Shopify store owner do SEO?
It's a good practice to work on SEO for Shopify, especially if you want your Shopify store to show up on Google. However, the exact appearance and number of measures taken depend on the individual aims of each Shopify store owner.
Why is it important to set up SEO on Shopify online store?
SEO is among the essential tasks for every eCommerce owner, and Shopify is not an extension of this rule. In simple terms, by making sure your website is optimized, you will be able to increase traffic to your online store, which translates into more sales and profits over time.
Why is it better to delegate SEO for Shopify store to a consulting company?
The complexity of this task in the answer. You can use this tutorial on your own, but the professional help will let you find the right answers on how to do SEO on Shopify faster and more effectively.
How soon will I receive results from optimizing the SEO of my Shopify online store?
SEO is not a one-time affair. It can take months or even years to truly optimize your online store and see results in your bottom line. That's why we recommend starting working on SEO as soon as possible.

If you only have a few months left before you want to see an ROI, your best bet is to get relevant traffic right away by advertising on Facebook, Google, and other channels. Start optimizing when you have some quality leads. In this strategy, you'll start with a built-in audience of people who are already interested in what you have to offer and can work on enlarging the audience with SEO tactics discussed in this post.