In 2020, the statistics showed a 40% sales growth in the online beauty industry. The number seemed enormous at that time. In 2022 (and 2023 around the corner), we consider this rise natural. Almost 25% of total beauty and personal care revenue comes from online sales.
Not surprisingly, many businesses start their online cosmetics and skincare platforms to increase sales, boost conversions, and expand the audience. And Shopify is one of the best places to achieve those goals. Here are several proofs.
Colour Pop is a Shopify-based eCommerce store with 6.2 million total visits and a 40% bounce rate.
Elf Cosmetics has almost 3 million total visits and a more than 50% bounce rate.
Another famous Shopify brand, Kylie Cosmetics, has sold its first 15,000 products in several minutes.
So what are the best beauty eCommerce sites on Shopify, and what makes them unique?
We at GenovaWebArt have decided to share with you our picks. We have chosen our thirty favorites for your inspiration based on our team's rich experience working with complex Shopify design solutions.
1. Uoma Beauty: The Best Beauty Online Store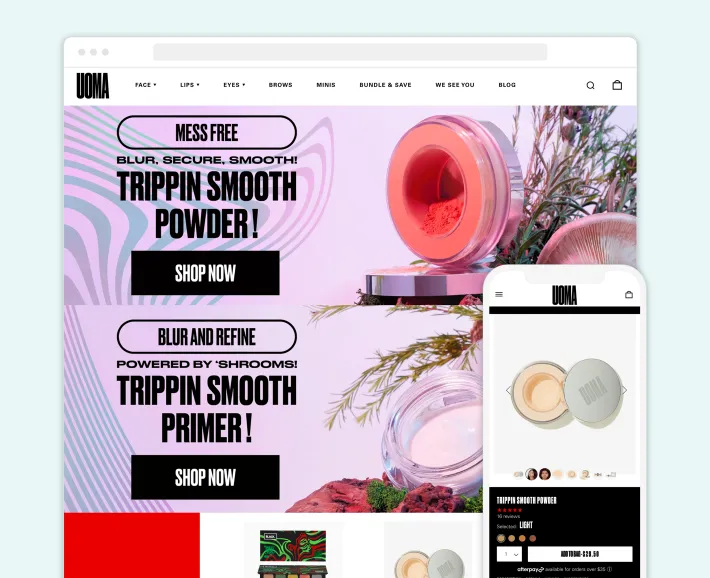 Uoma Beauty is a world-famous eCommerce store founded by Sharon Chuter, a former beauty executive from Nigeria. The brand's philosophy is rethinking the beauty concept reflected by the store's name ("Uoma" means "Beautiful"). It offers an innovative approach to inclusivity and diversity. These ideas are reflected both by the products and website design: bright, bold, and fashionable.
2. Winky Lux: The Best Shopify Beauty Store by GenovaWebArt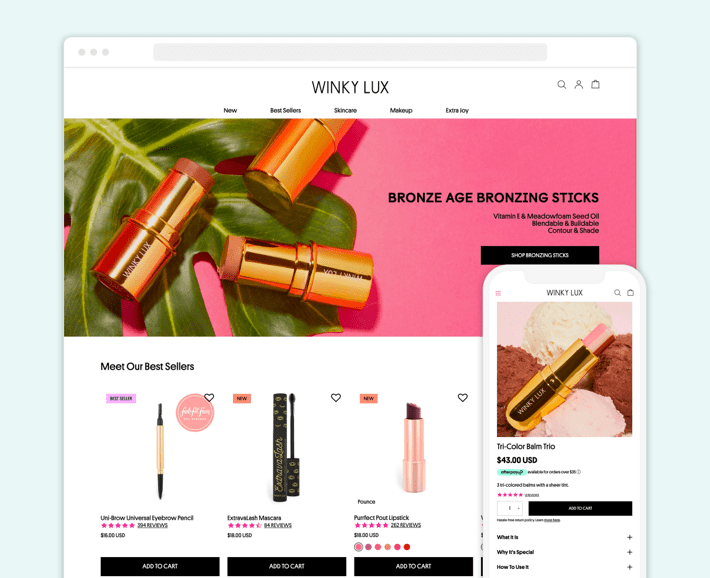 Winky Lux is a recognizable American beauty store whose Shopify website was developed by the GenovaWebArt team. The brand is famous for its luxurious makeup and skincare goods, accessible to a broad audience. In addition, it involves a transparent supply chain and convenient shipping options. Finally, Winky Lux is a plastic-neutral brand committed to sustainability ethics and standards.
When working on this project, our team used the latest approaches and techniques to implement all required beauty store features. A basic Shopify functionality set wasn't enough, so we extended it with Shopify Plus features and scripts, allowing for additional promotions and tiered discounts. On top of that, we rebuilt the theme, improved UI/UX design, and conducted Online Store 2.0. migration.
You may also be interested in How to Migrate from BigCommerce to Shopify: 5 Essential Steps
3. Kylie Cosmetics: The Most Influential Shopify Beauty Store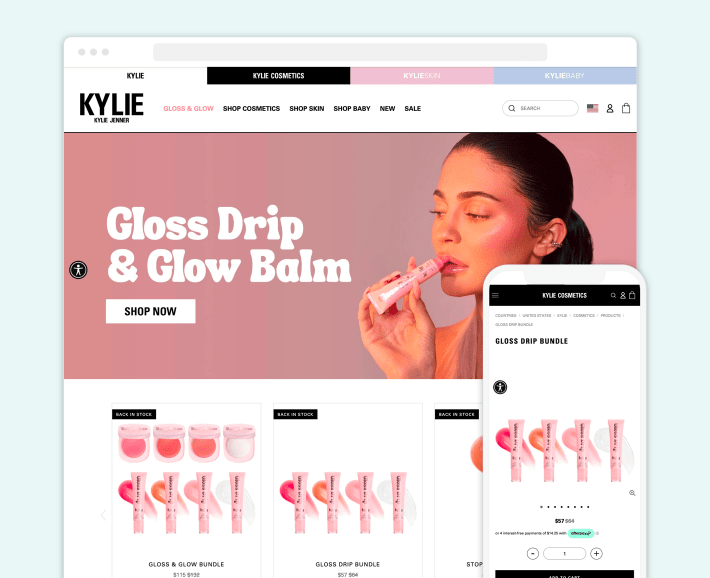 Founded by a well-known American model and influencer, Kylie Jenner, this Shopify Plus-based cosmetics store has become one of the most popular beauty brands worldwide. Kylie Cosmetics primarily focuses on selling cosmetics and skincare goods. However, it also involves collections of skincare and haircare for babies and kids.
4. Topicals: The Best Skincare Store in Shopify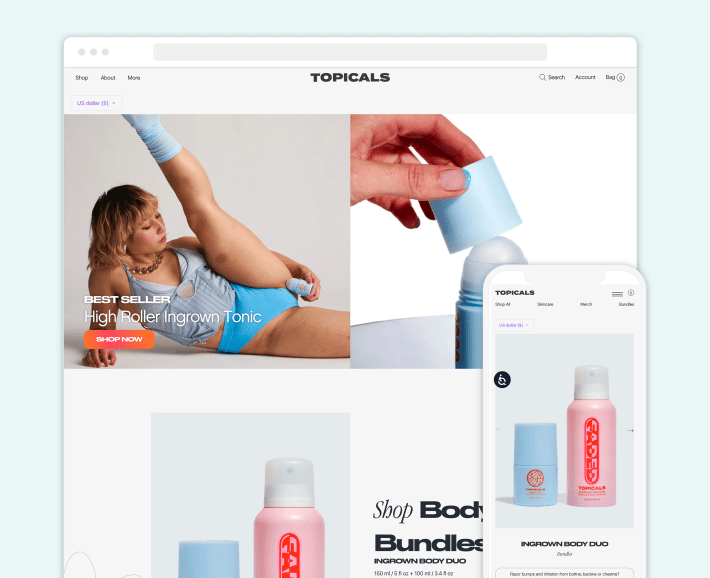 Topicals is an outstanding beauty website in eCommerce offering a wide range of skincare goods. The founders claim their core goal is transforming how people feel about their skin through high-quality, science-backed products. The website looks bold, even experimental, not trying to follow common beauty standards and promoting diversity.
5. Credo: Leading Beauty Store on Shopify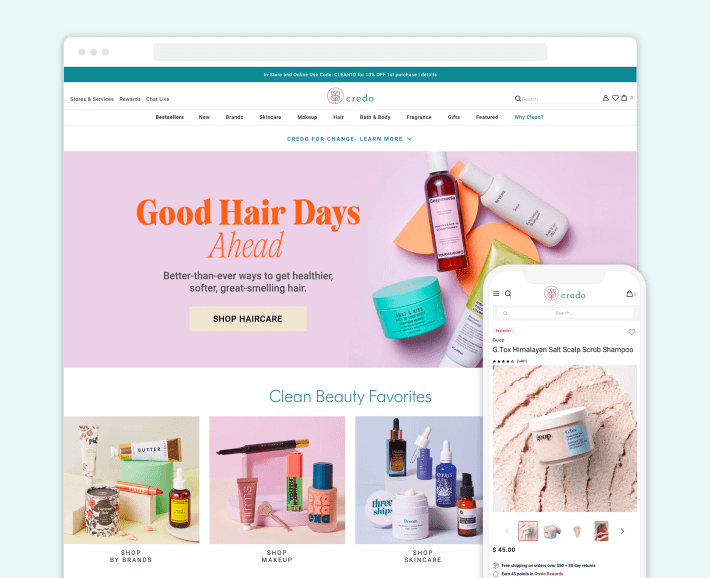 Credo sells cosmetics for skincare, makeup, hair, bath and body, and fragrance. It's an industry-leading enterprise offering high-quality services and goods for millions of customers worldwide. The brands represented by Credo produce clean, cruelty-free beauty products. On top of that, the company has a convenient mobile-friendly website and an app.
6. Thrive Causemetics: The Best Shopify Cosmetics Store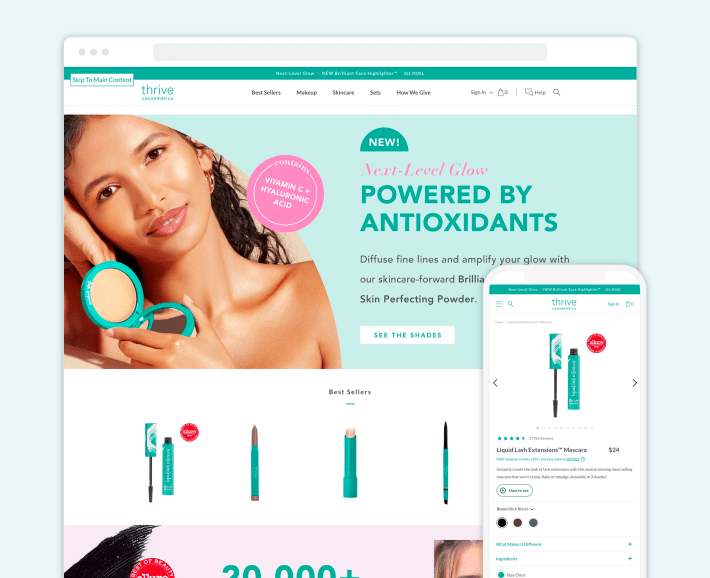 Thrive Causemetics is a famous beauty brand selling top-rated goods for makeup and skincare. It has earned the customers' trust by following high ethic standards. In particular, Thrive supports multiple charity organizations and foundations fighting breast cancer, homelessness, and other health and social issues. Thrive founders say their core purpose is to change the beauty industry for good by making donations that change women's lives.
7. Jeffree Star Cosmetics: The Biggest Beauty Online Store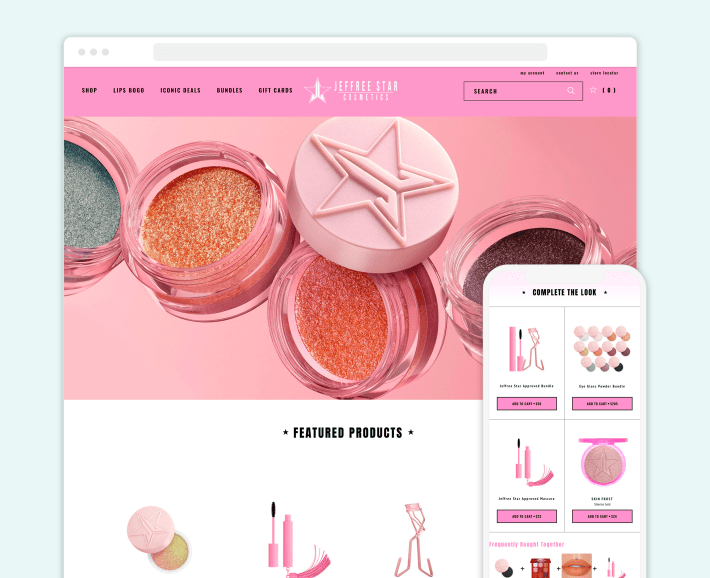 Jaffree Star Cosmetics is a well-known American Shopify store that sells glamorous and fashionable beauty products. It offers goods for skin, face, eyes, and lips, along with outwear and accessories. Also, the website has a separate menu representing beauty products for pets. The interface is bright and distinguishable, combining different shades of pink and Sans Serif fonts.
8. Makeup Geek: Online Store for Make-Up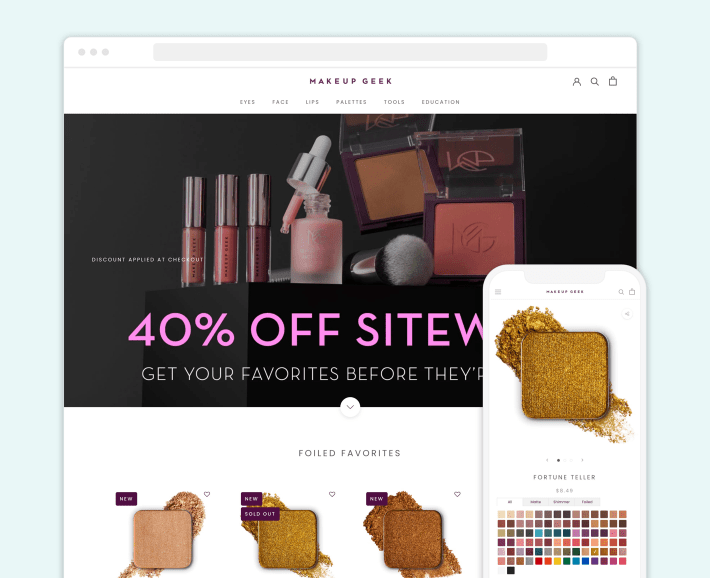 Makeup Geek is one of the most well-known beauty eCommerce stores offering a wide range of eyes, face, and lips makeup products. On their Shopify website, you can also find professional makeup tools and even an educational section. It provides various helpful tutorials, tips, techniques, and information about professional color combinations.
9. Lumin: Top Professional Skincare Store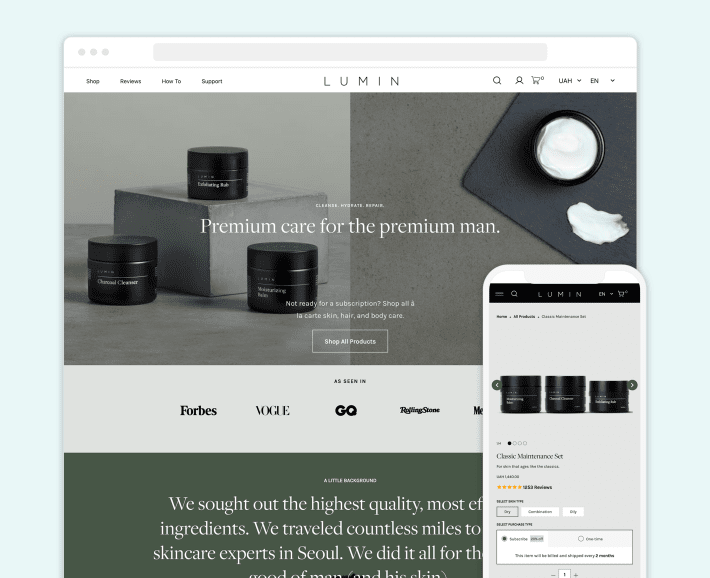 Men's skincare might not be in the spotlight, yet it occupies a no less critical niche in the beauty market. And Lumin is probably the most famous representative of this niche. The store provides a wide choice of skincare products for men's face, hair, and body care. The website looks simple and solid, providing high-quality images and detailed product descriptions.
10. Earth's Nectar: The Best Beauty Store for Hair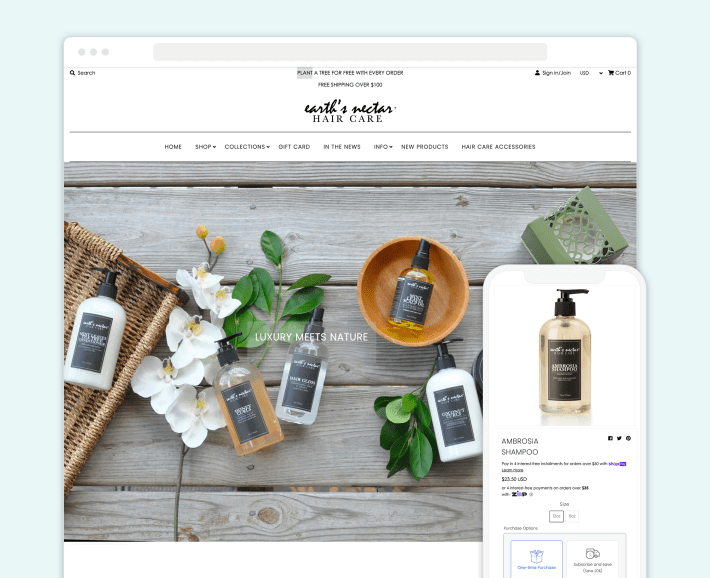 Earth's Nectar eCommerce store focuses on selling quality, natural, and innovative haircare goods. The brand's primary purpose is to offer a rich choice of plant-based cosmetics helping people with different hair types to solve their common issues. Thus, the customers can get all the necessary products for professional haircare without going to the luxurious salon.
11. Fenty Beauty: The Best Shopify Makeup Store
Fenty Beauty has instantly become recognizable thanks to a famous American singer Rihanna who founded her makeup line on the Shopify platform. Today, the Fenty Beauty website offers various shades for different skin tones. In addition, it provides a specific foundation shade finder quiz that helps people get more personalized shopping experiences.
12. Cosmetic Love: The Best Shopify Cosmetics Store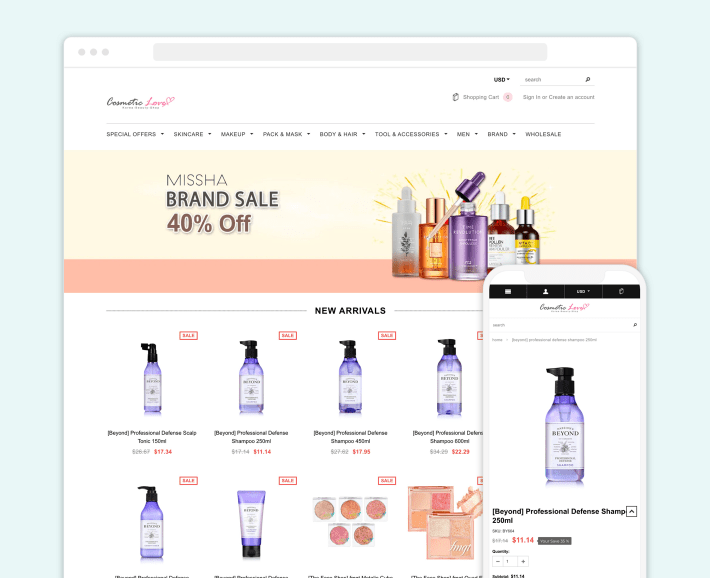 Cosmetic Love is a Shopify-based eCommerce store selling cosmetics for men and women. It has an excellent choice of Korean cosmetics and is one of the top platforms for buying K-beauty products. The platform represents numerous quality Korean beauty brands, including Iope, Etude House, Tony Moly, Missha, Skinfood, and more. The website's product pages have detailed descriptions and sets for skincare, makeup, body, hair, etc.
13. Beautopia: Top Beauty Supply Store Hair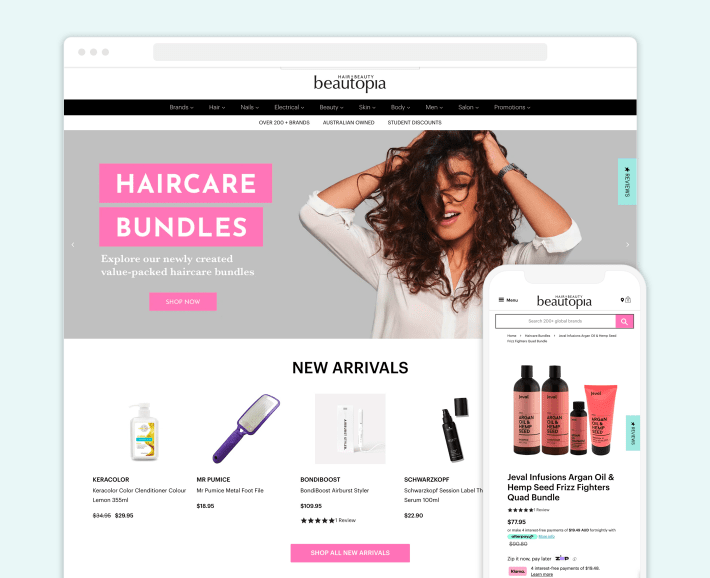 Beautopia is an Australian-based beauty wholesaler offering cosmetics produced by over two hundred popular and high-quality brands, from Arctic Fox to Olivia Garden. In particular, it sells goods for hair, nails, makeup, skin, and body. The store also provides products for professional beauty salons, cosmetics for men, and electrical tools. The company's most significant advantages are affordable prices, excellent website design, and good customer service.
14. Wing It Cosmetics: The Best Lash & Beauty Store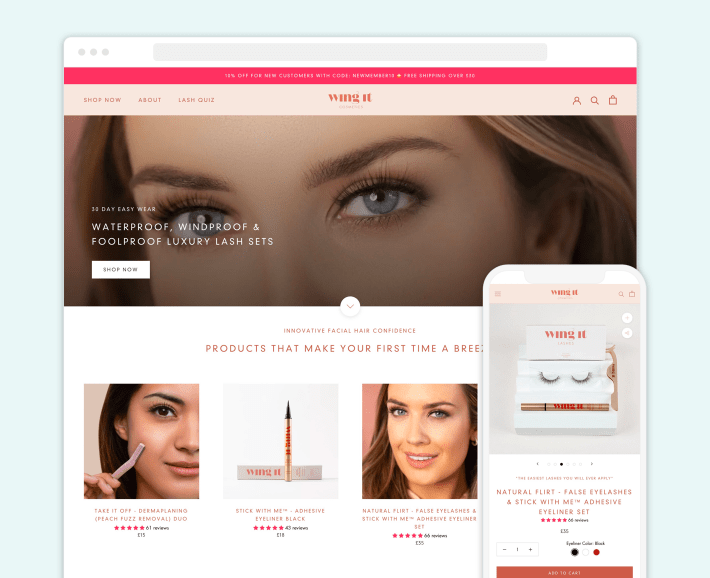 Wing It Cosmetics is a Shopify store that sells luxury yet affordable false lash sets and other related goods for eyes and face beauty. All products are natural, including silk lashes and eyeliners. In addition, the store sells beauty goods suitable for professional and personal use.
15. SkinnyDip London: The Best Cosmetic Store Online in The UK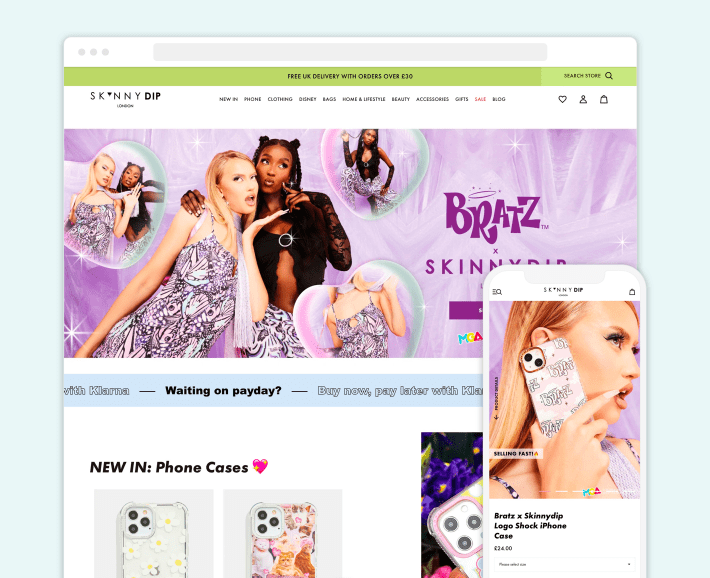 SkinnyDip is a top-rated London-based cosmetics shop with a bright interface design and intuitive navigation. It focuses on serving a young audience and offers numerous goods for teenagers, from clothing and bags to phone designs and accessories. On top of that, SkinnyDip provides attractive discounts to students. Having started as a store specializing in creating unique iPhone cases, it's now one of the fastest-growing British beauty brands.
16. Colourpop: The Best Beauty Store Online in The USA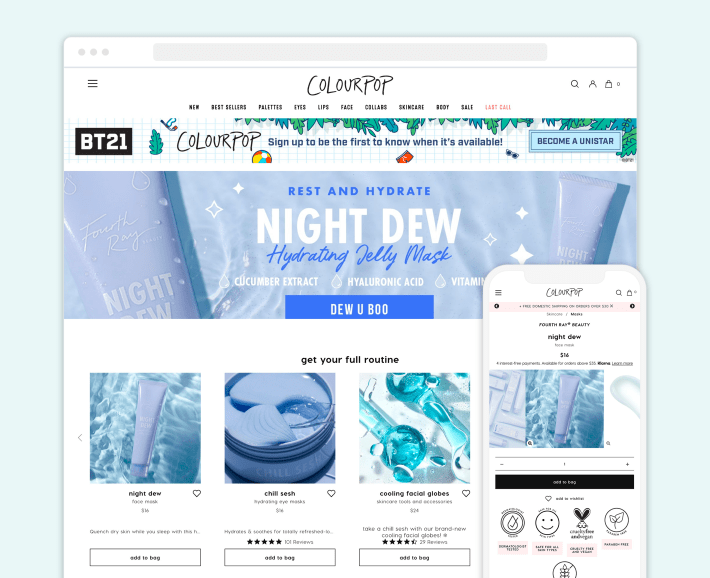 Initially based in California, this Shopify beauty store is one of the most successful American brands. It's famous for collaborations with multiple pop culture phenomena like Disney princesses, Sailor Moon, and even Star Wars. The store offers completely cruelty-free and environment-friendly products for body, skin, and face care.
17. Soko Glam: The Best Korean Beauty Store Online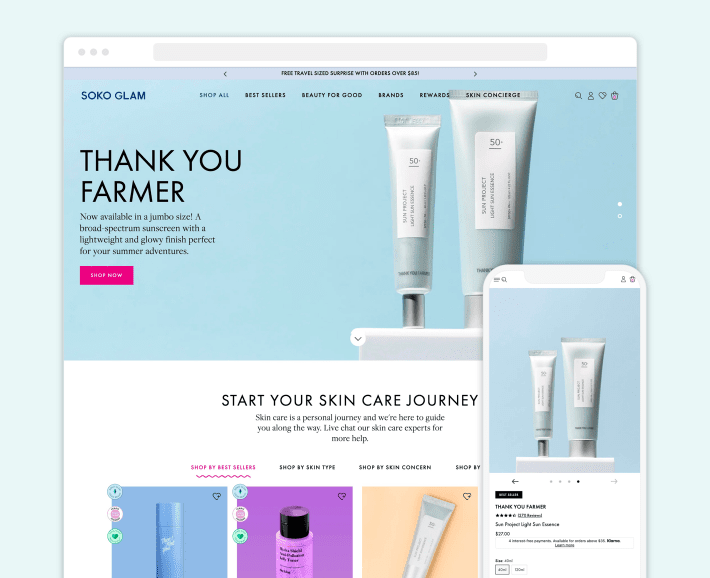 Soko Glam is one of the best online personal care stores based in New York. It offers a wide range of beauty products, especially skincare. In particular, it's focused on Korean skincare goods, providing 5-step and 10-step routine sets to get started. The website also involves helpful tips on using Korean cosmetics for beginners.
18. Image Beauty: The Greatest Beauty Supply Store Online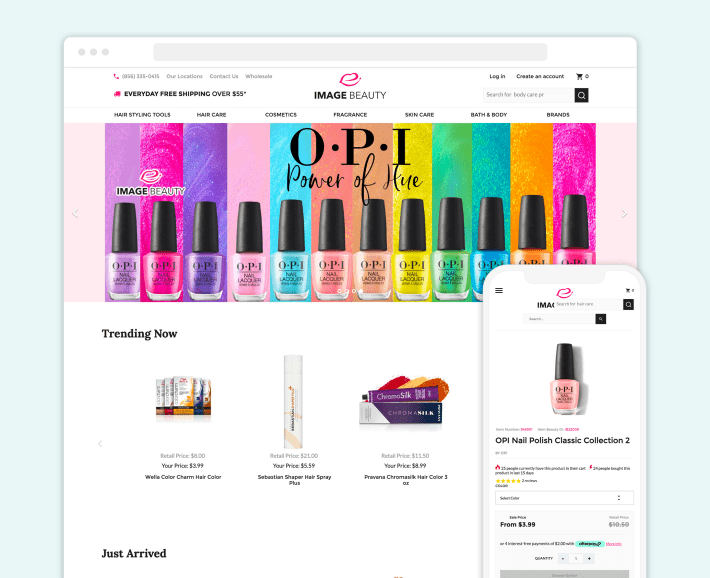 Image Beauty has been one of the largest beauty and salon suppliers for over 30 years. It has a beauty products online shopping website supplying high-quality brands and products for haircare, skincare, face makeup, bath, and body. The store represents hundreds of international brands selling cosmetics for customers and professionals.
19. Lula Fox: The Premier Natural Cosmetics Store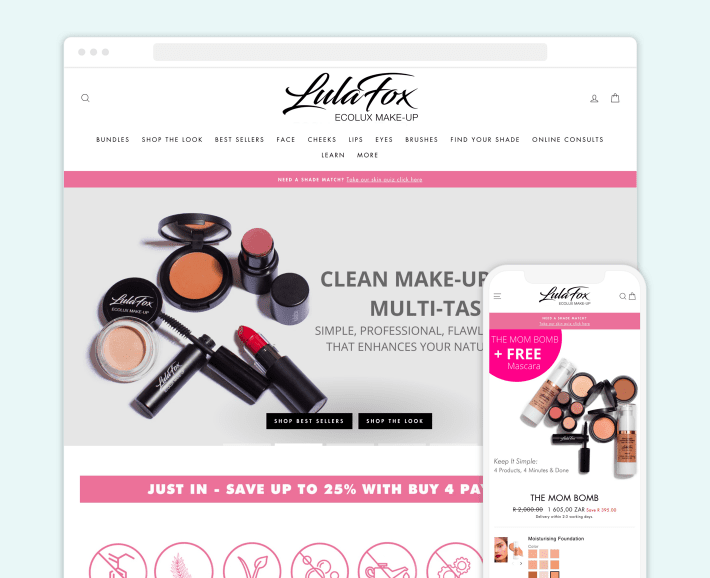 Lula Fox is an online shopping site for makeup that promotes natural, eco-luxe cosmetics for women. Originally South African, it's now an international brand famous for its cosmetics' organic, plant-based, and healthy ingredients. The company's philosophy involves high sustainability standards and strives to decrease the number of toxic chemicals in beauty products.
20. The Detox Market: Amazing Organic Cosmetics Store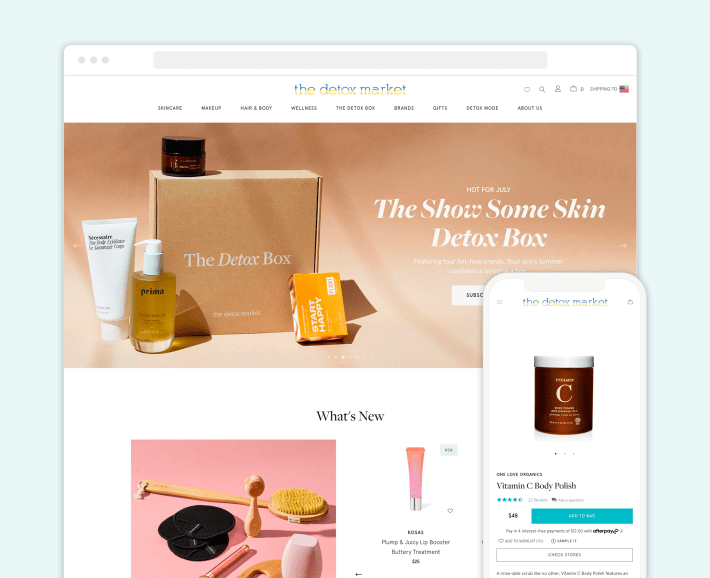 The Detox Market is an excellent choice when looking for high-quality organic cosmetics. The brand passionately adheres to green beauty principles, following the highest standards of purely natural ingredients and cruelty-free formulas. The Detox Market's website is an excellent example of the design's simplicity, clarity, and intuitiveness.
21. Elf Cosmetics: Cosmetic eCommerce Website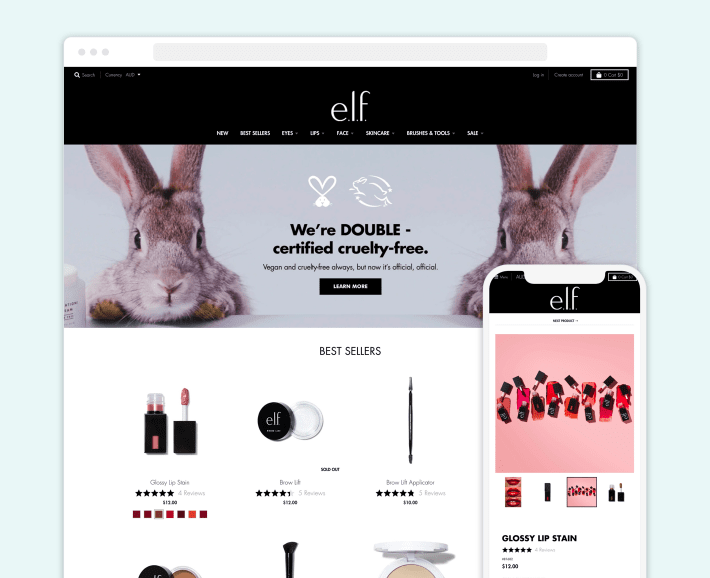 Elf Cosmetics is a popular international Shopify store selling cosmetics in many countries, including the USA, Australia, Canada, France, and Spain. The website offers a rich choice of certified cruelty-free beauty goods for eyes, lips, face, and skincare. The clean and minimalistic design makes it easy to navigate while looking elegant and smart.
22. White Rabbit Skincare: Natural Beauty Store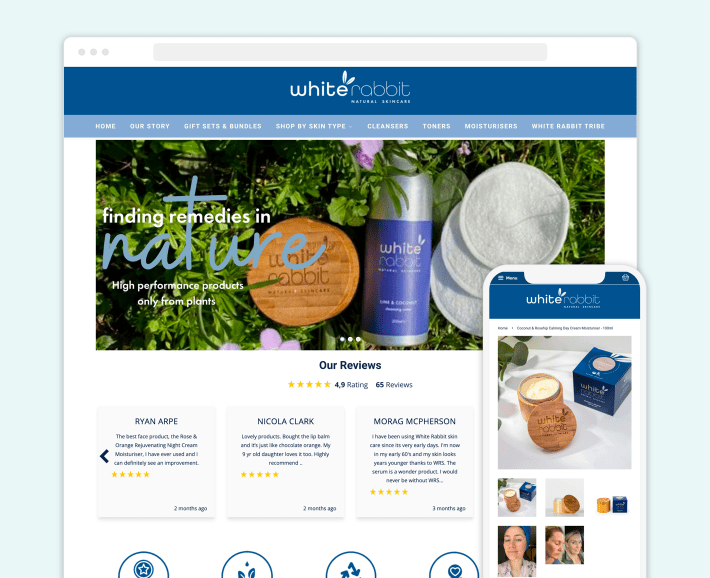 Initially based in Scotland, this international brand offers cruelty-free, plant-based, and vegan skincare cosmetics. Their goods are known for the absence of synthetic ingredients. Instead, they involve natural products with plastic-free packaging. The White Rabbit skincare online store promotes natural cosmetics getting inspiration from traditional topical treatments of skin psoriasis.
23. Cake Cosmetics: Natural Online Beauty Store for Ladies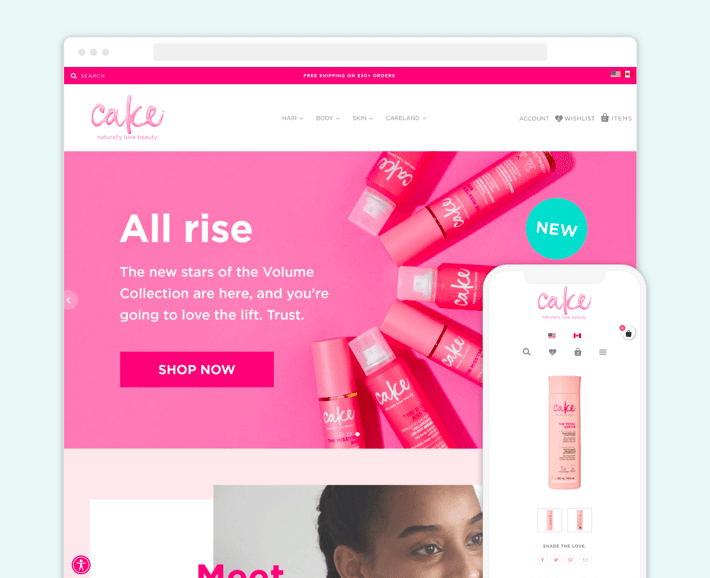 Cake Cosmetics is one of the best Shopify beauty sites based in Canada. The beauty products they sell are not tested on animals and adhere to all core principles of environmental friendliness. There's a great choice of natural cosmetics for women, including hair, body, and skincare. The website is user-friendly and involves a convenient internal search to find the desired products in no time.
24. Klur: Top Online Beauty Website for Shopping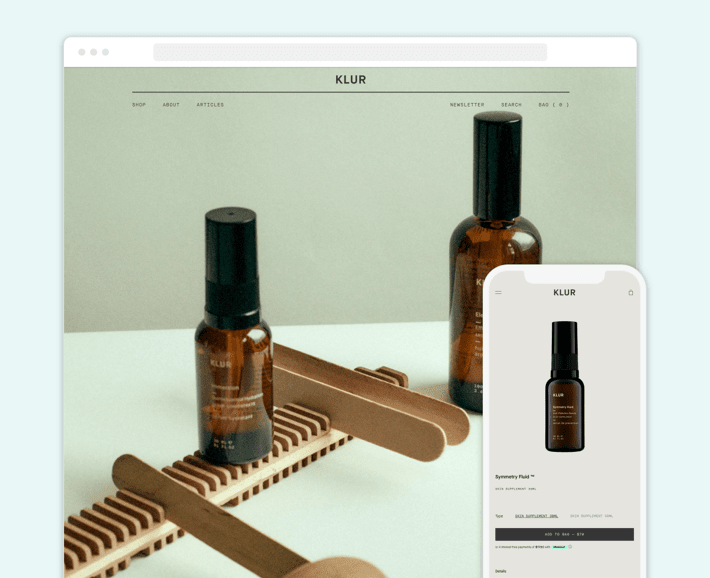 Klur is a California-based beauty brand whose website is an excellent place to shop for professional and luxury skincare goods. In addition, it has one of the most intuitive and easy-to-navigate beauty and makeup websites. The brand strives to reflect the values of clean, ethical, and inclusive beauty.
25. Pat McGrath Labs: Good Cosmetology Online Store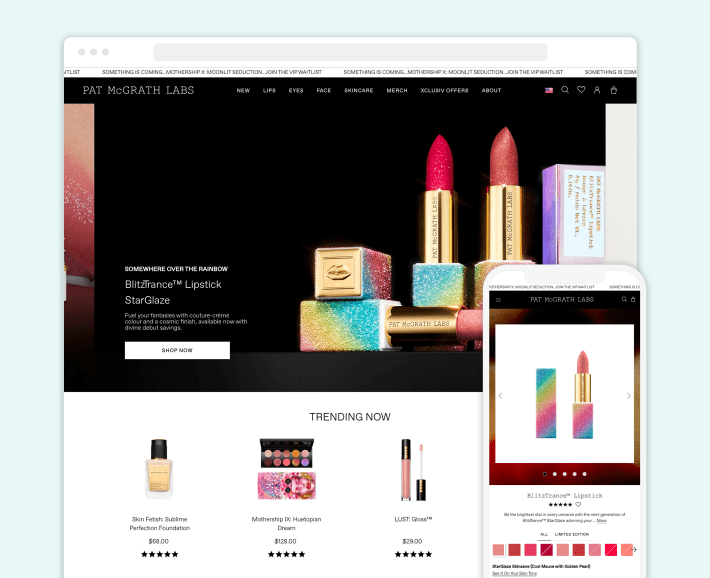 Pat McGrath Labs is a popular eCommerce cosmetics store founded by a famous makeup artist and influencer. Since the brand's launch, it has been selling high-performance cosmetics breaking multiple records thanks to impressive social media marketing efforts. Additionally, it collaborates with world-famous brands like Prada, Valentino, Versace, and more. The website design reflects the brand's creativity and its focus on fashion and beauty trends.
26. Lila Beauty: The Leading Japanese Skincare Store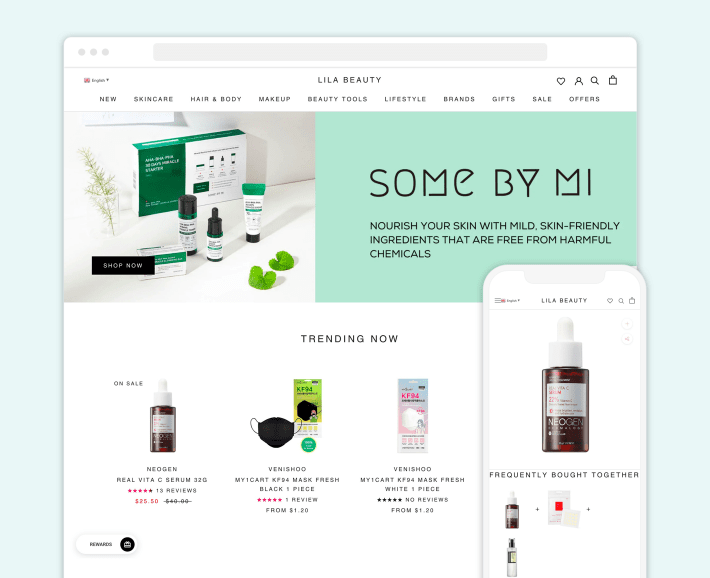 Lila Beauty has one of the best beauty e-commerce websites with a fresh-looking and minimalistic layout. It offers various goods for skincare, haircare, body, and makeup. The key trend followed by this company is high-quality Japanese skincare cosmetics. It makes many Japanese and Korean beauty products available in Australia, promoting both mainstream and niche brands.
27. Fig+Yarrow: Face Care Store For Girls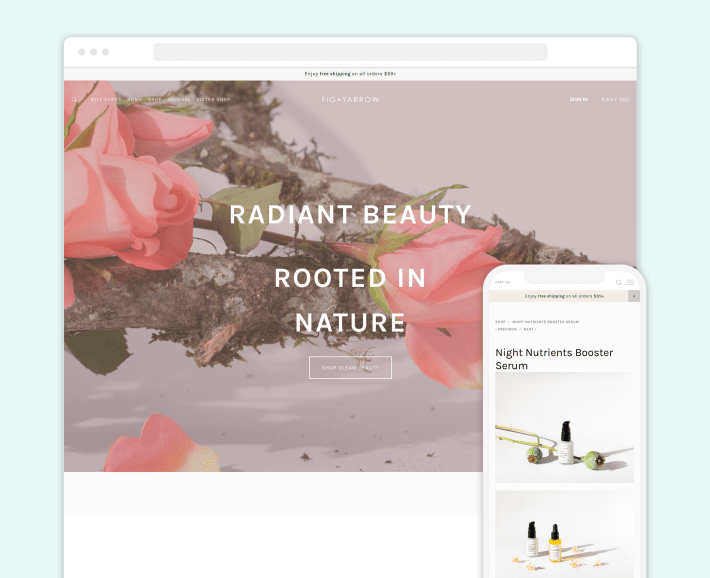 Fig+Yarrow is a popular eCommerce store selling top-rated goods for facial self-care. The products it offers consist of plant and earth-derived ingredients, which reflects the brand's commitment to the principles of sustainability and natural intelligence. The Fig+Yarrow beauty eCommerce website looks elegant and smart, combining high-quality images and minimalistic Sans Serif font families.
28. Althea: The Best Asian Cosmetic Store in Europe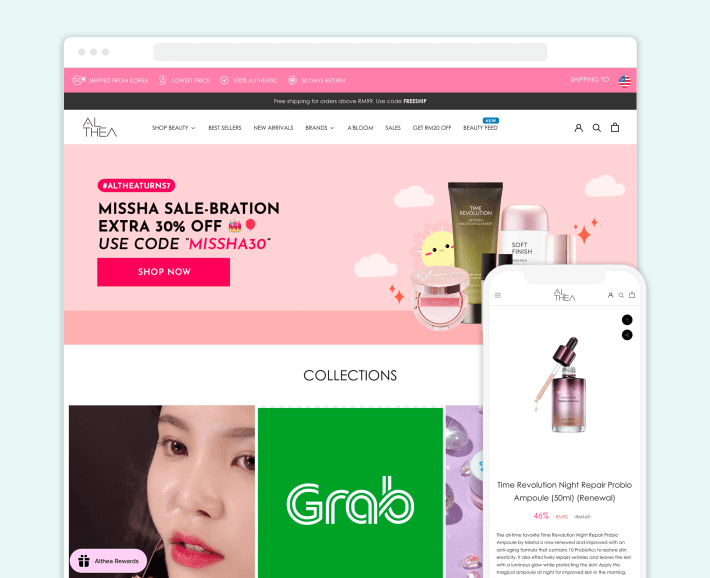 Asian cosmetics have proven to be extremely trendy in the European beauty market. Not surprisingly, big commerce stores like Althea do their best to meet this demand. In particular, the brand offers cross-border trading of original Korean cosmetics. Appealing website design and convenient shipping to Europe and the US make Althea the best place to shop K-beauty products.
29. Briogeo: Online Beauty Store for Haircare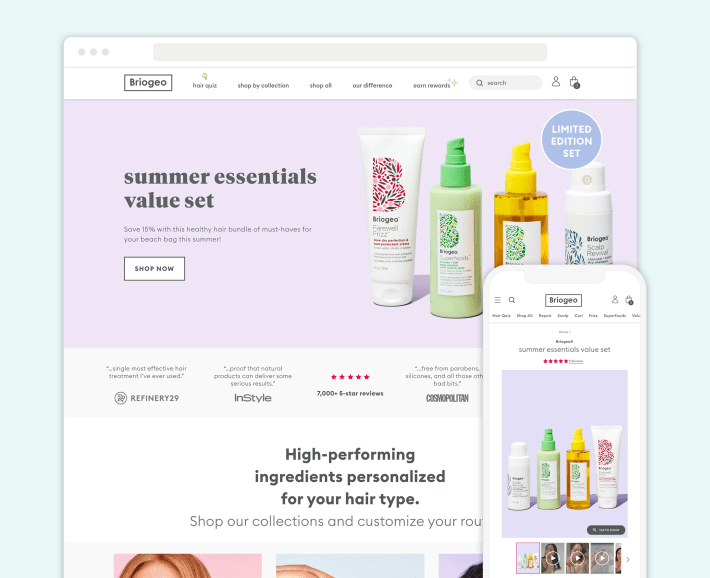 Briogeo is a US-based eCommerce store focused on selling various goods for haircare. The website is appealing and easy to navigate. It offers to watch videos, read a health care education blog, and even take a hair quiz. These specifics make the shopping experience more personalized. On top of that, the brand offers a wide range of products for different hair types and concerns.
30. Morphe: Online Beauty Store for Professionals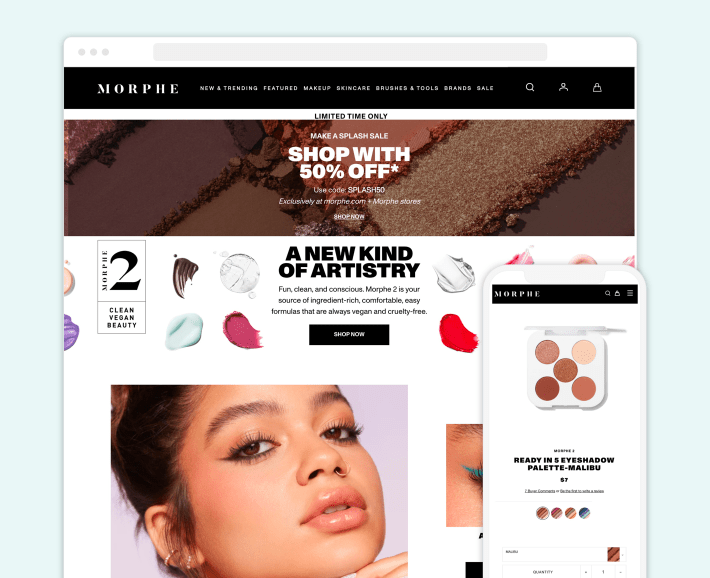 Morphe is an excellent place to shop for professional cosmetics, skincare products, and makeup tools. This Shopify Plus website includes almost thirty popular beauty brands and actively uses social media to attract more customers. Morphe positions itself as a brand "created for creators," with makeup artists and influencers being its primary audience.
Get Inspired for Creating Your Beauty Shopify Store Design
The Shopify beauty e-commerce stores mentioned in this article are just the tip of the iceberg. There are numerous excellent examples out there, with multiple reasons they succeed. Some of them offer unique, industry-leading cosmetics or other outstanding beauty products. The others demonstrate standards of ethics and values, using only cruelty-free, natural ingredients. Many involve high-quality customer service, affordable prices, or attractive discounts.
However, it's worth mentioning that Shopify website design is one of the most critical success factors. Shoppers are much more likely to stay and complete their purchases if they understand the interface, navigate easily, and have a frictionless checkout experience. You can find out more in the guide on how to successfully create a checkout page.
Also, for better eCommerce website performance, beauty brands use Shopify Plus, which involves more opportunities for big and fast-growing businesses. In particular, they can use Shopify Scripts to facilitate and improve the checkout experience. You can learn more about Shopify Plus Scripts in our recent blog post.
Thus, if you have a beauty website or intend to start your business on Shopify, GenovaWebArt can help you reach the desired results. We are an experienced and dedicated tech partner providing reliable Shopify solutions tailored to the clients' specific requirements. In particular, we deliver Shopify design and development from scratch, Shopify Plus migration, eCommerce re-platforming, and store expansion.
Perhaps you want to know about another e-commerce platform, check out this comparison of Shopify vs WooCommerce.
Get in touch to build the best online beauty website for your business!