When is the right time for eCommerce replatforming? As eCommerce sales surge toward $8 billion globally by 2026, outdated and underperforming platforms can hold businesses back. Given today's highly competitive landscape, having a performant and user-friendly online store is a must.
If you're tired of spending much time and money on maintaining your existing website, consider this post as your ultimate eCommerce replatforming checklist. We'll explain how to move your business to Shopify and demonstrate the main reasons to migrate.
As a reliable Shopify design and development vendor, GenovaWebArt will share insights to unlock your online store's full potential with migration to Shopify. Having already switched eCommerce platforms for the Kit & Kin store, we'll leverage our practical expertise to help your business thrive.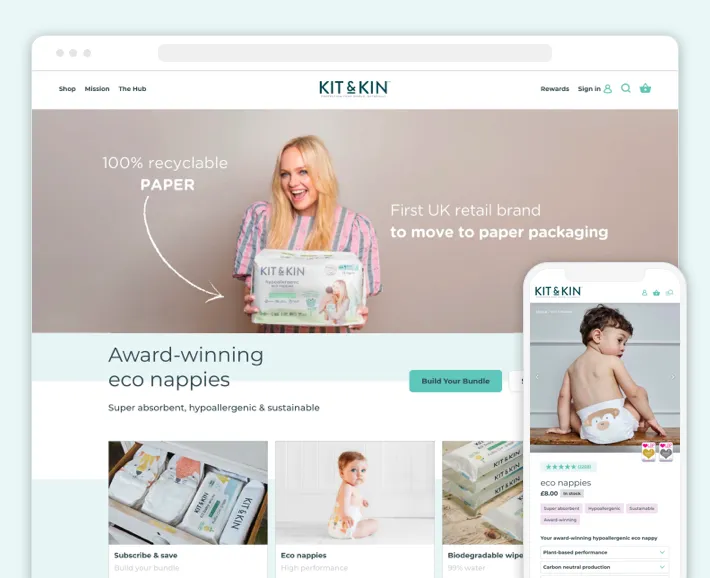 When to Replatform: 10 Signs to Look Out For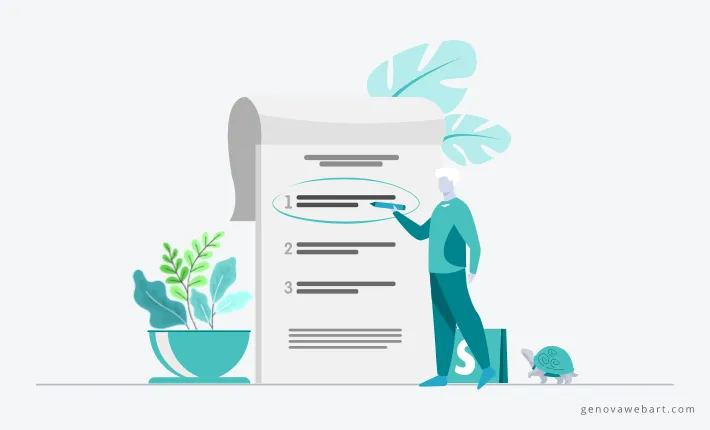 As an online store owner, you may face several reasons to consider eCommerce replatforming. Let's look closer at the common signs indicating the need to move to a new platform.
Rising Total Cost of Ownership (TCO)
Upgrades, maintenance, and support expenditures can add up over time. Thus, it's becoming increasingly expensive to keep your online store running smoothly. In particular, unexpected expenses impact your bottom line, leaving less room for investing in other business areas.

Therefore, one of the primary reasons to consider eCommerce replatforming is the rising total ownership cost associated with maintaining your current platform. By switching platforms, you can move to a more modern and cost-effective solution. It will reduce your TCO and free up resources for other critical business operations.
Security Issues
If your current eCommerce platform provider fails to deliver adequate security measures, it may put your business and customers at risk. Security breaches can damage your reputation, resulting in a loss of client trust and a sales decline.

Besides, security threats are constantly evolving. And outdated platforms are much more vulnerable to attacks. Shopify replatforming can protect your customers with robust security features and regular updates.
Poor Website Usability
If your customers find it challenging to use your website, it impacts your sales and revenue. A poorly designed store with confusing navigation makes frustrated shoppers leave and look for the desired goods elsewhere.

These days, customers anticipate seamless and intuitive online experiences. And if your current eCommerce platform fails to meet their expectations, it's a sign to switch to another one. A more user-friendly solution designed with your buyer's needs in mind will increase customer satisfaction and loyalty. Accordingly, your sales will also grow.
Competition Outperforming You
In today's competitive eCommerce market, having a modern and feature-rich platform is essential for attracting and retaining customers. If your competitors use more advanced solutions offering better user experiences, your potential buyers will likely prefer their stores.

Hence, another compelling reason to move your eCommerce business is to maintain your position in the market. That will help you offer state-of-the-art functionality and digital experiences meeting the new customers' requirements.
Inability to Handle Traffic Spikes
One of the worst nightmares for an eCommerce business owner is the inability to handle a sudden surge in website traffic. Suppose your platform struggles to deliver consistent performance, leading to site crashes, slow loading speeds, and lost revenue opportunities. Then, it's a good idea to consider some other options.

Luckily, replatforming to a more scalable eCommerce platform can address this issue. It provides the infrastructure to manage traffic spikes without sacrificing website performance and user experience.
Difficulty in Implementing New Features and Updates
Online businesses should quickly adapt to changing market needs by implementing new features and updates. In turn, if your current eCommerce platform requires significant effort and time to introduce cutting-edge functionalities, it limits your competitive capacity.

And that's where eCommerce replatforming comes to the rescue. By moving to a more flexible and modern platform like Shopify, you can roll out updates in no time. It also improves your time to market, reduces costs, and ultimately enhances the overall customer experience.
Your Store's Non-Responsiveness
Mobile commerce continues to grow, and customers expect a seamless shopping experience, regardless of their device. In our mobile-first world, having an eCommerce store with responsive design can significantly impact your customer reach and sales opportunities.

Yet, eCommerce replatforming is a viable solution. By moving to a platform like Shopify that supports responsive design you can ensure your store looks and functions great across all devices, including desktops, tablets, and smartphones.
Poor Admin Panel's Functioning
If your current platform's admin panel is slow or difficult to navigate, it wastes valuable time and resources for your business. Moreover, it negatively impacts your productivity, efficiency, and, finally, your bottom line.

Fortunately, you can tackle this issue by moving to an eCommerce platform with an intuitive and efficient admin panel. In particular, it provides tools for order management, inventory management, reporting, analytics, and more – all in one place.
Compromising Sales and Marketing Strategies
Solid sales and marketing strategies are crucial for your business growth. At the same time, the lack of advanced email marketing campaigns, personalized product recommendations, and dynamic pricing leads online store owners to missed revenue opportunities.

eCommerce shop replatforming can help you move to a platform that offers more advanced marketing and sales tools aligned with your business goals. For instance, you can leverage abandoned cart recovery, upselling, cross-selling, social media integration, and more on Shopify.
Obsolete eCommerce Platform
The most apparent reason for replatforming is an outdated eCommerce platform. Obsolete e commerce solutions are more vulnerable to security threats. Furthermore, they don't support the latest technologies and integrations with modern third-party applications. As a result, they prevent you from expanding your store's capabilities.

So what does replatforming change from this perspective? First, a cutting-edge eCommerce platform like Shopify ensures your store stays up-to-date and aligned with industry trends. What's more, it gives your customers a better shopping experience while keeping your business competitive. For more details, check out our detailed guide on Shopify migration.

If you notice any of those signs, it's the right time to consider eCommerce replatforming. Moving to a new platform will address the issues listed above. This way, you can improve your website usability, security, and performance. Such a solution ultimately increases sales, revenue, and customer satisfaction.
eCommerce Replatforming Checklist: 6 Essential Steps for Migration
Now that you know the primary reasons to move eCommerce business to another platform, let's discover the core stages of the replatforming process.
Step 1. Select a New eCommerce Platform
The first step is choosing the right eCommerce replatforming platform.

You should carefully evaluate different options, including hosted and self-hosted platforms. Consider features, scalability, security, and cost factors. Researching and comparing various providers is essential to find the best fit for your business.
Step 2. Determine Platform Dependencies
Once you've identified the most relevant replacement solution, it's time to specify the dependencies of your current eCommerce platform. Thus, you will ensure a smooth transition to the new one. The aspects to consider include the following:
Custom code of your existing platform
Payment gateways
Shipping providers
CRM tools
Analytics tools
Marketing tools
Other third-party apps and integrations
By determining these dependencies, you will check if the new eCommerce solution supports the required characteristics and functionalities. Additionally, you will mitigate risks associated with compatibility issues and data loss during migration.
How to identify dependencies? Here are the three core steps to take in this regard.
Review your current eCommerce platform's documentation.
Consult with your development team or third-party providers.
Audit your website's integrations and code.
Step 3. Review Existing Contracts
At this stage, consider the terms and conditions related to your current eCommerce platform. Those include any contracts with your provider, such as service level agreements (SLAs), technical support contracts, licensing agreements, and other arrangements.

Review those contracts to identify any restrictions or limitations impacting your migration to a new platform. For instance, some agreements may have clauses preventing you from moving to another eCommerce solution within a specific timeframe. Alternatively, they require you to pay penalties for early termination.

Understanding your contractual obligations before making any decisions about eCommerce replatforming is critical. This way, you will avoid potential legal and financial issues from violating the existing agreements.
Step 4. Plan Migration Path and Scenarios
Once you have selected your replacement solution, identified platform dependencies, and reviewed contracts, you can start planning your replatforming path and scenarios. It involves creating a strategy for migrating your data and integrating a new platform with your existing systems.

The most significant considerations for planning your migration include the following:
Data migration. Determine which data to export, how you'll do it, and which tools and technology to use. The most critical information includes customer data, order history, and product details.
Integration. Decide how your new platform will integrate with your existing systems, like your inventory management and accounting software.
Testing. Create a plan for testing your new platform to verify that you migrated all data correctly.
Rollout. Determine how you will roll out the new platform to ensure minimal disruption to your business and customers.
Step 5. Evaluate Costs and Create a Business Case
Before embarking on a Shopify replatforming, determine the costs and create a business case. Thus, you will justify the investment and ensure the migration is financially feasible for your business. Here are a few tips for this stage:
Determine the cost of the new eCommerce platform. Consider the expenses associated with the new solution, such as licensing fees and maintenance and support costs. Also, remember about additional spending on customization, integration, and development.
Evaluate the cost of data migration. Consider data mapping, cleansing, and validation expenses.
Determine the cost of training and support. Check how much expenses you'll need to introduce your staff to the new solution.
Once you have determined the costs involved, you need to build a business case. It includes creating a cost-benefit analysis comparing the migration expenses with potential benefits (increased sales and revenue, improved customer experience, greater scalability, and so on).
Step 6. Devise a Customer-Facing Communication Strategy
When replatforming your eCommerce store, keep your customers informed about any changes affecting their shopping experience. With that in mind, build a communication strategy that outlines the migration timeline and any impact on clients.

Here are some tips for creating a customer-facing communication plan:
Inform customers early. Discuss the planned migration with your clients as soon as possible. Ensure they know the potential disruptions.
Use multiple channels. Communicate the migration plan through various channels like email, social media, and your website. This way, customers will receive the message and access relevant information.
Explain the benefits. When reaching out to your audience, highlight the new eCommerce platform's advantages. It will alleviate any potential concerns about migration.
Provide resources. Develop resources like an FAQ page and user guides to explain the migration process and answer customers' questions.
A robust communication strategy minimizes potential issues to your customer shopping experience and guarantees a smooth transition to your new eCommerce platform.
GenovaWebArt Experience in eCommerce Replatforming
GenovaWebArt is a professional Shopify design and development company. For more than ten years in the eCommerce industry, we've successfully delivered over two hundred online stores generating substantial profits and boasting loyal audiences.

Our team has profound knowledge of various Shopify-related processes. In particular, we can assist you with the following services:
Shopify migrating from WooCommerce, Magento, and WordPress
Shopify design and development
Shopify Plus design and development
Shopify expansion and scaling, and more
Speaking of eCommerce replatforming services, our experts can deliver a seamless transition of your business to Shopify. Namely, we can migrate your products and product categories, import customer data, and transfer your order and other relevant information.

On top of that, our team has rich expertise in custom replatforming to Shopify. We transform outdated eCommerce solutions and migrate websites without compromising the existing functionality. Moreover, our specialists can introduce the latest eCommerce features to boost your store's performance.

Got intrigued by our eCommerce replatforming services? Look how they work in action.
Kit and Kin Online Store Migration to Shopify Plus from WooCommerce
Kit & Kin is a US-based online store that specializes in selling nappies and other child care products. When the client turned to GenovaWebArt, they used a WooCommerce platform as their provider.

However, the company needed a more scalable and customizable solution – and Shopify Plus appeared to be the best option. We provided comprehensive development and migration services to deliver a performant online store. In addition, our experts continue to assist this client with ongoing support services.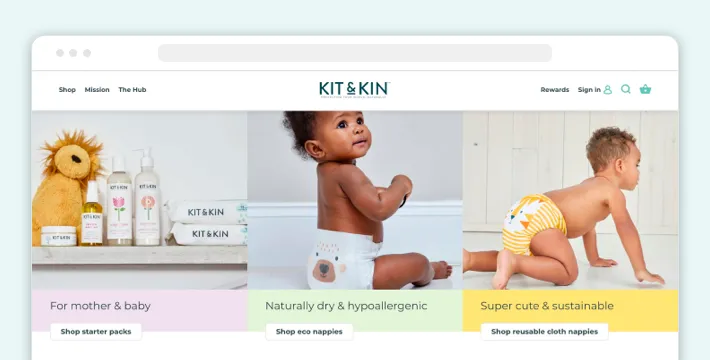 You can also find other successful projects in GenovaWebArt's portfolio.
Conclusion
Replatforming your eCommerce store may seem challenging. But it's a necessary step for companies striving to stay competitive and meet the ever-evolving customer needs.

Don't let an outdated eCommerce platform hold your business back. Instead, ensure a seamless transition by selecting the right eCommerce solution by following the replatforming steps described in this article. Determine dependencies, review contracts, plan your migration path, analyze costs, and create a customer communication strategy.

Note that if you're considering eCommerce replatforming, it's critical to cooperate with experienced professionals. A reliable partner will guide you through the entire process and guarantee a seamless migration. Our team at GenovaWebArt is always available to provide in-depth consultation on this topic. So don't hesitate to contact us for more information.
Frequently Asked Questions
Why is eCommerce replatforming important?
eCommerce replatforming is a critical process that can benefit your business. With its help, you will keep up with changing market needs, stay competitive, and improve your store's overall performance and user experience. As a result, switching to an efficient eCommerce platform can reduce your expenses and increase revenues.
How long does it take to replatform an eCommerce store?
The eCommerce replatforming process may vary in time. It depends heavily on a particular store's complexity, data amount, chosen platform, and functionalities required. Thus, it can take anywhere from a few weeks to several months. To learn the exact timeframe for migrating your eCommerce store, you can always
ask GenovaWebArt experts
for help.
Will I lose order and customer data when replatforming?
No, you won't lose your store's data if you replatform correctly. If you're unsure about migrating your data yourself, you can
hire specialists like GenovaWebArt
to assist you with this task.