Considering switching from your current eCommerce platform to Shopify? So are many online businesses: Genus AI reveals a staggering 200% surge in Shopify websites from 2020 to 2022. And today, we'll hop on several successful Shopify migration stories to inspire your journey.
But why choose Shopify in the first place? It's user-friendly, secure, and scalable. It works perfectly for businesses of all sizes and industries, offering robust built-in features and plenty of customizable themes, apps, and plugins. So, if this eCommerce platform is your ultimate choice, keep reading our post with real-life examples of Shopify migration.
As an experienced Shopify design and development vendor, GenovaWebArt knows all Shopify migration subtleties firsthand. We've done this for Kit & Kin, Workout Meals, and other stores and are ready to share practical insights and inspiration for your online triumph.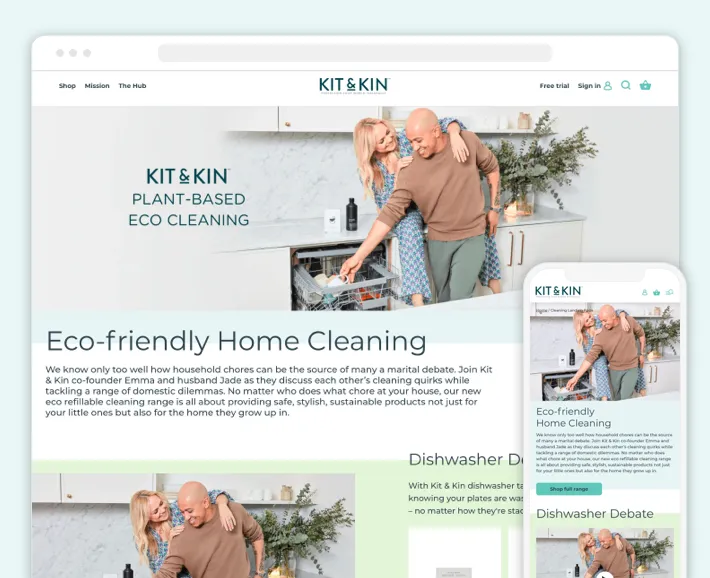 Frequently Asked Questions
Can I migrate my online store to Shopify by myself, or do I need professional assistance?
You can migrate your online store to Shopify independently using specialized tools like Cart2Cart. Yet, it's always better to
entrust this task to experienced experts
like GenovaWebArt for a smoother transition and optimal results.
What happens to my existing payment gateways and integrations during the migration?
When migrating to Shopify, you typically need to reconfigure your existing payment gateways and integrations or set them up from scratch. While this may require some adjustment, Shopify offers a wide range of integration options to ensure seamless functionality post-migration.
Will my search engine rankings be affected by the Shopify migration?
Shopify is an SEO-friendly platform, and it's designed to preserve SEO rankings. If you handle the replatfroming process correctly, there shouldn't be any issues.
What happens to my customer data and order history during the Shopify migration?
You can transfer your customer data and order history to Shopify. So, nothing happens, and you can maintain your customer relationships for further business growth.
How does Shopify handle security and data protection?
The Shopify team is responsible for the platform's security. The company leverages advanced encryption and compliance with industry standards, so be sure your online store is in safe hands.