Shopify has been changing the online retail industry since its debut in 2006, and it has turned into one of the best eCommerce platforms available today. These days, Shopify is among the most user-friendly and cost-effective ways to sell your products on the Internet.
As this online platform is constantly developing, there's no limit to exploring new ways to work with Shopify and the types of markets you can have there. However, businesses aiming to develop internationally inevitably face problems with switching to new languages and accepting local currencies for payments. And even though Shopify translates your store to other languages by itself, the question with payments requires other integrations. A good example here is Shopify Markets, the platform that allows businesses to sell directly to international customers from a single site.
Running a store with Shopify Markets to sell in different countries takes a little extra work, but it's necessary to offer your products and services in foreign countries if you want to become truly globalized and reach buyers abroad.
In this guide, we will rely on our experience with Shopify migration services to show you how to choose the best settings for your business and set up your account to accept payments from global buyers in any currency you want. From there, GevowaWebArt experts will show you how to set up Shopify Markets step by step and start selling on the global market. Well, let's find out how to sell internationally on Shopify.
Why Configure the Shopify Market Settings: The Benefits
Once set up accurately, Shopify Markets offers considerable benefits to businesses selling online. In essence, they allow you to list products and sell directly to customers in multiple countries, through multiple currencies, and with a single integration.
Getting to know how to configure Shopify Markets provides several perks: low transaction fees on international sales, reduced shipping costs due to pricing adjustment, and the option to launch localized websites or apps. You can find out more about pricing plans in our article.
Access to International Markets
Shopify Markets works as a platform that saves you time by removing a lot of manual processes involved with importing and exporting abroad. It reduces bureaucracy and gives you access to major global markets. Once you are selling internationally, you can use Shopify's multilingual and multi-currency functionalities to configure your website in any language your target audience speaks and its currency.
Less Stores
Earlier, you needed to open a new store to accept a new currency. But with Shopify Markets, you get one place to accept several currencies.
For example, when an EU brand sells products to several neighboring countries. Earlier, this company needed a separate store for Germany, France and Netherlands. Now, these efforts are not needed: everything can be done in one store.
Pricing Adjustment
With Shopify Markets, you can use multiple currencies and adjust pricing within the platform to address the floating shipping costs in different locations. To illustrate, in some parts of the world, you may have to pay more for shipping than in others. If you're using Shopify Markets, you can easily change the price in these markets by a percentage depending on the unique costs of your product.
Launch Localized Websites or Apps
Starting in one centralized location online, you can optimize custom shopping experiences for specific markets and make the transition smoother by putting automated systems in place for the benefit of your business (by using Storefront API, for example). As it grows, you can easily enter and sell into new markets with Shopify and establish a local presence with minimal overhead.
This helps with customer retention because customers feel like they're buying from a local shop rather than an impersonal corporation or faceless website that is not accountable to them.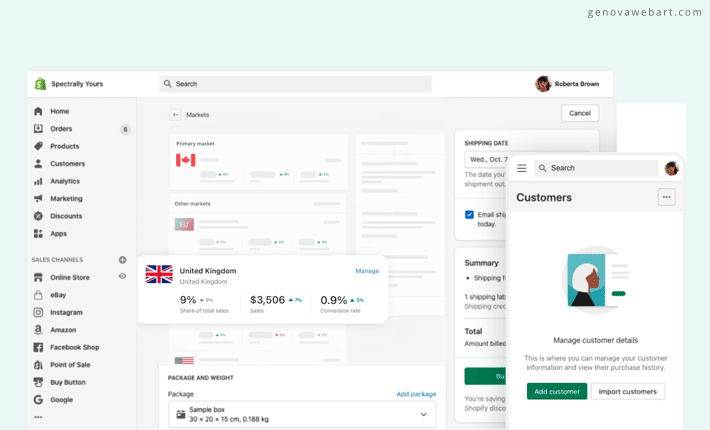 Main Features of International Selling With Shopify Markets
Shopify Markets allows a business to reach more customers by having only one online storefront. Small and large businesses alike can quickly start an international eCommerce strategy without hiring extra employees dedicated to handling the challenges typically involved with cross-border sales. This is possible thanks to the built-in features you can enjoy within Shopify Markets.
Automated Language Translation
Shopify Markets uses the best third-party translation apps available to translate your store accurately into the local language with access to 20 languages for comfortable worldwide sales on Shopify. If you understand your customers' needs, their experience improves and it becomes likely to convert into a purchase. This results in the overall success of your Shopify store.
Multi-Currency Experience
Mostly, international shoppers prefer to offer customers payments in their local currency, as this move is expected to increase conversion by up to 40% Shopify in international sales. The Shopify website follows this trend and converts all prices to the international currency of the customer's choice based on their input of the currency's current conversion rate. This way, a Shopify user gets an intuitive shopping experience, receiving one consistent currency rate throughout their interaction with the website on the different purchase stages.
Different Payment Methods
Providing customers with a convenient and trusted payment method is also vital to the success of international store sales. Preferences naturally vary by region, and giving this choice can significantly boost conversion rates.
Most regions traditionally prefer Visa, Mastercard, Amex, Shop Pay, PayPal, or Apple Pay methods of payments. In addition to these, Shopify Markets simplifies adding new payment methods in your local area, as they aid conversions and lessen the number of carts that get abandoned.
SEO/Local Domain Strategy
Shopify Markets allows you to work with product descriptions, letting customers find you in search results in engines like Google and Yahoo. This way, you can establish an international domain strategy to bring in new customers in your target countries. And with Shopify Markets, you'll even be able to decide on a region-specific domain strategy and optimize it for search.
Showing and Collecting the Duty and Import Taxes
As long as the final price is made clear from the start of the purchase journey, it can significantly increase the likelihood of getting to the checkout and making a sale. With transparency about duties, taxes and other types of extra costs, Shopify Markets safeguards shoppers and gives the comfort of purchase. It helps to build customer trust in the pricing quoted from the outset.
Inventory Display
If your company operates in various parts of the world, maintaining international warehouses is often challenging. It increases the likelihood of conflicting product availability messages that reflect poorly in conversions. With Shopify Markets, you can display products from only the warehouse that stocks local inventory, eliminating confusion and conflicts selling internationally on Shopify.
Smart Optimization Provided
Shopify Markets has a function to optimize your store's operation automatically. Rather than guessing or trying to manage inventory manually, insights are provided to help you decide using the data aggregated from over 1.7 million Shopify merchants. It will allow you to quickly identify new opportunities to sell internationally and where, when, and how to go about them without the need to spend lots of money on consultants.
A Single Centralized View
With Shopify Markets, you can manage all of your store locations from one dashboard, making administration easy for both international and domestic outlets. This dashboard lets you check and compare performance statistics, so you can quickly decide what strategies need to be adjusted.
How to Setup Multiple Stores with Shopify Markets for International Selling
To enjoy all the set of features and advantages for global selling that Shopify Markets offers, it's necessary to set up this platform accordingly. But how to use Shopify Markets on Shopify online store? Here's a basic instruction for your guidance.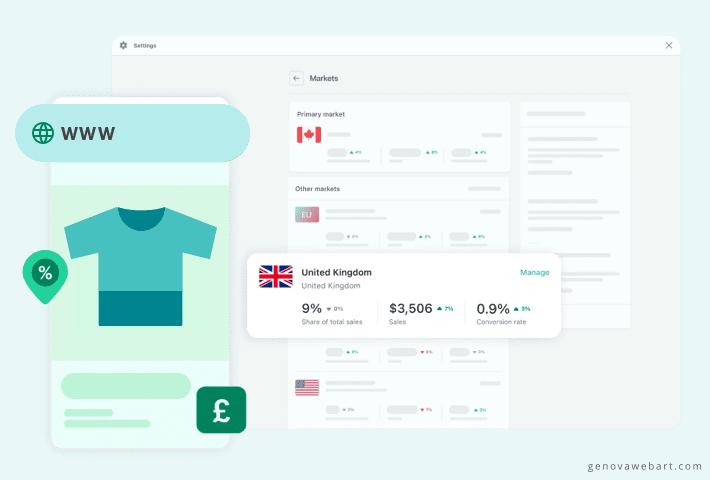 Basic Settings (Add Markets)
To reach Shopify Markets, you should enter Settings in your Shopify store and enter Markets. In this menu, you will see the green button titled "Add Market." Press it and fill in the information asked by the platform:
Market name: It can be the country's name or the entire region using the same currency and/or language.
Add countries/regions: Select the exact locations you're about to trade.
After that, you can sell internationally on Shopify and manage additional settings like domain, language, currency, shipping and shop settings, and tax and duty settings. Also, this page lets you control the performance of your global market in numbers and parameters.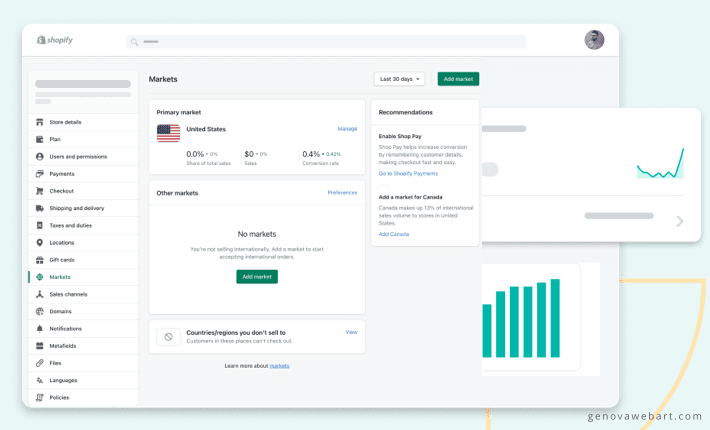 Additional Settings
Domains and languages:You can use a primary domain, assign a custom domain to the host, and subfolders.
Shipping and delivery:You can choose among several delivery options and manage shipping rates, including creating a new profile.
Taxes and duties:Enter the dashboard to manage where you collect taxes and duties.
Payments:Select up payment methods available in your markets and add your own method if needed.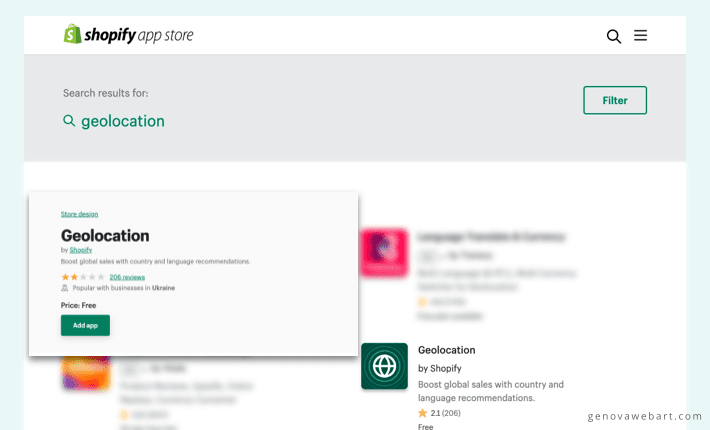 Advanced Settings
Use Shopify geolocation app: Make language and country recommendations smart and automatic with a pre-installed Shopify app.
Configuring automatic exchange rates: Shopify offers manual and automatic calculations for exchange rates, giving an opportunity to view product price breakdowns. If you don't get the Advanced Shopify and Shopify Plus plans, you'll get the automatic calculation by default.
Selling in multiple languages: In the Settings menu, add the desired languages in the Translated Languages section. This way, you will let customers in the given market view information in their native language.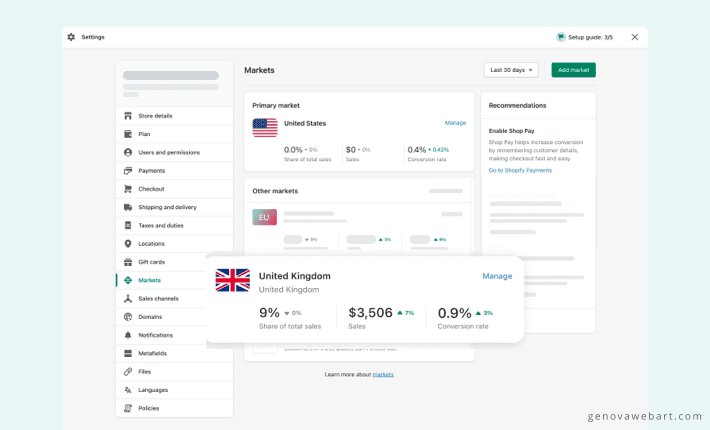 Shopify Markets Dashboard Overview
The Shopify Markets dashboard helps you manage your marketplaces and products internationally. Moreover, it offers thoughtful recommendations to help you take your business to the next level and use opportunities in other markets.
Customizable Market Options
Shopify Markets makes it easier to manage your sales by letting you create entire regions instead of separate countries, like the European Union, South-East Asia, or Latin America. This way, you can work with several locations cross-border and at once, saving you time and effort.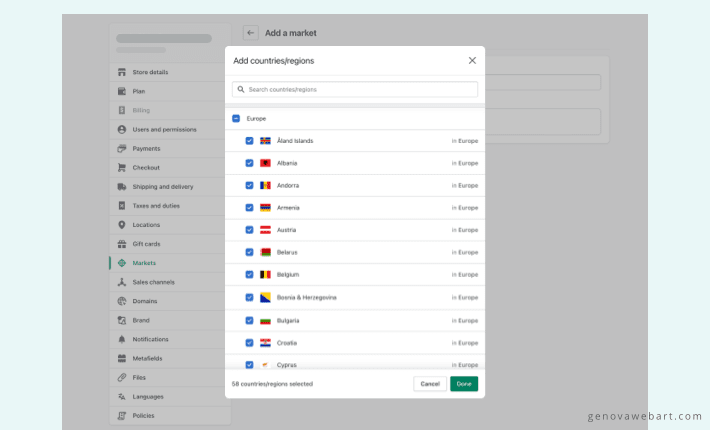 International Pricing Configuration
In Shopify Markets, your can adjust your general pricing strategy for certain secondary purchasers. For example, you can maintain your prices in your primary market to ensure the expected profits and get an opportunity to lower your prices in new markets to attract new international customers. Also, you can change your primary market in Shopify. For such actions, the dashboard in Shopify Markets offers you full pricing control.
Inventory and Fulfillment Control
Shopify Markets will automatically tell customers where you can ship to them, adjusting the set options depending on the customers' location. This way, you can avoid situations of inventory mismanagement. If a customer orders a product that's not in stock in your inventory, Shopify will adjust your inventory to automatically have that product available on your site.
Smart Settings
If you're the type of person who likes to stay in complete control, you can opt out of specific Smart Settings in the dashboard. While there is very little data to judge this feature's worth, it will be interesting to see its effect on conversions.
How to Open a Shopify Store with Shopify Markets? Get Our Help
All in all, Shopify Markets makes it easier to sell internationally, thanks to intuitive set-up and easy-to-use store management and a set of useful features. With this solution, you can manage your existing customer base and enter new markets globally faster and within a single platform.
From our experience, setting up Shopify Markets significantly facilitates global sales. Businesses that use an in-built multi-currency feature, automated language translation and inventory management within a single dashboard can adjust their strategy fast, meaning pricing strategy and offering a tailored buyer experience. This move is an excellent decision for scaling your business.
If you still have some questions about Shopify Markets or need a consultation, contact GenovaWebArt! From us, you can request our Shopify design and development services and start taking advantage of Shopify Markets functionality now.