As an eCommerce store owner, you are always looking for ways to make your products stand out from the crowd. 3D models for eCommerce have become a popular and effective way to boost sales and increase interest in your products by an enhanced visualization effect. According to the Cappasity research, 3D images are liked by eCommerce customers, as 82% of product page visitors activate the 3D view, and 95% of respondents prefer 3D view to videos.
However, implementing Shopify 3D models can be somewhat challenging if you're not familiar with the platforms for Shopify 3D Product Customization.
In this article, GenovaWebArt will show you how to implement custom 3D models on Shopify to reach your business goals and get the maximum from this enhanced eCommerce functionality. In particular, it explains why introducing a 3D model attracts Shopify customers and what exact stages can add such an image to your product description in Shopify.
This article provides an overview of 3D modeling perspectives in eCommerce, how to add 3d models to your Shopify store and shows why it's a must-have feature for a Shopify store. We'll share our experience in creating 3D modeling of different complexity, including
Shopify 3D Product Visualizer,
Shopify 3D Product Customizer,
Shopify Augmented Reality.
Finally, we'll explain why it's better to rely on Shopify functionality in creating 3D visualization and provide a step-by-step guide for adding a 3D image to your Shopify product page.
Introducing 3D models for a Shopify Store
3D modeling is gaining momentum these days, as several spheres have already experienced the way it facilitates interactions, increases usability, and accelerates dynamics. Education, healthcare, construction, games, and many other spheres have already changed and will be changing in the future.
3d model with interaction
When it comes to 3d models in eCommerce, the presence of an appealing website design is not already enough unless you're a big brand with unique UI/UX that still increases popularity and conversion rates. More and more stores are paying closer attention to the effectiveness and usability instead; that's why the question of picking the right platform is more important than fitting the current designing trends.
Why Shopify is the Best Platform for 3D Modeling in eCommerce
Shopify platform appeared as a fast and useful solution for store owners that offers numerous tools to sell goods, improve usability, and boost conversion on the website. In addition to functional templates, the platform is actively developing and implementing the latest technologies, including virtual reality (VR) and augmented reality (AR). Even more, 3D models of products on Shopify stores are a default feature.
But not so many business owners know the advantages 3D models for Shopify will immediately bring to their store.
New Customer Experience
In essence, 3D models are realistic representations of things, meaning the way they look and the possibilities for the interaction they create with customers. For example, instead of just buying something online, customers can now try it on in their own living room or see a product coming out of their printer at home.
This way, by adding photos to your store, you've made it possible for potential customers to have an idea of what your products look like before they make a purchase. When you set up 3D models for your Shopify store, you make sure that the image is based on reality rather than imagination.
Getting a Competitive Edge
As more and more businesses shift toward eCommerce options instead of brick-and-mortar locations (hello Amazon Go), having options like 3D modeling and AR/VR will ensure you stay competitive. According to Shopify official website, implementing 3D models in eCommerce can increase the conversion rate by up to 250% on a product page.
Advancing your Google Ranking
Moreover, a Shopify store with 3D and AR ranks higher in Google with images on the first page. All together, Shopify models in 3D are a working solution to boost sales and fuel the constant interest in your product.
Possibilities of Shopify 3D in Your Store
Shopify 3D AR creates an impression that matters. Selling 3D models in eCommerce is an excellent way to get customers to notice your business — and it's also a great way to improve your bottom line. By creating interest in one of your products, you have opportunities to upsell or cross-sell other products.
For example, if someone purchases a model of iPhone (or any smartphone for that matter), they may be interested in buying one or two more accessories. It can help boost revenue. And depending on where you set your prices, Shopify 3D images can be much cheaper than their physical counterparts. Creating such models takes less time and effort, but the possible results can overcome all your expectations from such an investment.
Here are the best ways to do Shopify 3D customization, based on the GenovaWebArt experience.
Shopify 3D Product Visualizer Example
Shopify 3D Product Visualizer
This method of product customization offers users to render their products in a realistic manner and from different angles on your Shopify store. All you need to do is select a product and click on Go to Model. This will start creating a 3D image of your selected product which can be rotated, moved, and viewed from different perspectives.
This way, Shopify 3D product viewer helps change, customize, and personalize your product, such as adding text or symbols. As you can see on this video from GenovaWebArt, it allows you also to change the color scheme.
Shopify 3D Product Visualizer Example
Shopify 3D Product Customizer
Shopify models customization is an advanced feature that offers full control over layers of your model used to design it, as this example from GenovaWebArt 3D modeling library shows.
Shopify product customizer allows you to change any product and view a full 360-degree image of their model online in Shopify stores. The customization software provides free rein to your clients; its possibilities are endless and are useful for jewelry, mobile phone covers, or skateboards alike. Shoppers appreciate being able to see what their finished product will look like before they purchase, which means higher sales and more conversions for your business.
Shopify Augmented Reality
Such 3D ecommerce models improve visual experience to the next level, giving users an ability to test-drive a product in real-time right in front of their eyes.
As you can see on this video from our portfolio, Shopify Augmented Reality displays a potential design or shows off how your products will look with different colors and textures. It lets customers check how the product will look in their environment before they make a purchase. This way, it provides users with many opportunities and helps build brand loyalty through engaging experiences.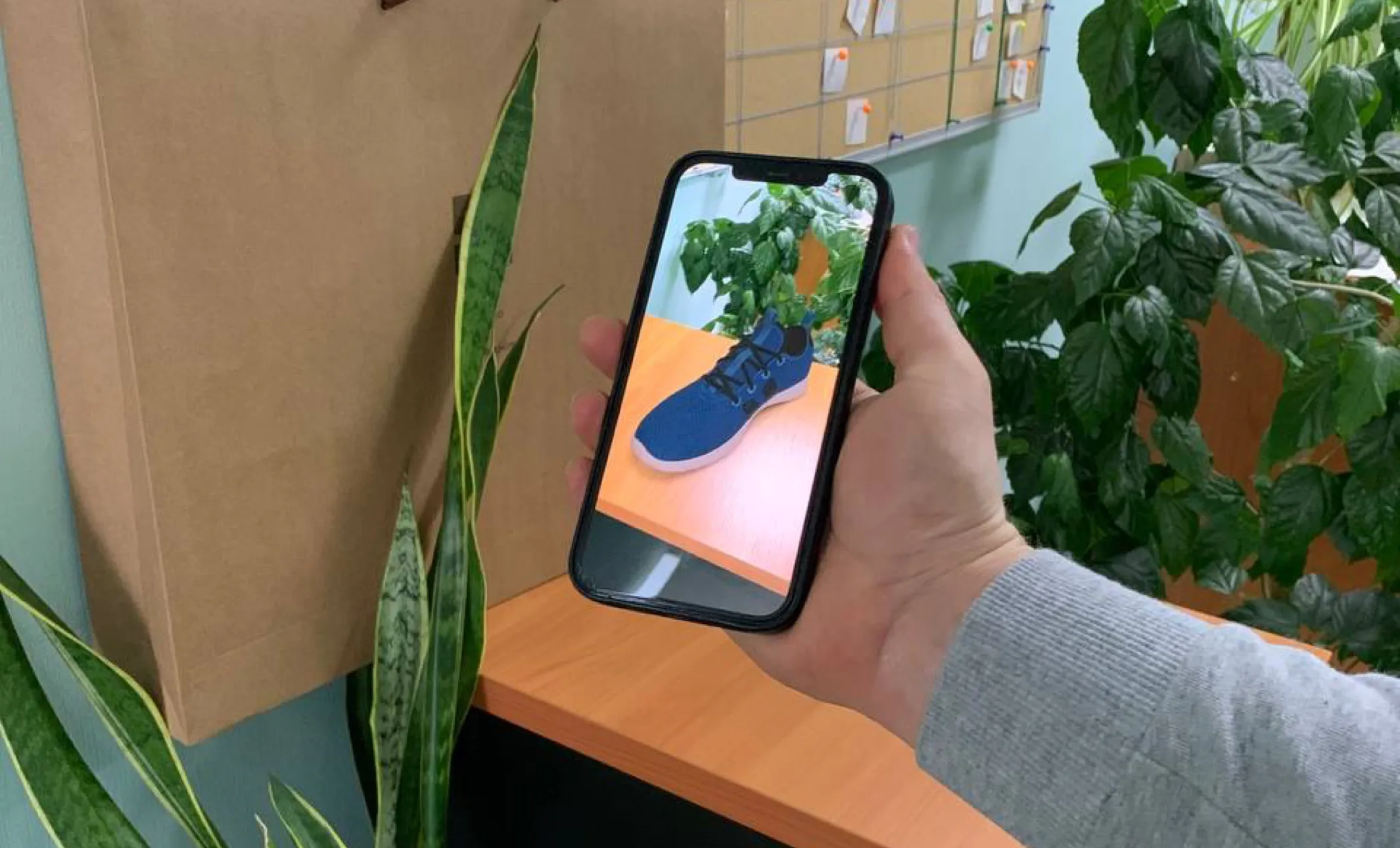 The Way of Implementing 3D Model on Your Shopify Website
Shopify 3D customization and visualization can be introduced through a third-party app or inside Shopify by increasing the functionality of its existing tools and platform features.
By working with external Shopify 3D models apps, you risk decreasing the site page speed, which is among the main factors impacting conversions and sales for an eCommerce store. On the contrary, working on enlarging platform functionality with Shopify tools means you won't overload the website with extra apps. That's why we recommend going for the second option.
How to Implement Shopify 3D Models in Your Store: A Step-by-Step Guide
Here's the way a business owner can add 3D models to their eCommerce:
Get 3D models for your product: One of the ways to get a 3D model for your product by using Shopify functionality is to hire an external Shopify expert who will customize your photo and product dimensions into a Shopify 3D model. We at GenowaWebArt can also serve as a product configurator for this aim. At this stage, it's important to provide information compliant with Shopify requirements.
Upload 3D models directly on the Products page in your Shopify store. For making an appropriate 3D model, check the Shopifty 3D modeling standards so that your contribution corresponds with the platform requirements. Here are some aspects to pay close attention to:
Visual accuracy: The model should be built real-scale and identical to the reference photos.
Mesh quality: The model saves object geometry and doesn't contain black polygons.
Physically-based rendering: The textures are made with the physically-based rendering (PBR) workflow.
Material quality: All the nuances are reflected to create a high-quality photo.
Modeling for revisions: Prefer quadrangulated geometry.
Polygon count: The model conforms to the polycount limits of different media formats.
UV layout: Use single texture map, apply 1:1 space position, and exclude overlaps for UV shells.
Product origin: The product's origin is centered at the product's base
Exporting practices: Freeze all the transformations and delete all the history.
Technical requirements: GLB format is preferable. However, you Shopify also accepts USDZ and GLTF formats.
By the way, if you have any trouble implementing this by yourself, contact GenovaWebArt Shopify experts. We will solve this for you.
Tailored Solutions: Implementation of Custom 3D Experience
For complex custom 3d solutions or elaboration of your existing 3D models for Shopify, we highly recommend asking for expert help. That's because such requests require tech expertise and experience working with Shopify to deliver you the results fast and accurately.
We at GenowaWebArt do Shopify 3D models presented in this overview. Upon your request, we can integrate 3D model with product variants, add animation, or highlight key elements and functions of your product.
Implement 3D Modeling to Boost Conversion for your ECommerce Store
Being open to new technologies and services, Shopify is one of the best platforms to implement 3D modeling and let users interact with your product before buying it. In a Shopify eCommerce store, you can implement 3D images in various ways, ranging from changing colors in Shopify 3D Product Visualizer to applying AR technology and letting customers try your product in their homes with Shopify Augmented Reality.
Whichever technology you choose, it's always better to rely on internal Shopify tools not to decrease site load speed. In any case, adding a 3D image to your product description is not hard and doesn't require any coding skills.
This article is written based on the expertise of GenovaWebArt, a company with experience in Shopify store development since 2012. We have narrow expertise on Shopify solutions, learn from them, and share our experience. We help clients smoothly integrate technologies, including Shopify 3D modeling and AR/VE, to Shopify eCommerce stores as a tech partner.
Where to Learn More about 3D Models for Shopify?
On the SizeLink page, you can create a sample 3D model for Shopify by inserting height, width, and length and scanning the QR code with your mobile device camera. Check out this page to see the use cases and get answers to your possible questions about such models.
FAQ
1. Can Any Shopify Product Become a 3D Model?
Yes. But If you want to display your product in its best possible way, it's important to be realistic about how that translates into 3D. The process of turning two-dimensional images into three-dimensional objects adds complexity and requires careful attention from you and your tech partner.
2. Do I Need Coding Skills to Create 3D Models for Shopify?
Once you have a ready-made 3D model, you can follow our step-by-step guide on uploading it to your Shopify store. Still, it's always better to refer to a specialist who understands the key requirements and challenges thanks to the vast experience of cooperation with Shopify.
3. How can I use Shopify AR in 3d?
You can use Shopify AR to add three-dimensional (3D) images and models to your product page. It's best for products that would be difficult to see in real life, such as clothing and jewelry. With Shopify AR, you let your customers try the product and bring it to life.
4. Why is 3D technology a must-have for eCommerce?
The answer is quite simple; it can boost your sales. With graphical 3D product representation, you invite customers to interact with your product and psychologically, it's already a strong reason to buy your product after that.