If you're a Shopify store owner, you know how vital a well-designed and trustworthy website is. But where should you focus your efforts? Consider creating an aesthetically pleasing and functional Shopify storefront.
A storefront is crucial for your eCommerce website's success. It's a virtual shop window, influencing their first impressions of your business. That's why you may want to look through the top Shopify storefront examples to boost your imagination.
At GenovaWebArt, we specialize in designing and developing Shopify websites that are visually stunning, highly performant, and optimized for conversions. We know how to make your storefront stand out and attract more customers. Thus, whether you're seeking inspiration or want to revamp your storefront entirely, this post will come in handy.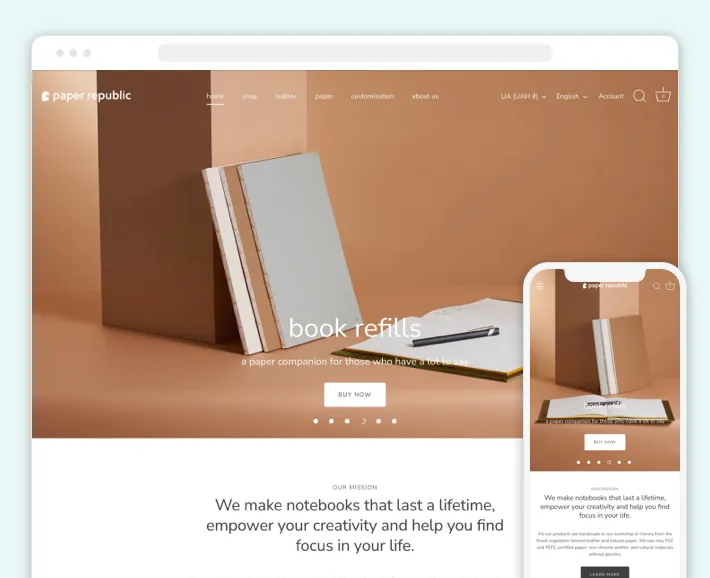 Frequently Asked Questions
What is a storefront in eCommerce?
An eCommerce storefront is an online platform or website where a business displays and sells its products or services to customers. It's the interface between the company and its clients. The primary goal of a storefront is to showcase products, describe them, and facilitate the online shopping experience.
How do I create a custom storefront on Shopify?
To create a custom Shopify storefront, take the following steps:
Choose the Shopify storefront theme
Customize the theme following your brand's visual identity
Add and organize products, including product images, descriptions, prices, etc.
Set up shipping rates, tax options, payment gateways, etc.
Add additional pages and content like About Us, Contact Us, or FAQs
Optimize your website for SEO using meta tags, relevant keywords, etc.
Test your storefront's overall performance and launch it
However, if you're unfamiliar with UI UX design or coding, consider hiring a team of Shopify experts like GenovaWebArt. We can build a custom storefront that meets your specific requirements.
How much does a Shopify storefront cost?
The Shopify storefront's cost depends on various factors. In particular, these are the selected Shopify pricing plan, any premium themes or apps used, and customization requirements. Judging solely by the Shopify subscription prices, expect to pay $32 to $400 monthly. Given that many other factors affect the final cost, we suggest you
contact our team
for more precise estimations of your project.
How many storefronts can you have on Shopify?
You can have as many storefronts as you need since you create new Shopify accounts and pay for them separately. However, note that the Shopify Plus pricing plan provides an expansion feature. It involves opening additional stores to complement your core platform. This option is suitable for businesses with multiple brands or international operations. You may also want to learn
how to set up Shopify Markets for global selling
.