Want to start your accessory business? We know how to do it without investing astronomical costs into a brick-and-mortar store. Launching an eCommerce website has never been so profitable, given the exponential boost of online shoppers.

According to Statista, in 2021, over 2.14 billion people globally shopped online. Only in 2016, their number was 1.66 billion. Significant growth, right?

Well, let's say you are thinking about opening a jewelry online store. But how should you launch it? Choose Shopify as your platform. Being a flexible and customizable solution, Shopify will help your business attract customers and stay competitive. Recently, we released an Shopify vs. WooCommerce comparison, and if you still had doubts about which platform to choose, after reading it, you will definitely choose Shopify .

Additionally, there are a lot of Shopify accessories websites. More than 22,800 fashion accessories stores and over 27,600 jewelry and watches online merchants operate on this platform. Shopify has proven to be a viable and profitable solution for all these businesses, and it can become the same for yours.

Today, we offer you to consider the top Shopify accessories stores for 2023. Let this article serve as inspiration for your eCommerce business and help you come up with your unique solution. GenovaWebArt, in turn, will assist you in this, having an extensive portfolio with over 200 successful online stores.

So let's jump right into our review.
1. A-COLD-WALL*: The Best Shopify Accessories Store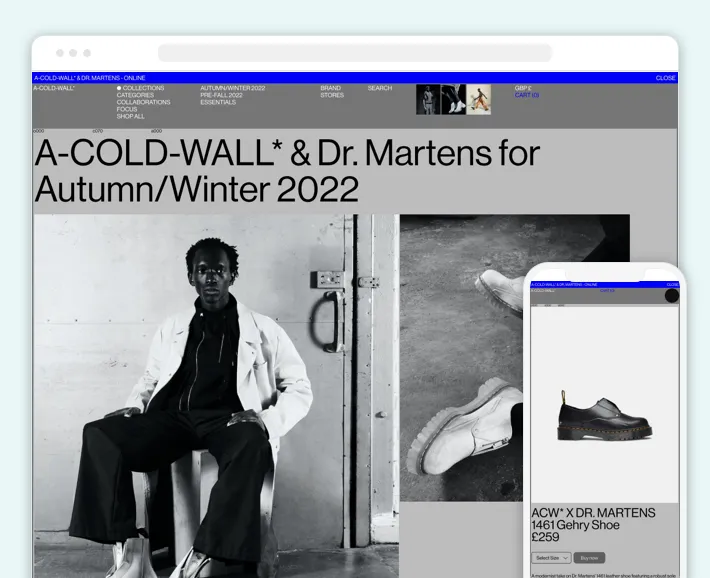 Have you ever heard of A-COLD-WALL*? If you're in the fashion industry, you might be surprised that this UK-based worldwide famous clothing and accessories brand uses Shopify for their online shop. The brand's designer, Samuel Ross, was inspired by his environment, working-class Britain, which is reflected in his pieces. You can say the same about the website: it's bold and straightforward.
2. Ten Thousand: The Best Shopify Accessories Shop by GenovaWebArt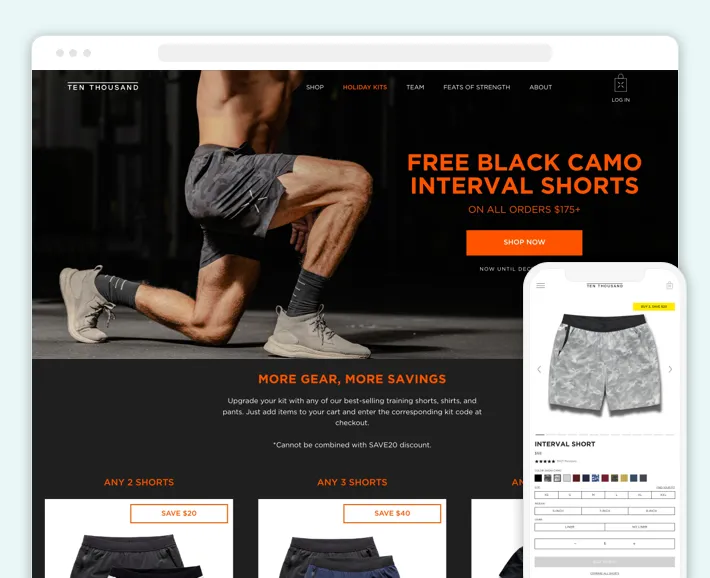 Ten Thousand is one of the best Shopify accessories store developed by GenovaWebArt. This brand of sportswear and accessories promotes continuous improvement. Their products are designed to be suitable for different types of training. GenovaWebArt helped this business broadcast this idea of comfort and quality, delivering a top-notch simplistic website that simultaneously makes a powerful impression on customers.
3. Ally Capellino: The Best Accessories Store on Shopify Plus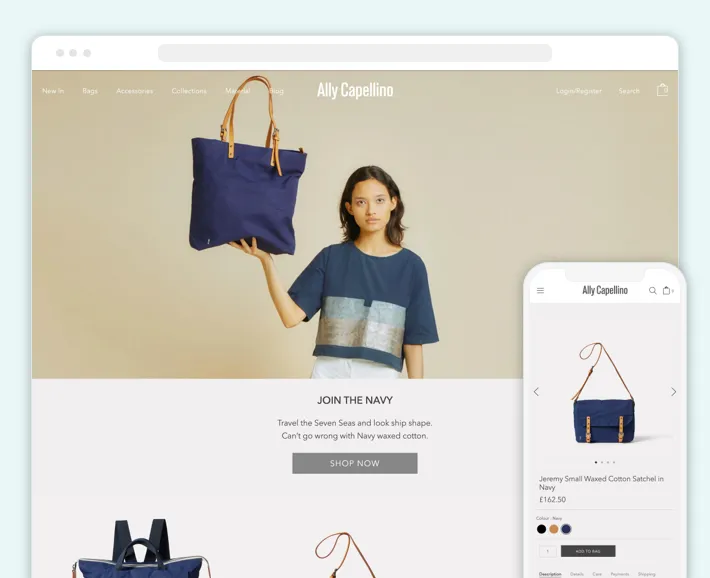 Ally Capellino is a brand of bags and accessories that does not follow fast-moving trends and prefers long-lasting functional style. The brand's accessories are made of simple materials such as leather, canvas, and waxed cotton and don't have unnecessary details. The online store fully conveys the company's idea: style, simplicity, and functionality.
4. Allbirds: Top Shopify Accessory Store in 2022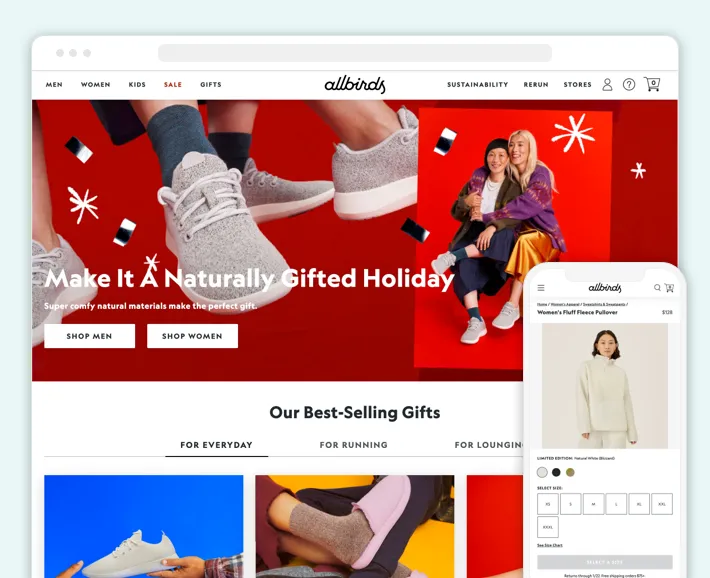 Allbirds is one of the best Shopify accessories websites in revenue and popularity. The profits of this company increased by 23% in 2022 compared to 2021, accounting for $97 million. This brand sells comfortable shoes for adults and children and also offers other accessories like hats and scarves. This retailer's website is equally as vibrant as its colorful assortment.
5. Tatty Devine: The Best Shopify Jewelry Accessories Store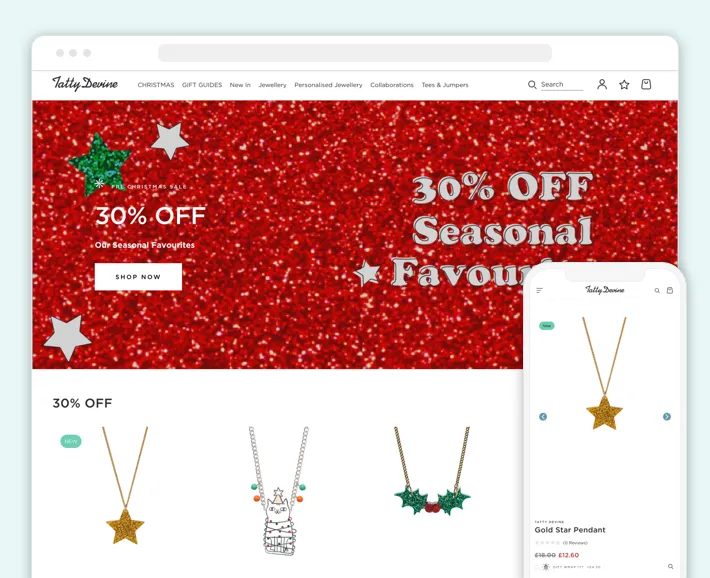 Launched back in 1999 in the UK, Tatty Devine is an original and fun statement jewelry brand. They're famous for collaborating with various artists, designers, and charitable organizations. All their jewelry is hand-made and, thus, unique. Tatty Devine's online store is authentic and fun as well.
6. King Ice: Successful Shopify Jewelry Store in the US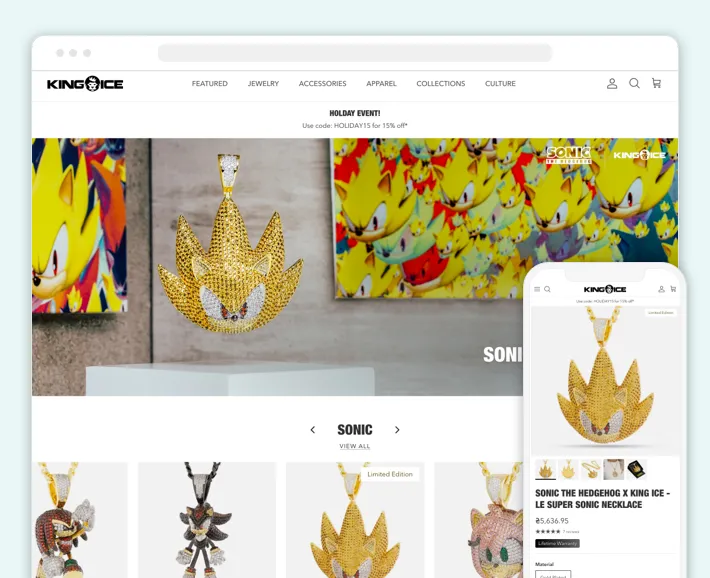 King Ice is likely one of the most famous and best Shopify jewelry stores in the US. The brand features exclusive and artistic pieces inspired by street and hip-hop culture. Not only does their website looks customer-attractive using the Shopify Symmetry theme, but King Ice also puts a lot of marketing efforts into building brand awareness.
7. Missoma: The Best Jewelry and Accessories Store on Shopify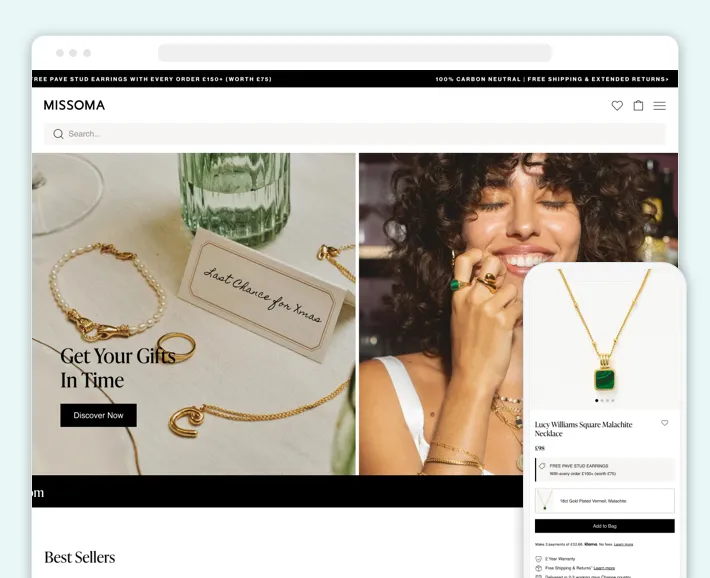 Missoma is a UK-based jewelry and accessories brand founded in 2008. They feature elegant, distinctive pieces with semi-precious gemstones suitable for the everyday wardrobe. They also offer accessories like sunglasses, eyewear chains, chain belts, and more. The design of their website may seem like a page from a fashion magazine to customers.
8. QALO: Shopify Store for Jewelry and Accessories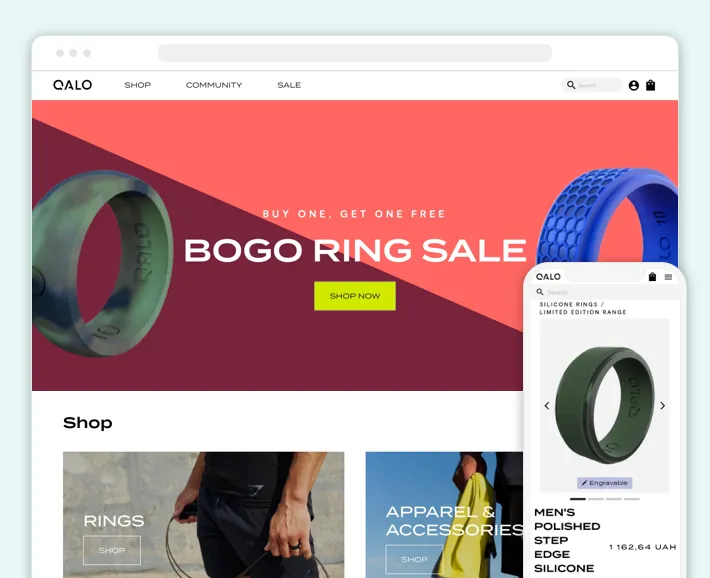 Can you imagine a silicone wedding ring? QALO is the first brand to launch that kind of jewelry. Apart from lightweight silicone rings of various colors and sizes, this brand offers other active lifestyle accessories. These are outdoor blankets, headbands, and even Medical ID wristbands. QALO's website evokes associations with sports and an active lifestyle.
9. Sunday Somewhere: The Best Shopify Store for Accessories in the UK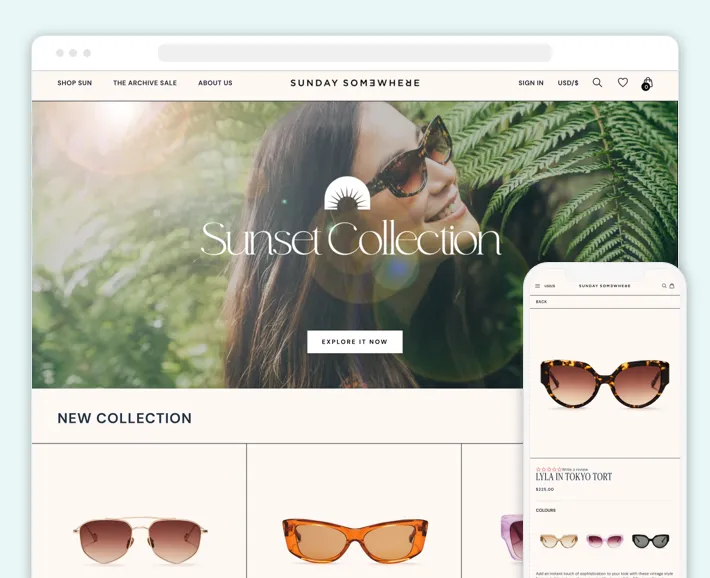 Sunday Somewhere is a UK-based hand-made sunglasses brand. Inspired by '70s frames, made to the highest quality, their eyewear is popular among A-list celebrities like Rihanna, Beyonce and Lady Gaga. Similarly to the stylish and vivid products that Sunday Somewhere offers, their website is just as bright.
10. Meadowlark: Jewelry and Accessory Site on Shopify Plus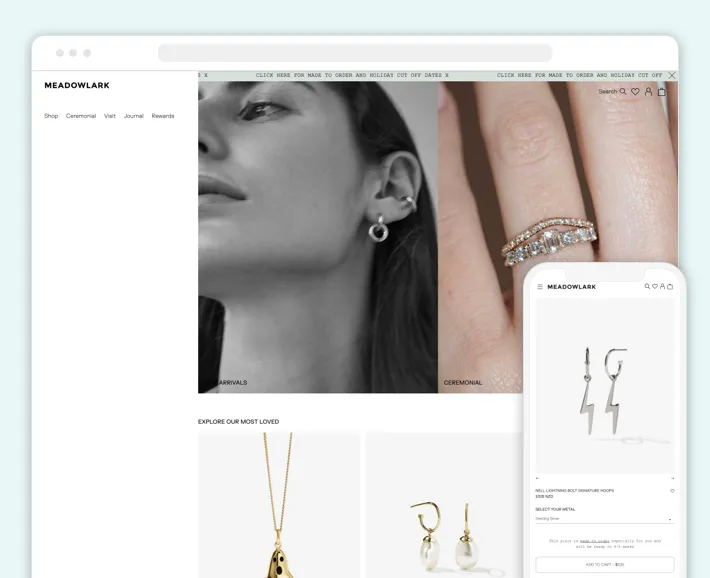 Meadowlark is the best Shopify jewellery website from New Zealand. The company realizes deep and sensual meanings in its elegant accessories, where each piece is made to order. The passionate and in-depth tone of their website matches that of the brand.
11. Girls Crew: Modern Jewelry Accessories Store on Shopify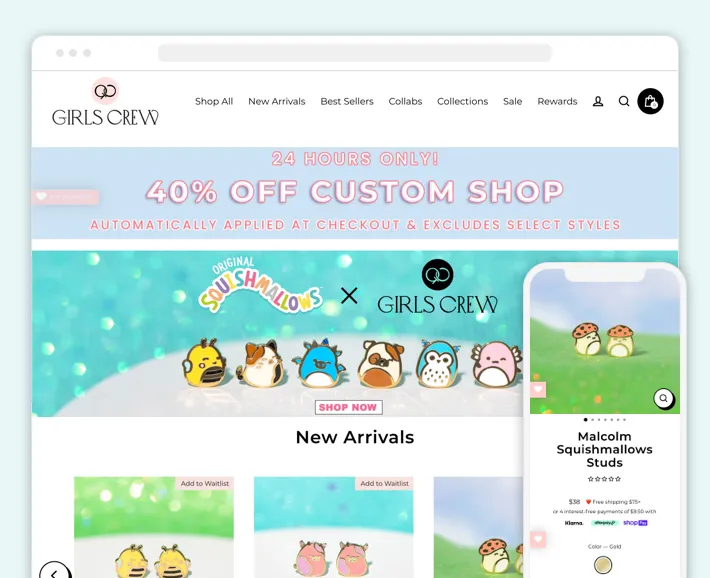 Girls Crew is an American brand of modern jewelry. Their accessories are distinctive for their playful and colorful designs, and the company stands out for its exceptional customer services, listening to every shopper. Like the brand's fun jewelry, their website is also vibrant and engaging to scroll.
12. Retro a Go Go: Store Old-Fashioned Accessories on Shopify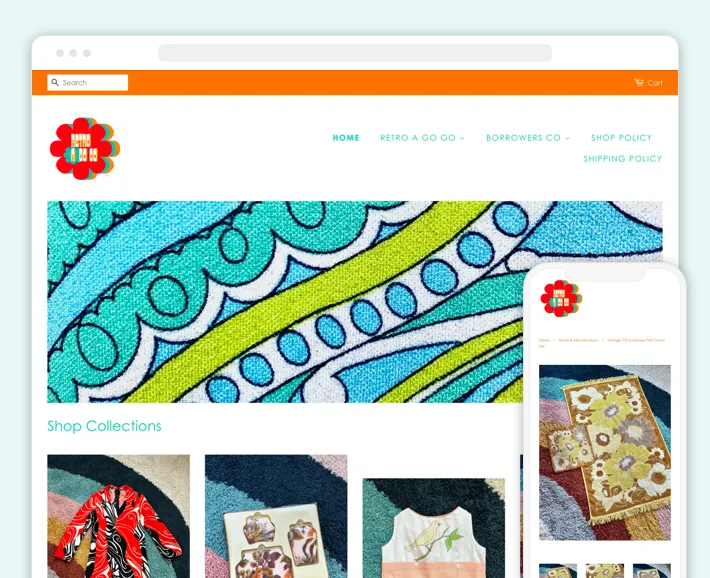 Retro a Go Go is an online store that sells vintage accessories and clothing. They concentrate on old-fashioned pieces of all decades, yet paying particular attention to the '60s and '70s. That is visible on their website, conveying groovy vibes.
13. Vacier: The Best Shopify Fashion Accessories Store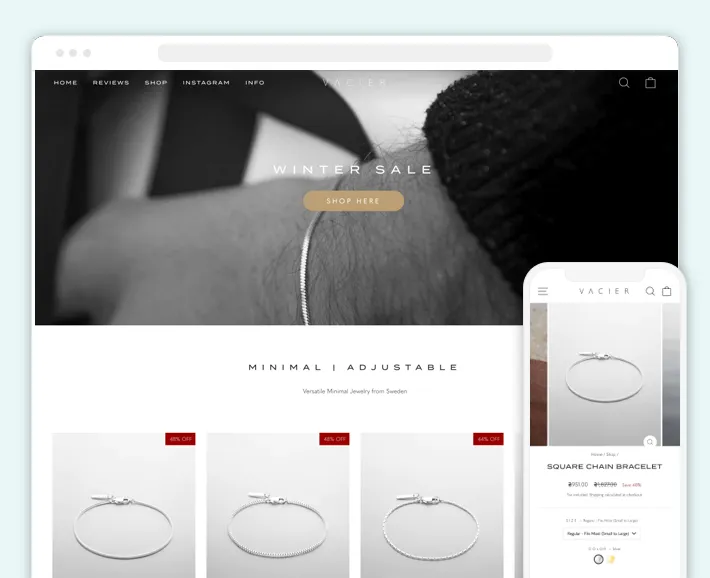 Vacier is one of the best jewelry Shopify stores in Sweden. Their minimalist and adjustable accessories can become a timeless part of anyone's wardrobe. The company pays special attention to metals and chooses materials of the highest quality. Their online store also conveys the spirit of minimalism.
14. CRAFTD London: Online Accessories Store on Shopify in the UK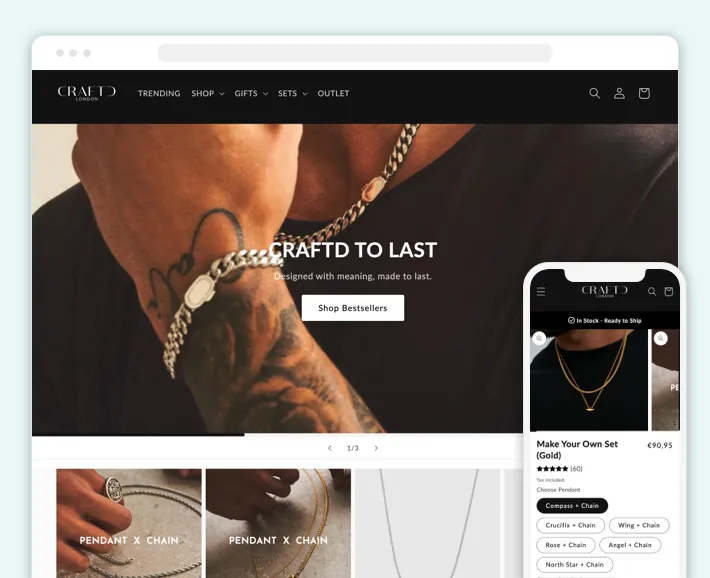 CRAFTD London is among the top jewelry Shopify stores in the UK. The brand provides premium-quality accessories, overcoming noisy, fast fashion designs. Although the company is based in the UK, they offer shipping to over 100 countries. Like all of their jewelry, their online shop has a bold, confident feel.
15. Katy Perry Collections: The Best Clothing Accessories Store on Shopify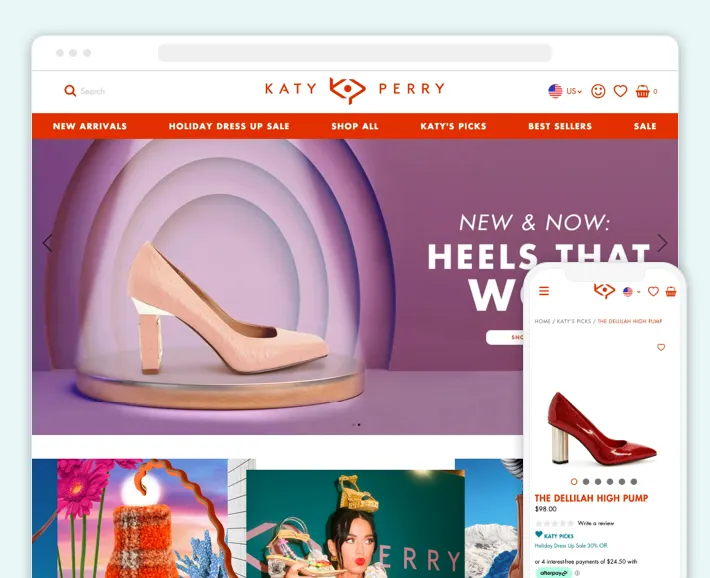 Katy Perry Collections is a shoe brand from the world-famous pop star launched in 2017. The company presents affordable collections for women who want to add bold and glamorous solutions to their wardrobes. The online store is just as spirited, and a particularly customer-attractive website category is Katy's Picks.
16. Pura Vida: Shopify Fashion Accessories Store Website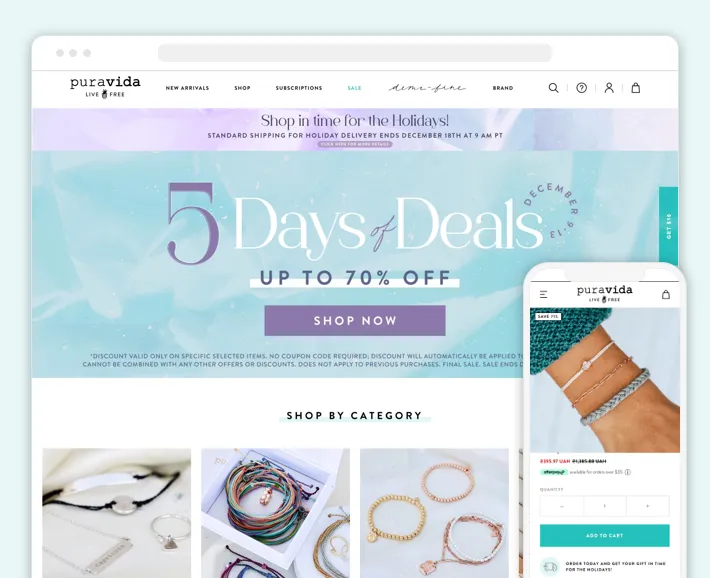 Pura Vida's story goes back to 2010 when two friends from Southern California took a trip to Costa Rica. They were impressed by the laid-back lifestyle there and decided to make casual, handcrafted bracelets. That's how Pura Vida, one of the best accessory jewelry stores on Shopify, appeared. The shop's offerings now go beyond bracelets, but you can still feel the spirit of freedom through the screen.
17. Static Nails: Nail Accessories Shopify Store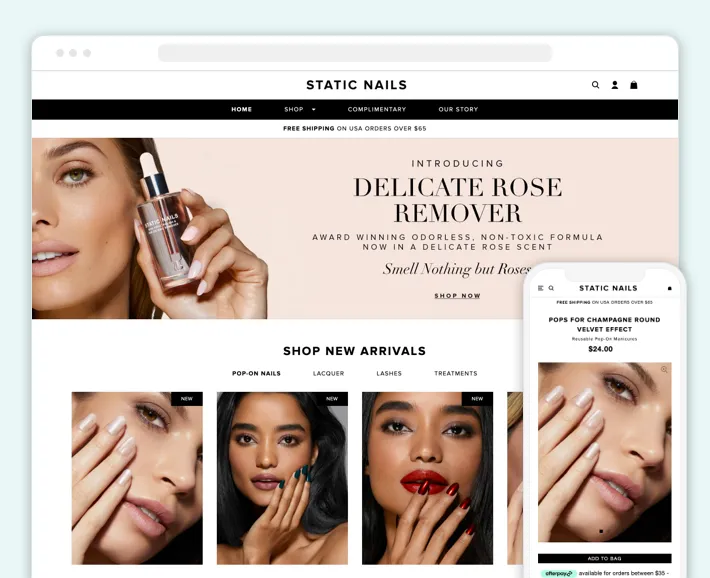 In addition to Shopify jewellery websites, you can sell different accessories, as the Static Nails brand does. Their online store offers reusable pop-on manicures in various shapes, colors, and designs, along with nail care products. This brand is an innovation in the nail industry, which is also evident in its top-notch website.

You may also learn about the top 30 beauty eCommerce stores on Shopify.
18. Throtl: Shopify Car Accessories Store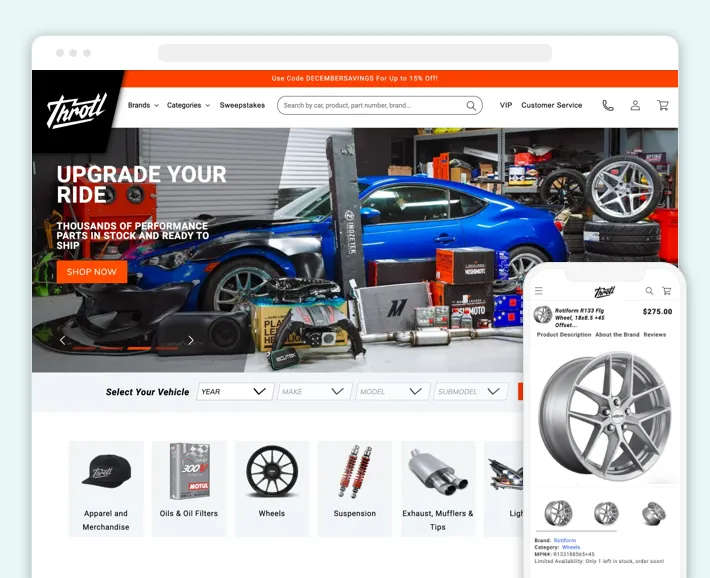 Don't know what other accessories you can sell online? What about car accessories? Throtl is a website for auto enthusiasts that lists over 400,000 products to help you build your perfect automobile. The products also include a variety of car accessories. Their website is exactly what you would expect from an auto marketplace.
19. Paparazzi Accessories: Paparazzi Accessories Shopify Store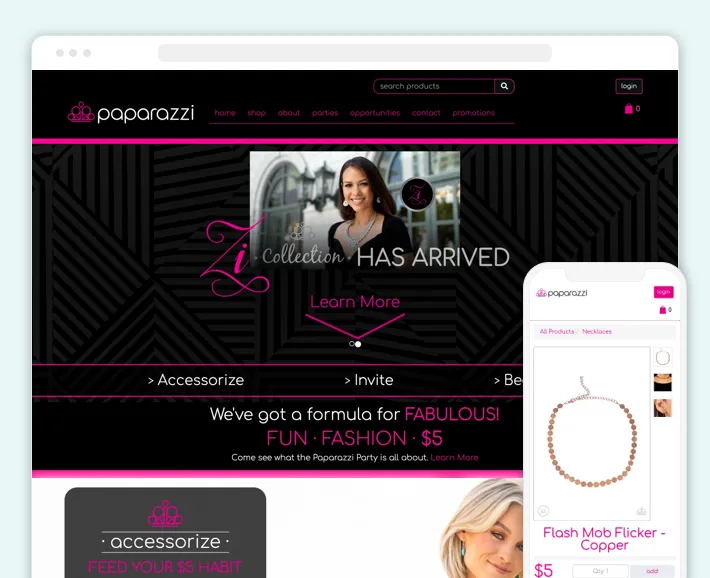 Paparazzi Accessories is an online store that offers fashion-forward accessories. The most important feature of the company is affordable, trendy jewelry for as little as five dollars. Paparazzi Accessories came up with a Shopify jewelry store design relevant to the fast-pacing fashion industry.
20. PetCulture: Pet Accessories Store Shopify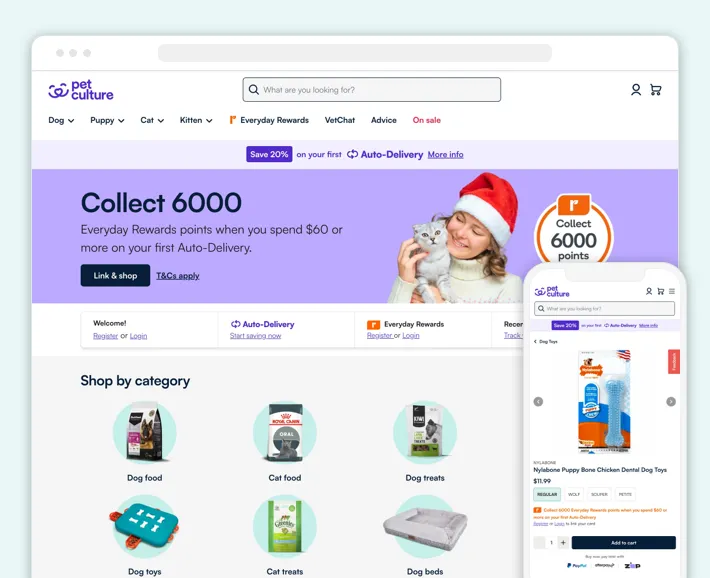 PetCulture is a pet care products brand from Australia. The company offers cat and dog food, treats, vitamins, and plenty of accessories. Among the most popular are leashes, collars, toys, and beds. PetCulture's website transmits friendly vibes and is easy to navigate.
21. Skinnydip London: Cell Phone Accessories Shopify Store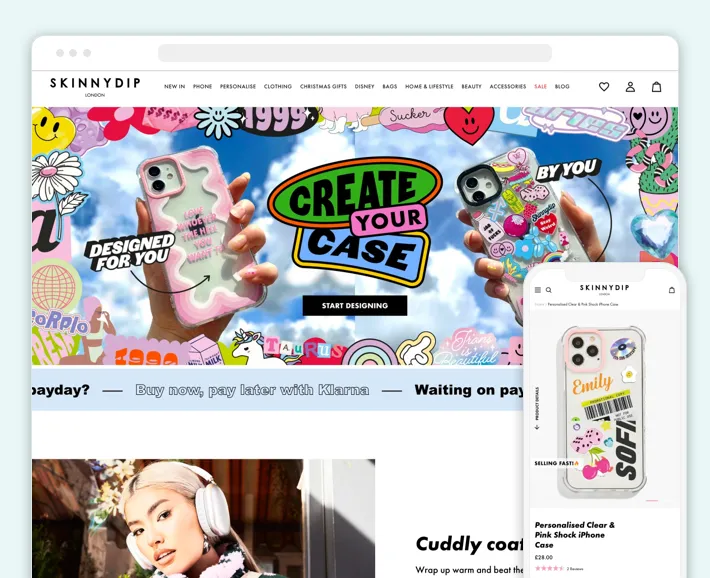 Skinnydip London is a smartphone accessories brand from the UK, launched in 2011. They deliver colorful phone cases with various playful prints to suit any preference. That is also the best place to shop for students, as Skinnydip London offers them a 20% discount. Their website is as vibrant as their smartphone cases.
22. PopSockets: Mobile Accessories Shopify Store in the US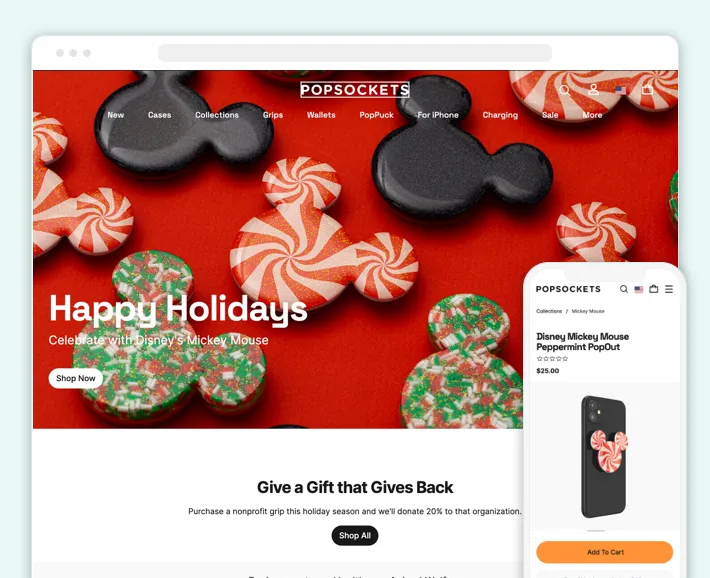 PopSockets is an innovative smartphone accessory online store from the US, launched in 2014. The brand is well-known for its phone grips that, according to the company, reached 245 million in sales. PopSockets' ecosystem is expanding into phone cases, chargers, and mounts, while their engaging website is capturing the customers' attention.
23. Velasca: The Best Shopify Accessories Website in Europe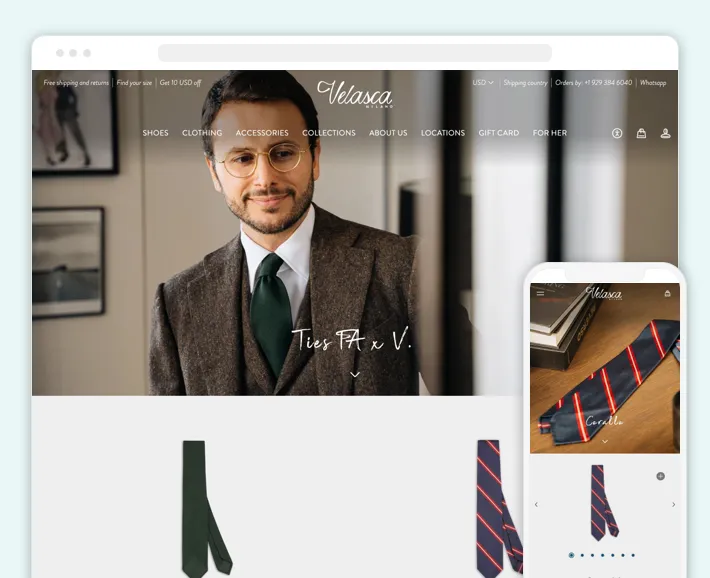 Velasca is a clothing and accessories brand from Italy, established in 2013. The company does not follow fast-moving trends but pays particular attention to timeless style and top-notch quality. Their accessories range from bags and wallets to belts and ties. The brand's made-in-Italy quality is also evident on its website.
24. Obsessed Garage: Car Accessories Shopify Store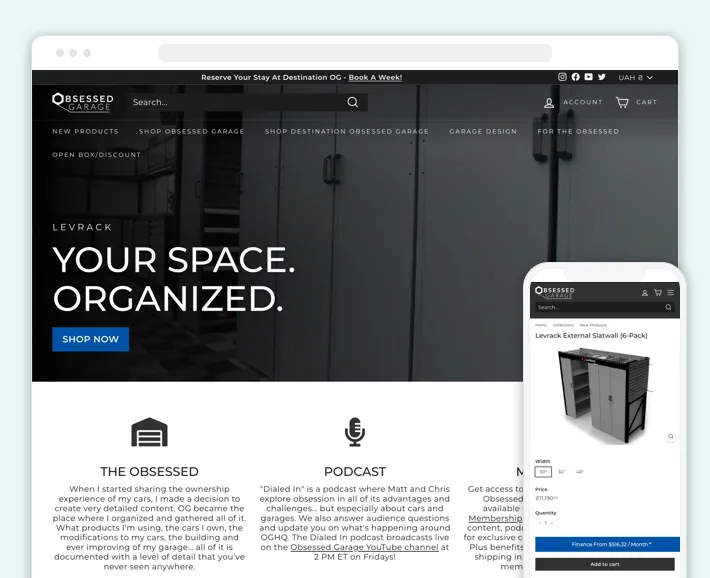 Obsessed Garage is a real find for car enthusiasts. In this online store, customers can find different products for their autos, along with various goods for garage maintenance. And if the buyers want to delve even deeper into the automotive topic, they can find valuable insights on the Obsessed Garage website's blog.
25. Motorhelmets: Motorcycle Accessories Shopify Store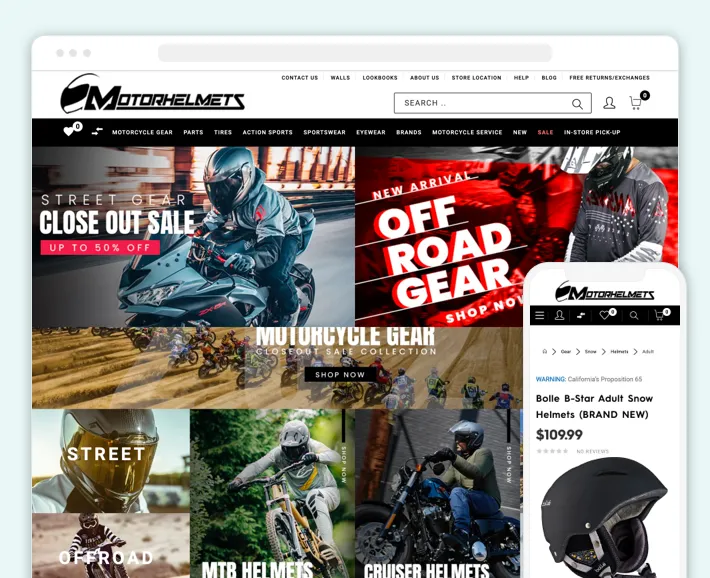 Motorhelmets is an online store that makes shopping for motorcycle clothing and accessories easier. Buyers can find numerous products on the company's website, including helmets, belts, eyewear, gloves, and more. Plus, the Motorhelmets store is simple to navigate, so customers can easily find any necessary product.
26. Our Place: Kitchen Accessories Shopify Store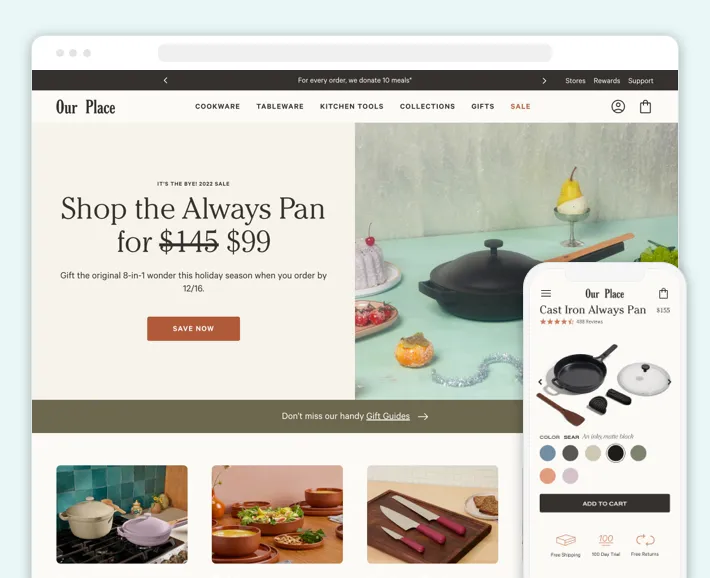 Our Place is an example of a decent online store of kitchen tools and accessories. They offer easy-to-use products with a lovely look: the kind you want to use and cook with more often. The brand's website, where Our Place constantly shares delicious recipes, is cozy and home-like.
27. HUF: Skateboard Accessories Shopify Store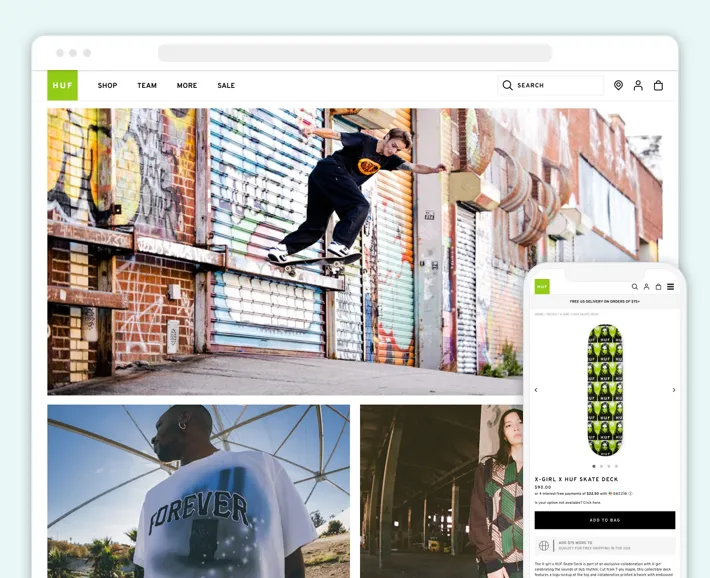 HUF is a skateboarding and lifestyle brand from the US. The company often collaborates with famous skateboarders, artists, designers, and photographers to sharpen its vision of street culture. HUF provides numerous customers with skateboarding apparel and accessories like decks, belts, bags, and wallets. Their online shop is about skateboarding culture from head to toe.
How to Customize Your Shopify Accessories Store with GenovaWebArt?
GenovaWebArt has a team of certified Shopify specialists with substantial experience creating online stores on this platform. For ten years on the market, we have helped more than two hundred eCommerce businesses attract numerous customers and surpass their competitors. We can assist you with that as well.

Our experts provide top-notch services in Shopify theme development and customization to make your enterprise stand out. GenovaWebArt can also assist you in creating a Shopify store for accessories or a relevant Shopify app. Partner with us to enter 2023 with a brand-new online shop.
Final Thoughts
Shopify is a leader in eCommerce platforms, outplaying such tech giants as Wix and BigCommerce. No wonder there are so many Shopify-based accessories online stores. Don't have an e-commerce website yet? Just take a look at the cost of an e-commerce website and I assure you, you will like it.

If you aim to launch your own, our Shopify accessories websites overview might serve as your inspiration source. However, if you require someone to build an online store, GenovaWebArt can help. All you need to do is to contact our team.