Solely in the US, there will be 285 million digital buyers by 2025, up from 268 million in 2022. The number of online shoppers increases annually, and their spending does too. So, launching your eCommerce store has never been a better idea.
But how much does it cost to develop an eCommerce website? It's probably the first consideration before starting your online store. Web development used to be expensive and time-consuming, but there are now alternatives to do it fast and affordable.
GenovaWebArt knows what to pay attention to when creating an eCommerce website to make the development cost-effective.
In this article, we'll tell you about the factors that impact eCommerce website development pricing and show ways to avoid costly investments. Our team will share its profound experience building profitable and user-friendly online stores, as we've already done for our clients worldwide.
What to Consider Before Creating an eCommerce Website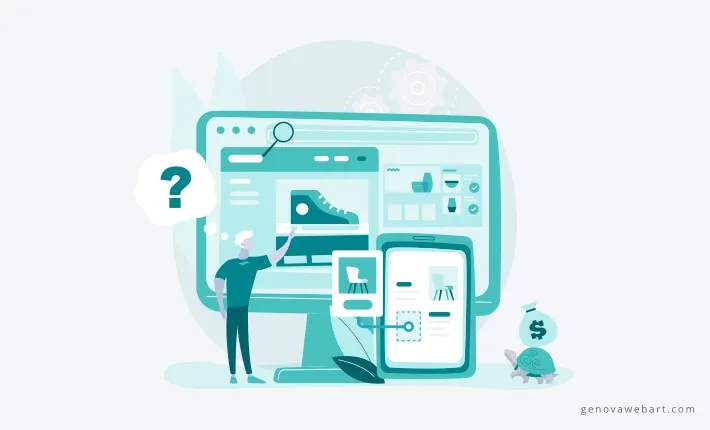 The final cost of developing an e-commerce website depends on many decision-making factors. There are plenty of online store elements and features to consider. Thus, you need to plan everything thoroughly. Let's look at the primary aspects you should count.
Online Store Type
Determining the type of your eCommerce website is critical to its successful launch and overall pricing. For example, an online store aimed at selling goods will be fundamentally different from one that sells services.
On top of that, who exactly is your target audience? Do you sell to consumers, a direct-to-consumer or business-to-consumer store type, or other companies that correspond to the business-to-business model?

How many products do you plan to list on your eCommerce website? Are you targeting domestic sales or an international audience? These and other questions will help you determine what type of store you need. After all, the selection of features, design choices, and development costs depend on that.
Development Budget
While exploring the eCommerce market and popular online stores, you can get lost in the available features and designs. It can distract you from what is really necessary for your website.

Another thing that will help you make your eCommerce website development cost-effective is determining your budget in advance. At the same time, decide on the features, add-ons, and design characteristics that are critical for your online store. With such a comprehensive list, you won't exceed your spending limit.
Brick-and-Mortar Store Availability
Having a physical store is another aspect to consider before going online. Selling through an eCommerce website in addition to a brick-and-mortar storefront can extend the reach of your business.

For example, thanks to the online store, merchants can go international or add the buy online pick up in-store (BOPIS) feature. In this case, in addition to eCommerce website development, it will be necessary to take care of a robust inventory management system implementation. And all this has an impact on your budget.
Shipping Options
Finally, before devising your eCommerce store idea, you may want to discover your shipping options. It's also worth considering what volume of goods you will typically deliver and who will deliver those: you or a third-party carrier. Availability of international shipping is another concern that requires considerable attention owing to the transportation regulations involved.
Main Factors That Impact eCommerce Website Price
When you've gone through the primary considerations for developing your online store, it's time to move on to the heart of the matter. What basic aspects determine the cost of an eCommerce website? Here are the main points:
eCommerce Platform
You have two options to create an online store: build a website from scratch or use popular eCommerce platforms. The most prominent of the latter include Shopify, BigCommerce, and WooCommerce.

Such eCommerce solutions offer all the necessary means for the smooth creation and launch of an online store. The development cost will vary on the platform and pricing plan you choose.

In today's article, we'll talk about this in more detail. The spoiler is that the basic pricing model for Shopify and BigCommerce will cost you no more than $30 per month, and the most expensive plans reach $300. WooCommerce is generally free to install. Other charges for plugins and add-ons like Shopify apps will depend on your unique business needs. You can read more about the Shopify pricing plans.
eCommerce Design Choices
The eCommerce platforms we mentioned above offer various ready-to-install design templates and themes. Some of them are completely free, but the cost can be as high as $350. You don't even always need experienced designers to customize such themes, as eCommerce solutions like Shopify offer user-friendly interfaces with drag-and-drop features.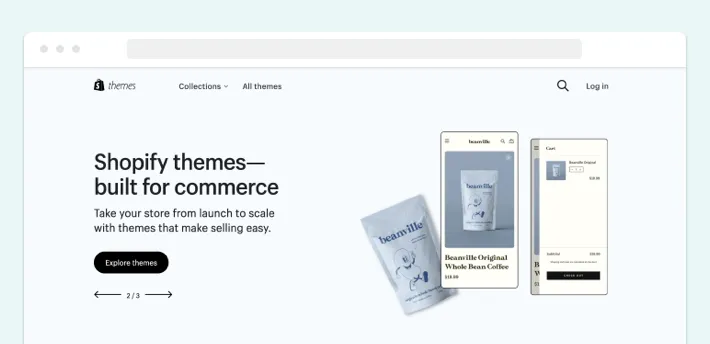 However, if you go the other way and entrust your online store's look to professionals, the eCommerce website design cost will change significantly. Typically, designing works take about 80 hours for simple projects to 400 hours for complex solutions. So if the average web designer's hourly rate in the US is about $30, then the cost of a custom online store design will range from $2,400 to $12,000.
Custom eCommerce Web Development and Programming
You may want to develop an eCommerce website from scratch or need programming services to customize your online store or build various extensions. In this case, get ready to invest in the front-end and back-end.

On average, you require 120 to 600 hours for front-end development and about the same amount for the back-end. If we take into account the average hourly rate of specialists in the US, this translates to $6,240–$31,200 for front-end and $6,720–$33,600 for back-end.
eCommerce Website Maintenance
Another factor you should consider in advance is the budget for your eCommerce website maintenance. Even if you have created a perfect online store, the competitive environment and customer requirements are changing, and you need to keep up.

Therefore, to maintain your website, including security updates, new features integration, or bug fixes, you need from $400 to $30,000, depending on the number and complexity of tasks.
Vendor Experience
Everything is simple here: the more experienced the vendor, the higher the cost to build an eCommerce website. In addition, the rates of online store developers differ from company to company and depend on their location.

Let's summarize the above eCommerce website development costs.

The Cost of the Key Features You Need for an eCommerce Website
Now that you know the main factors that affect the cost of an online store, let's examine them in more detail. The eCommerce website development involves the integration of features necessary for the smooth operation of the store and customer interaction with it. Here are the main functionalities:
Registration
This feature is essential so that customers can create an account on your website using an email and password or a social media login. Be sure to add a logout functionality as well.
Home Page
The home page is the business card of your eCommerce website. Display the most popular products, special offers, and promotions there.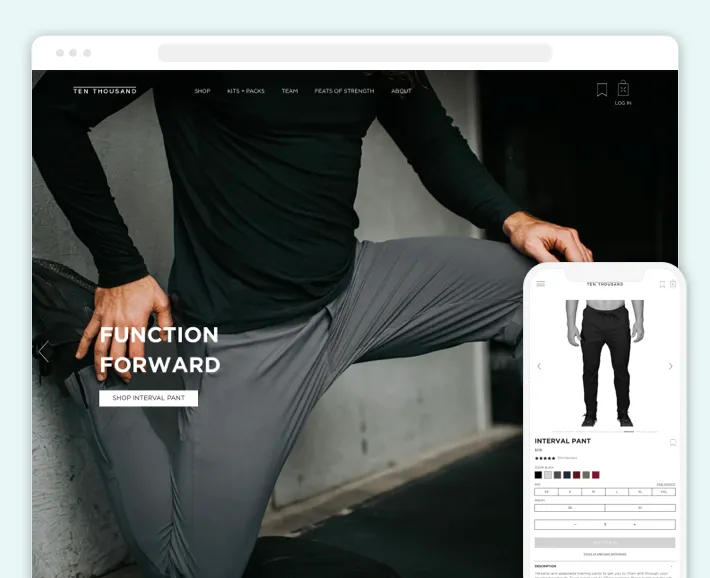 Catalog Page
This page displays all the products offered by your store. Add a list of categories and other advanced filters here so customers can find what they need.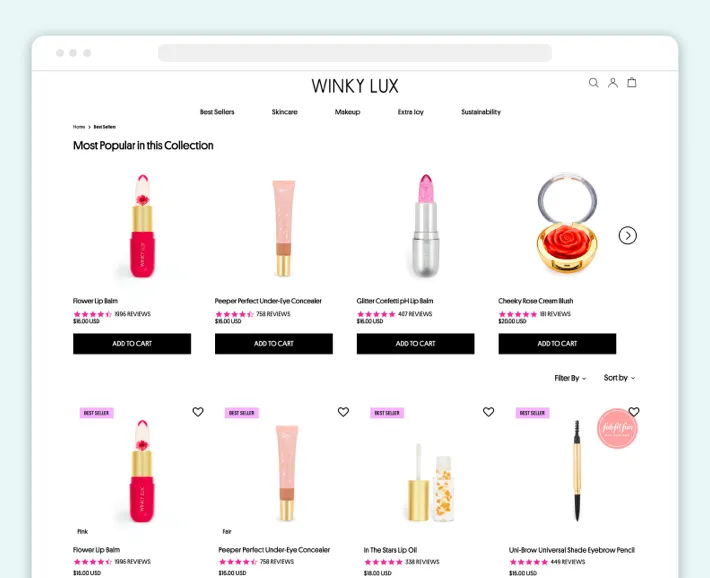 Product Page
It would be best to ensure that each product you sell has a detailed description page. Here, it would be good to add the ability to upload photos and videos to showcase your goods better. Other helpful features include the ability to rate and leave product reviews.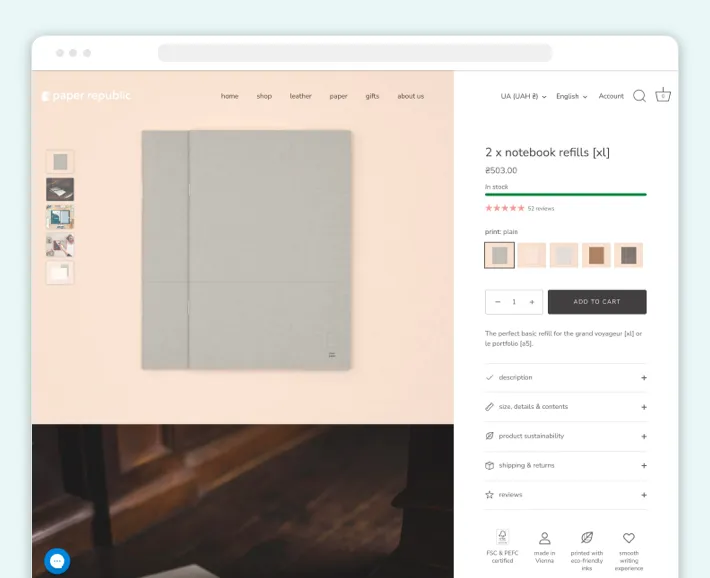 Payment Integration
This feature is necessary so customers can conveniently pay for goods directly on your website. You can add support for credit card payments and payment gateways like Stripe or PayPal.
Cart
The shopping cart stores the products that the customer is going to buy. It is a product list with current prices.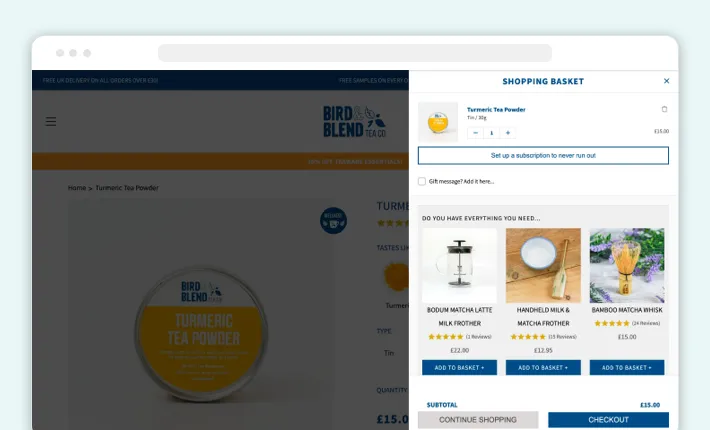 Checkout
Checkout is part of the cart module. It takes the customer to the payment page.

Let's now look at the cost of setting up an eCommerce website's features.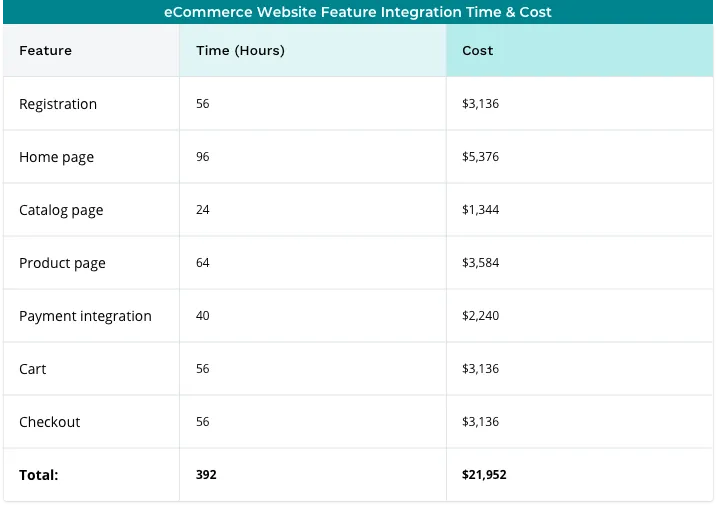 eCommerce Website Design Cost
Design is an integral part of creating an eCommerce website. It's responsible for your online store's general look and feel, helps attract new customers, and retains the old ones. If you opt for custom solutions, the cost of e-commerce website design will depend on the following factors:
The number and complexity of website pages
The level of website design customization
The need for image, video, and animation
The level of website interactivity
The website's responsiveness to mobile devices
As we said, a simple ecommerce design can cost you $2,400. Complex websites with numerous pages can take as much as $12,000. Speaking of responsive eCommerce websites, i.e., those that work well on mobile devices, the price is slightly higher. It starts from $3,000 and can reach $25,000.
Other Factors Affecting the Costs of eCommerce Website Development
If you thought that choosing an eCommerce platform, deciding on your design solutions, and selecting features is all you need to allocate your budget for, then it's not entirely true. Here are other details worth your attention.
Domain Registration
If you want to reserve a unique domain name for your online store, then we have good news. Buying a domain name is one of the cheapest tasks in website development, reaching a maximum of $25 per year.
SSL Certificate Price
A Secure Sockets Layer (SSL) certificate ensures the encryption of your website data and makes it safer for users. It's also a way to win the trust of your audience. It doesn't influence the cost to build an eCommerce website much, as the SSL certificate's price is no more than $20 annually.
Web Hosting Cost
Web hosting is the most straightforward solution to estimate in eCommerce website development. Some platforms like Shopify Plus have hosting included, but you can easily order it from a third-party provider. Prices start at $4 annually, depending on the chosen vendor.
Third-Party Integrations
When developing an eCommerce website, you cannot do without third-party integrations. These can be various plugins, extensions, or applications that will enrich the functionality of your online store.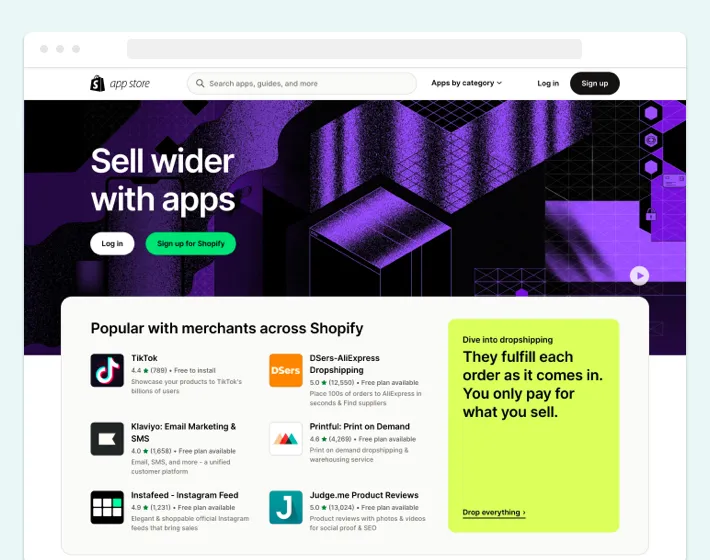 It's challenging to indicate the approximate cost of such integrations since everything depends on your specific business needs. Plus, some services are available for free, while others start at $1,000.
eCommerce Website Development Cost Depending on Platforms
Let's go back to online store development on one of the popular eCommerce platforms. Owing to this approach, you get extensive capabilities for building and designing your website for a monthly subscription fee. It's faster than custom development and usually cheaper as well. Look at our eCommerce platform comparison:
Shopify
Shopify is one of the most popular platforms in the eCommerce market. It is used by 19% of all eCommerce stores globally. The platform offers several pricing plans, so every business will find a reasonable cost to make an eCommerce website.

Shopify's pricing plans include:
Shopify Basic — $24 monthly for an eCommerce store builder, basic reports, shipping, and payment processing
Shopify — $69 monthly for an eCommerce store builder, professional reports, and five staff accounts
Shopify Advanced — $299 monthly for an eCommerce store builder, custom reports, low transaction fees, and up to 15 staff accounts
Shopify Plus — from $2,000 monthly for enterprise-level online stores, the lowest transaction fees, unlimited staff accounts, and product listings, advanced analytics, and more
Read also: 30 Best Beauty eCommerce Stores on Shopify
WooCommerce
WooCommerce is the number-one eCommerce solution with a 23% market share. It is an open-source platform, which means it's completely free. You only need to pay for custom extension or plugin development, domain name and hosting.
BigCommerce
BigCommerce is a feature-rich platform for building online stores. Just like Shopify, it offers flexible pricing plans, which are as follows:
Standard — $29.95 monthly for a basic eCommerce store builder
Plus — $79.95 monthly for an eCommerce store builder with extensive marketing features
Pro — $299.95 monthly for a feature-rich eCommerce store builder
Enterprise — custom pricing for enterprise-level online stores
Read also: How to Migrate from BigCommerce to Shopify: 5 Essential Steps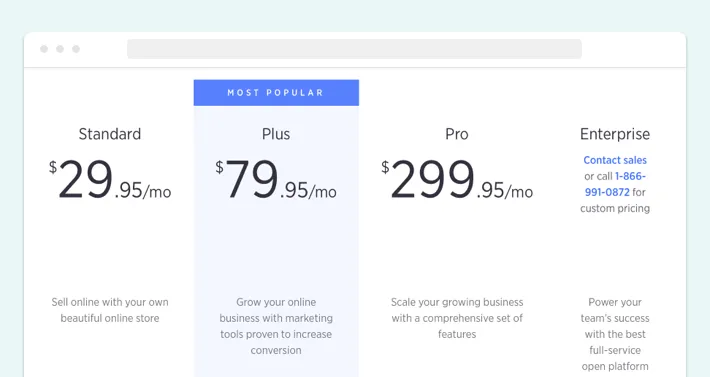 eCommerce Website Development Cost Breakdown
Today we discussed all the price-forming factors that affect the launch of your online store. Whether you choose custom development or use an eCommerce platform, everything we mentioned in our article will affect your budget in one way or another. So how much does it cost to develop an eCommerce website? See the price breakdown in the table below.
Thus, the cost of developing an eCommerce website starts at $50,000. For more complex custom online stores, you can pay as much as $260K.
GenovaWebArt Is Ready to Become Your Reliable Shopify Partner
As you can see from the cost breakdown, developing eCommerce websites on eCommerce platforms is a much more profitable solution than building a custom online store from scratch.

GenovaWebArt leverages profound experience to deliver eCommerce websites fast and cost-effectively based on the Shopify platform. We've been doing it since 2012 and acquired relevant expertise along the way. Our team provides the following Shopify services:
Shopify theme development and customization
Shopify app development
Shopify design
Complex Shopify-based solution development from scratch
We can also estimate the average cost to build an eCommerce website. All you need to do is to outline your requirements and business goals.
See some of our Shopify website development and design project examples:
Ten Thousand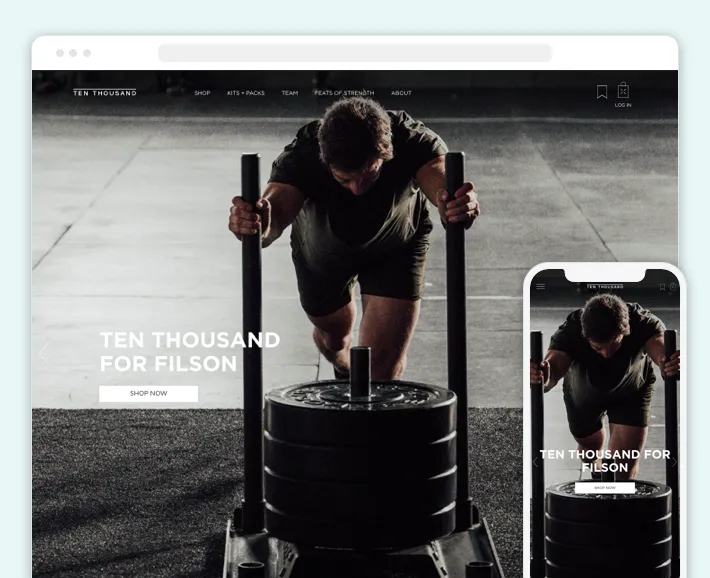 Ten Thousand is a sportswear brand from the US. Our team delivered Shopify Plus development services for this company. Currently, our experts provide ongoing maintenance to ensure a flawless customer experience and decent website performance.
Early Rider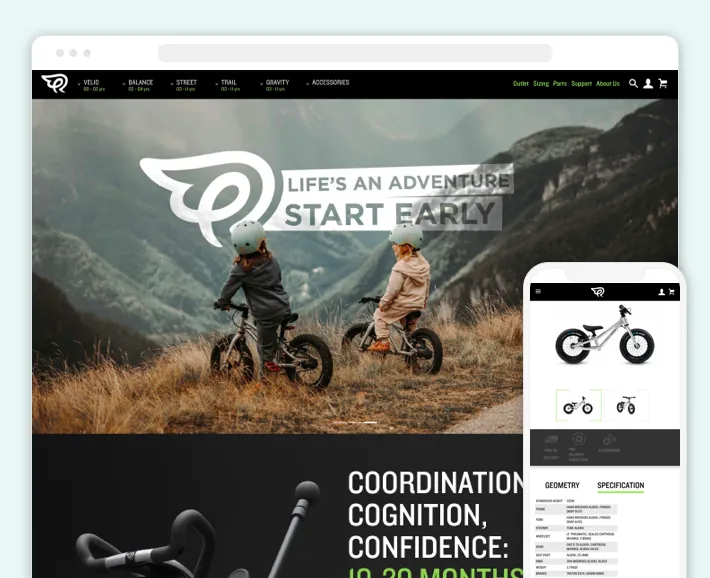 Early Rider is a UK-based brand that sells bikes for kids and teenagers. Our task was to deliver Shopify Plus design and development services to create a robust online store with numerous product listings and a user-friendly interface. We also provide ongoing support for the Early Rider store.
Final Thoughts
At some point, every eCommerce startup wonders: how much does it cost to start an eCommerce business? The answer to this question isn't straightforward, given the numerous price-forming factors.

We hope that today's article has clarified those factors for you. Thus, before launching your eCommerce website, pay attention to your store type, eCommerce platform, design choices, required features, maintenance, dev vendor's experience, and necessary custom development services.

If you aim to build your store using Shopify, you are in the right place. GenovaWebArt is a certified Shopify design and development vendor with a decade of experience in eCommerce. So contact us if you need online store development estimates and dev services.
Frequently Asked Questions
Is it possible to reduce the cost of developing an eCommerce website?
Yes, it is possible. You should list your requirements carefully and opt only for the most necessary features and design characteristics. You can also reduce costs by using open-source eCommerce website builders.
Does it cost money to maintain an eCommerce store?
Yes, maintenance influences how much does it cost to create an eCommerce website. This service includes bug fixes, security and performance improvements, and new features integration.
What is the most costly part of having an eCommerce site?
Custom software development and programming is the priciest process in eCommerce website creation. It may cost from $13K to over $65K.
Are most eCommerce themes free?
There are plenty of free eCommerce themes. Nevertheless, paid templates offer more design options and characteristics.