Shopify is one of the largest platforms for eCommerce businesses, used by almost 4 million merchants in 175 countries. Store owners choose Shopify for its reliability, security, and scalability. However, even constantly expanding functionality by adding new features, Shopify cannot cover all potential needs of Shopify merchants.
So if you want to reach more customers, boost conversions, and increase sales, sooner or later, you will need to expand your Shopify store's functionality.
For this purpose, the Shopify App Store features over 8,000 apps. Some can directly impact your business's success. Whether you need to improve user experience, retain more customers, or customize your product page, an appropriate tool can get the job done. But how to choose the suitable applications for your specific requirements? This post will help you find out.
Thanks to GenovaWebArt's comprehensive experience in Shopify app design and development, we collected a list of the top Shopify apps for 2023. Also, this post will explain the most common types of Shopify applications and their potential benefits for your business.
What Are Shopify Apps?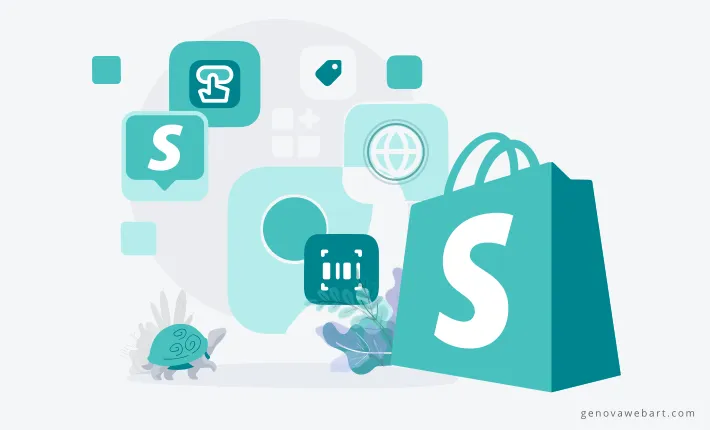 A Shopify application is a specific solution that helps expand eCommerce stores' functionality. In most cases, merchants cannot do without such apps since the basic Shopify themes and templates lack certain design components, features, and capabilities. When choosing a design for your e-commerce website, I suggest you consider Nordic style options. I assure you, it's very fashionable right now.

Shopify apps available on Shopify App Store vary due to their type and purpose. For example, they may streamline the checkout experience,`, customize the storefront dashboard, optimize SEO or marketing campaigns, improve support, provide analytics, and more. However, the core objective of the most important Shopify apps is to boost your website's conversions, increase sales, optimize store features, and enhance user experience.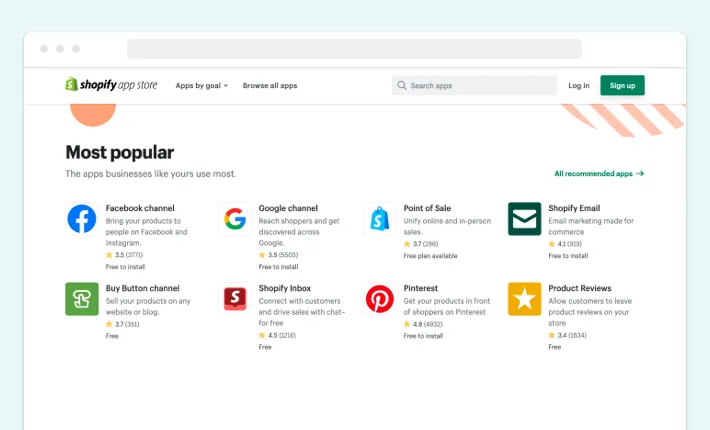 Why Do You Need Shopify Apps?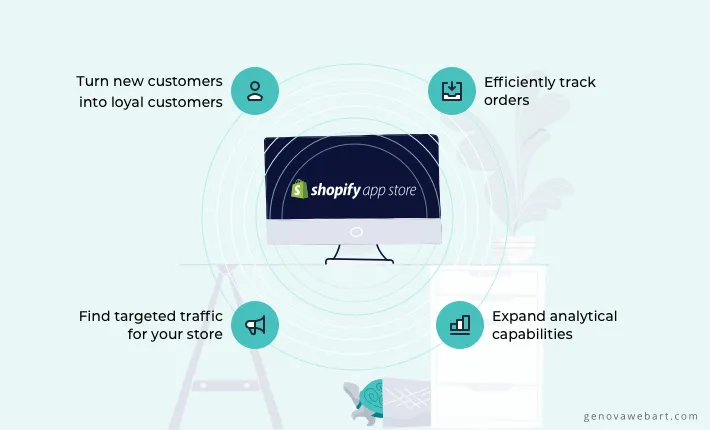 Shopify apps can help your business grow from a simple template-based website to an effective platform solving users' needs and addressing the most critical pain points. These tools work similarly to plugins, making your online store more customizable, flexible, and user-friendly.

Here are the most significant benefits you can gain if choosing the right Shopify apps for your store.
Turn New Customers Into Loyal Customers
According to the latest Littledata survey, the average conversion rate of a Shopify store is 1.3%. And guess what? It's far from ideal. In fact, a good conversion is more than 3.2%. Luckily, adequately chosen Shopify apps can play a significant role. They give a wide range of opportunities to improve the user experience at every critical point of customer journeys through your store.
Read more: A Comprehensive Guide to A/B Testing on Shopify
Track Orders More Efficiently
Shopify apps like AfterShip, Order Status Tracker, and Tracktor allow merchants to monitor shipments and track orders in real-time. It helps businesses organize workflows, ensure end-to-end communication with shoppers, and improve customer service. On top of that, an effective order tracking app can offer some extra features to get valuable insights about order statuses and the average delivery duration.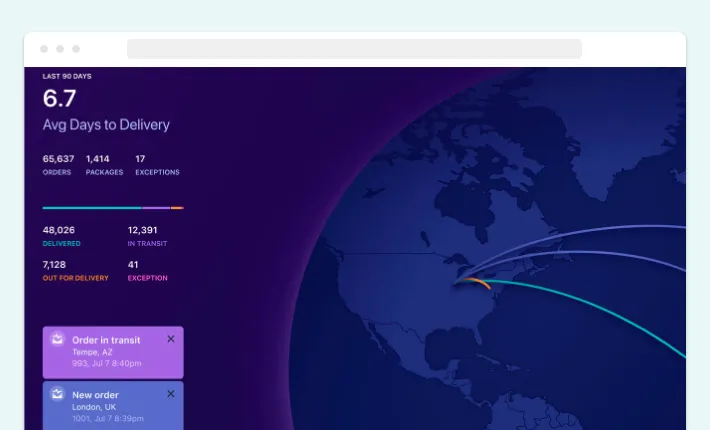 Expand the Capabilities of Analytics
Various insights and data analytics can help you significantly improve your business model and take your Shopify store to the next level. And that is also possible with Shopify apps to increase conversions. In particular, tools like Profit Analytics & Benchmark, Glew Analytics, and Littledata Analytics can provide valuable information about sales, conversions, ROI, and other critical metrics.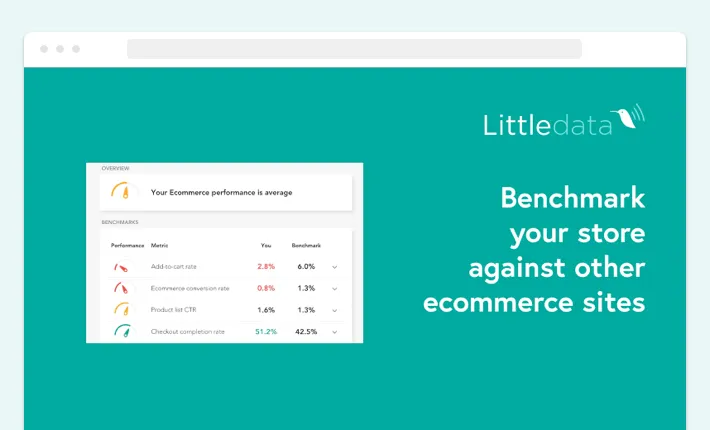 Find Targeted Traffic for Your Store
If you're looking for the most effective ways to drive traffic to your store, Shopify apps will also come in handy. There are several result-driven methods to attract new customers, most of which require using specific tools. Here are the most common ones:
SEO. Shopify apps like Hreflang Manager, Booster, Search Me, and Smart SEO can handle various SEO aspects, from image optimization to improving loading speed.
Ad campaigns. To run ad campaigns on Google and social media channels, you can use Shopify apps like Pinterest, Facebook Channel, Google Channel, etc.
Social media engagement. For that, Shopify App Store contains multiple effective tools for social engagement, such as Social Testimonial Slider and Facebook Reviews.
Content marketing. You can create informative blog posts or engage your customers with videos by using Shopify apps like Minta Automated Social Videos, Archive App, etc.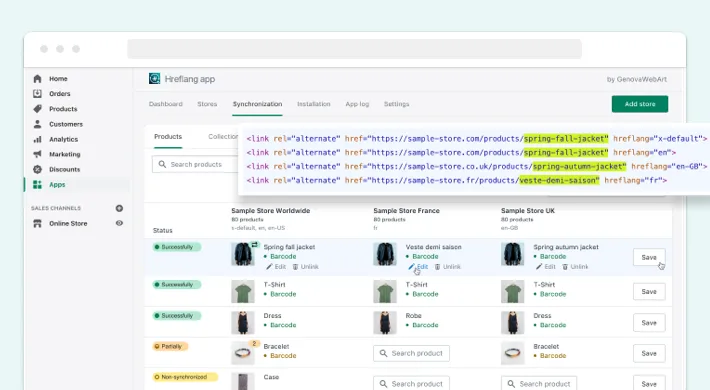 The Most Common Types of Shopify Apps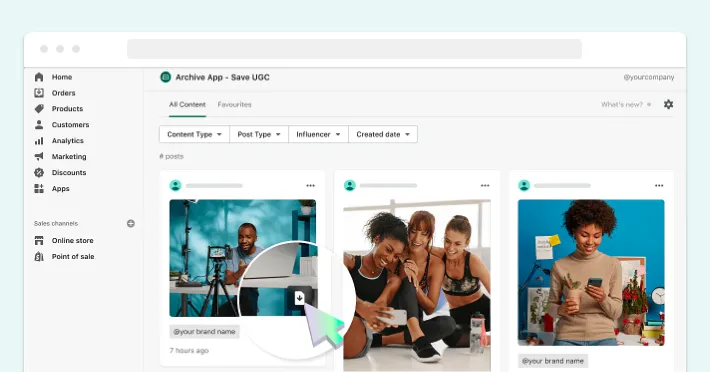 Depending on the type and purpose of Shopify apps, they can be divided into several categories. Each app type can be beneficial for various business goals, from organizing your store's pages to attracting more visitors with extra features.

Here are the most widespread types of Shopify applications based on their objectives.
Apps for Finding Products for Sale
If you're just starting your eCommerce business, finding the products you want to sell is crucial. The corresponding applications will help you choose the most suitable manufacturers and suppliers or apply the dropshipping approach. In particular, dropshipping solutions help settle partnerships involving streamlined inventory management and order shipping.

Some of the most popular Shopify apps for sourcing products are Printify, Dripshipper, and Syncee.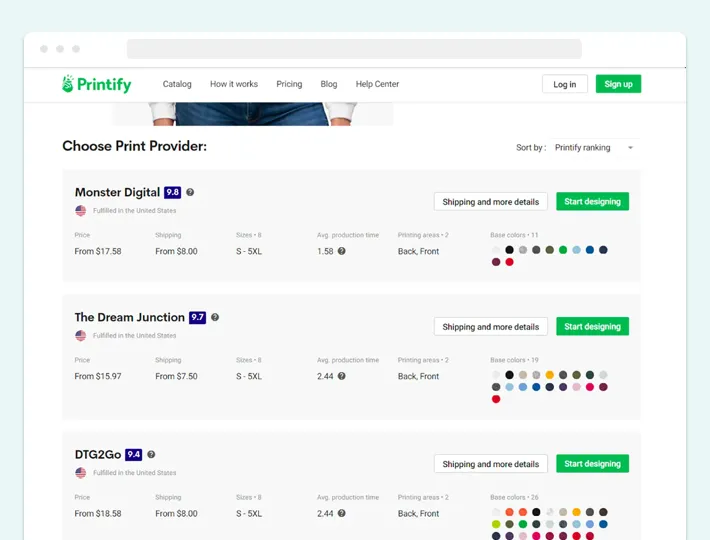 Store Customization Apps
As mentioned above, standard Shopify themes are often insufficient to deliver a high-quality user experience and ensure unique solutions. That is why most merchants seek various customization options to optimize their websites. This Shopify application type can help you provide a more personalized shopping experience for your customers and increase brand awareness.

For instance, apps like Customily Product Personalizer, Qstomizer, and Infinite Options offer helpful features for website customization, such as personalized product descriptions, dropdown menus, product reviews, and more.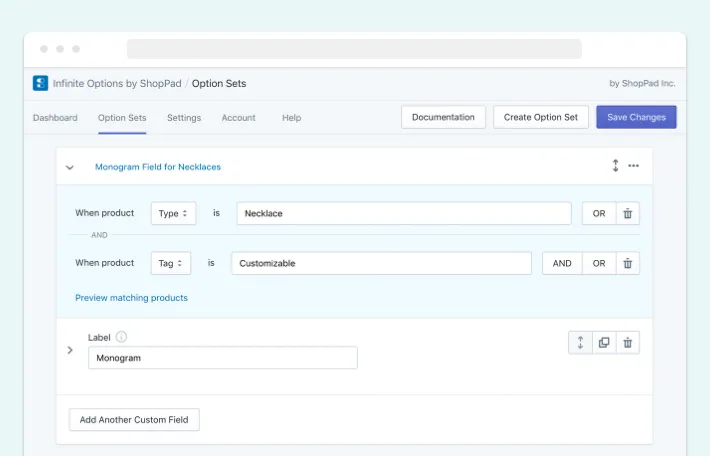 Apps to Attract Customers
Modern customers are less likely to stay on your website for more than 20 seconds if the user experience isn't satisfying.

For an online store, a high bounce rate critically impacts sales and conversions, so it's worth doing your best to attract and retain more users. How? Well, a specific Shopify app type will get you covered.

Such apps will help you make user journeys seamless and engaging by integrating extra features, such as rewards programs with Referral Candy or affiliate marketing campaigns with LoyaltyLion or UpPromote.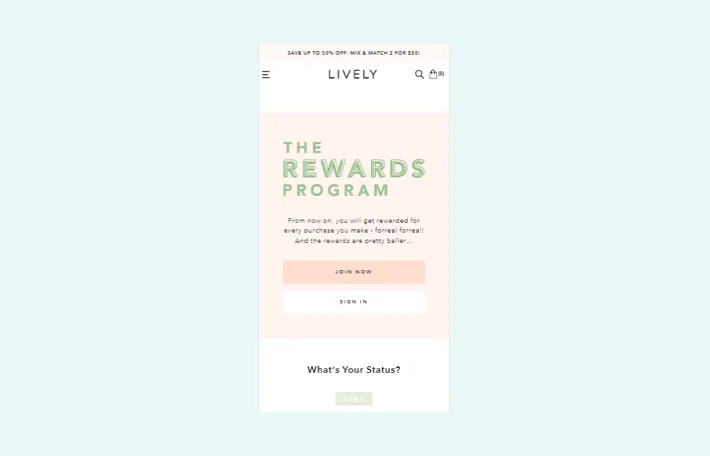 Apps for the Delivery of Goods
This Shopify app type enables store owners to optimize, streamline, and manage product delivery. With such applications, you can calculate shipping and dropshipping rates, improve in-store pickup and local delivery options, and address potential delivery failures.

Some of the most popular shipping and delivery apps are Shipeasy, Store Pickup + Delivery, Intuitive Shipping, etc.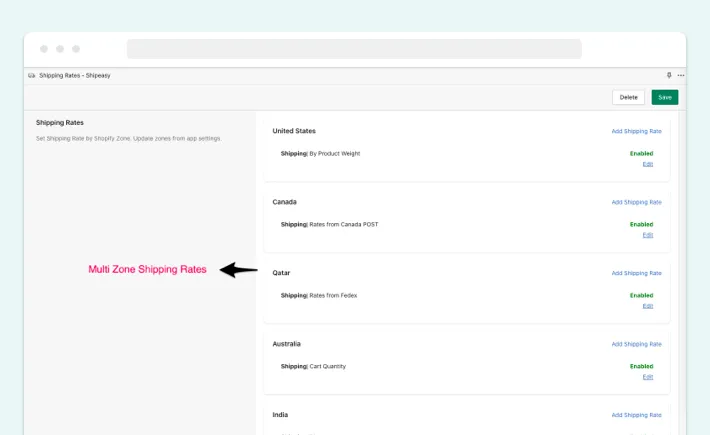 Best Shopify Apps to Increase Sales
There are numerous ways to increase your sales with powerful Shopify apps. Here are just a few most common strategies you may adhere to when optimizing your online retail business:
Ensuring integrations with other platforms
Adding more payment options
Addressing the abandoned carts issue
Offering attractive discounts at the checkout
For example, you can improve the checkout experience with Cross Sell & Cart Upsell, leverage social proof with Judge Me, or recover abandoned carts with Rivo.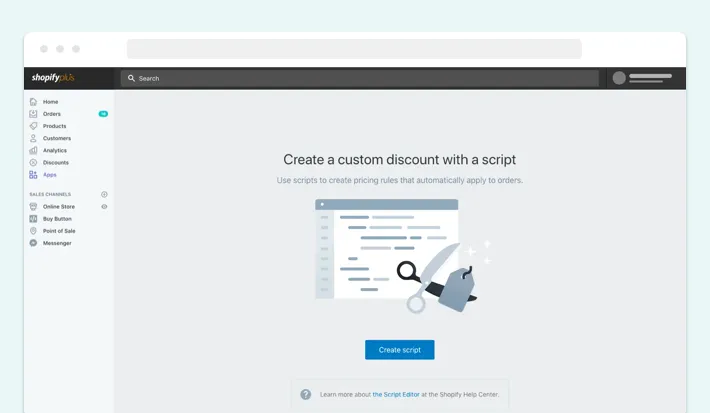 By the way, are you familiar with our selection of the best accessories stores on Shopify? We recommend familiarizing you, we are sure you will find here a lot of interesting things.
Business Scale Apps
These apps help merchants optimize their business processes, facilitate the management, get valuable insights, and analyze core metrics. Such solutions will streamline workflows and improve your strategy when growing your eCommerce business.

Some popular Shopify business scale tools are Report Pundit, Replay Site Recorder and Surveys, Quick Books Connector, etc.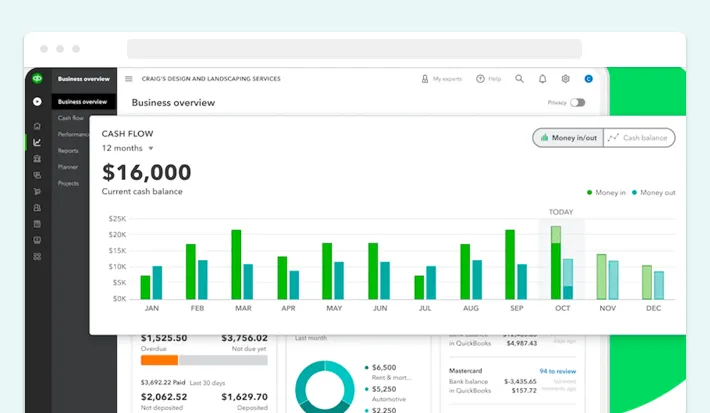 The Most Popular Shopify Apps for 2023
Among multiple Shopify apps available, it's difficult to choose the ones that best suit your needs. So hopefully, the following list of the best Shopify apps for eCommerce in 2023 based on GenovWebArt's experience in building custom eCommerce solutions will come in handy.

Here are the most popular, result-driven, and must-have Shopify apps your business can benefit from.
1. Yotpo Subscriptions
Yotpo Subscriptions app helps enhance your Shopify business capabilities by selling subscriptions in no time. A customizable solution Yotpo will allow your clients to manage their subscriptions and utilize an intuitive user portal. Adding a Shopify subscription app can significantly empower your brand and turn store visitors into loyal subscribers.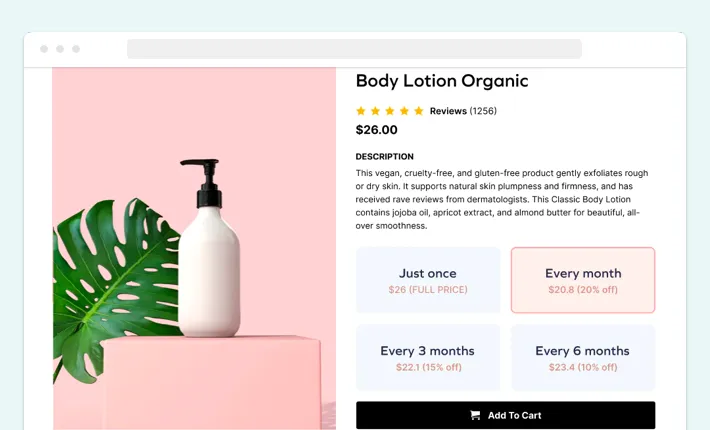 2. Pinterest
This app helps you connect your store to a Pinterest account and increase organic traffic based on a top-rated social media channel. In particular, you can publish and promote product pins, monitor performance with Pinterest Tag, and update your product catalog automatically.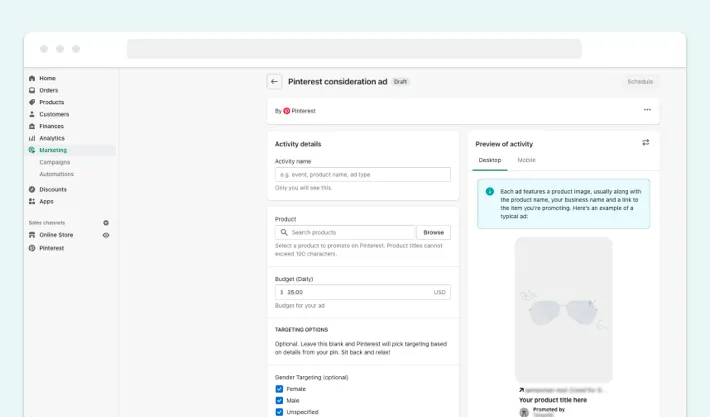 3. Judge.me Product Reviews
Judge.me is the best Shopify app for adding customer reviews to your store. This option is precious if you need to boost conversions and increase sales. Why? Because nearly 60% of online shoppers admit that reviews significantly impact their purchasing decisions. With Judge.me, you can import the existing reviews, get new ones via email, and add star ratings to product pages.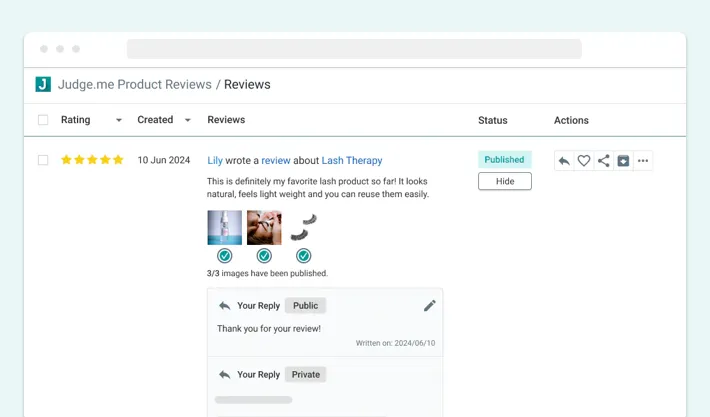 4. DSers AliExpress Dropshipping
DSers is one of the most used Shopify apps for finding suppliers and making multiple orders to AliExpress via a dropshipping model. The tool will help you quickly place orders, find necessary products, and optimize the entire supply chain.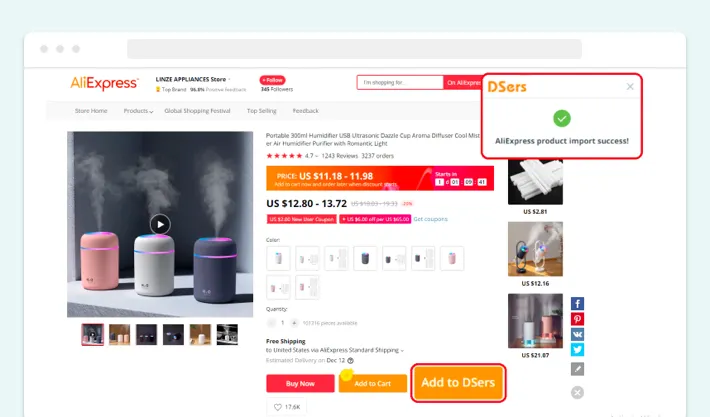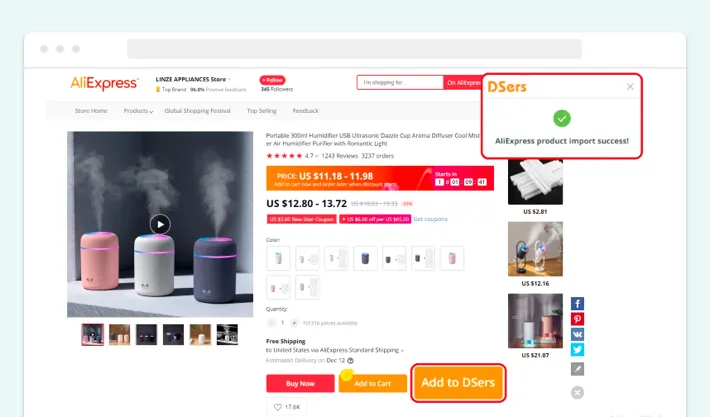 5. Facebook Channel
Facebook Channel is the best Shopify app for promoting your products on Facebook and Instagram. With its help, you can connect your store to social media accounts and sync your products with promotions therein. Moreover, the app provides essential tools to run free and paid targeted marketing campaigns and manage your sales on Facebook and Instagram.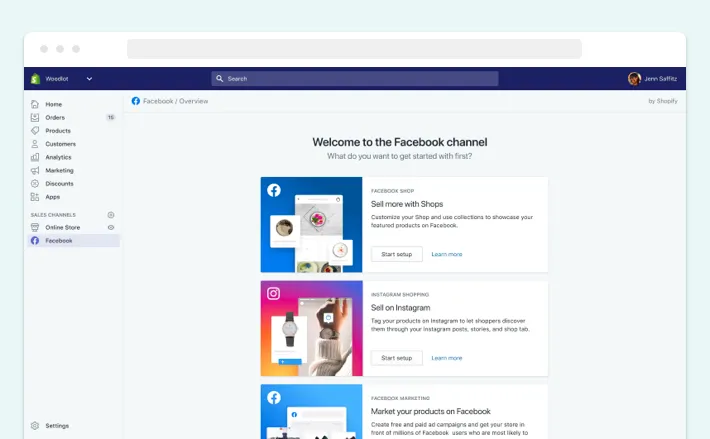 6. ReConvert Upsell and Cross-sell
ReConvert is one of the most effective solutions for Shopify's upselling and cross-selling functions. With this app, you can add checkout upsell bundles, promote similar or related products, and create "Thank you" pages with aftersale offers. Also, the app allows for monitoring and deploying post-purchase upsell funnels.
7. Appstle Subscriptions and Loyalty
If you're looking for an app to increase customer loyalty and retention rates, Appstle is a perfect choice. This solution enables merchants to manage recurring orders with multiple robus tools, including regular billing, bulk updates, creating bundles, upselling, and more.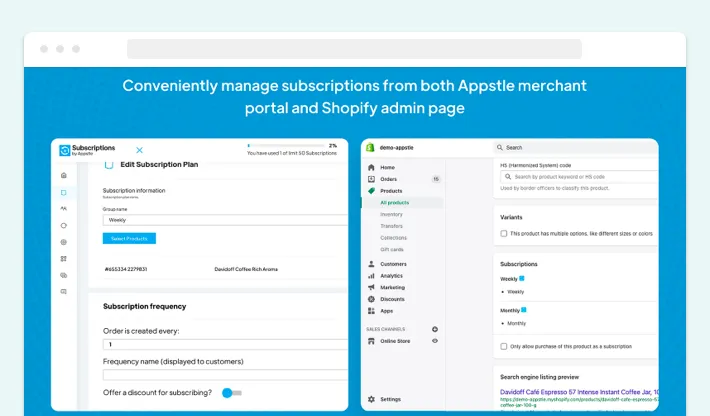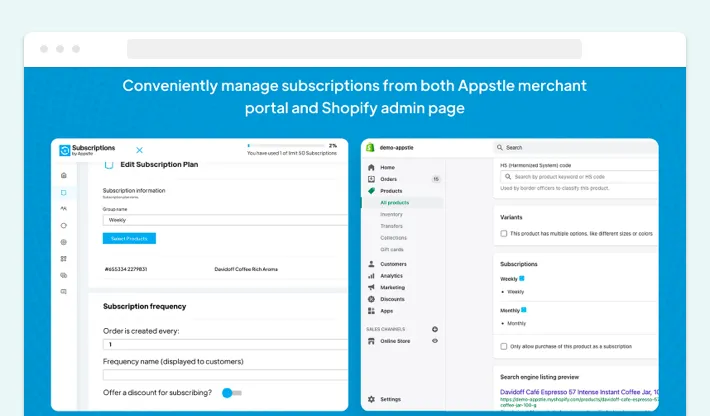 8. Google Channel
Google Channel is one of the most successful Shopify apps for reaching new users and getting your products discovered on Google. It enables free listing of your products across Google Search, Shopping, Images, Lens, and YouTube. Furthermore, the app allows for optimizing your ad campaigns via Google Merchant Center.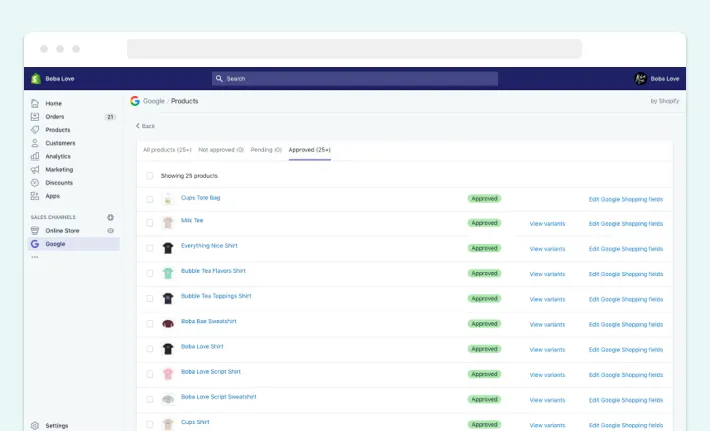 9. Ali Reviews ‑ Product Reviews
Ali Reviews is the best Shopify app for collecting customer feedback via email, SMS, and reviews importer. You can deliver appealing reviews with customizable widgets and carousels. Besides, the app allows you to collect feedback in many ways (via emails or SMS requests, on-site, discounts, coupons, etc.)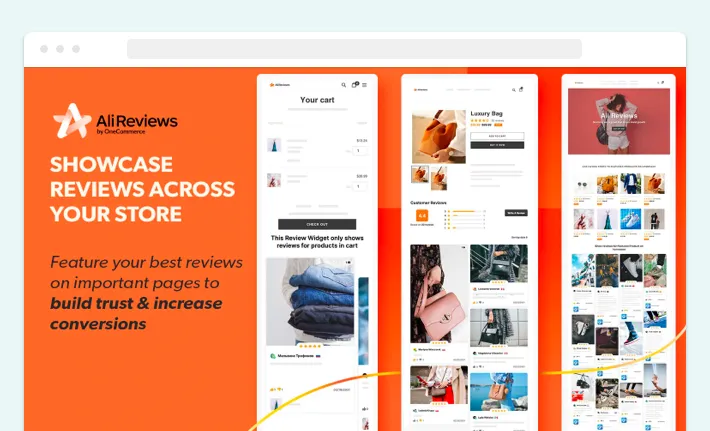 10. Loox Product Reviews and Photos
Loox is another excellent solution for getting and managing Shopify reviews. This app will allow you to place beautiful photo and video product reviews on your website. It sends automatic requests for reviews to your customers and offers discounts for adding photo or video feedback. Also, this tool provides beautiful review widgets and multiple integrations.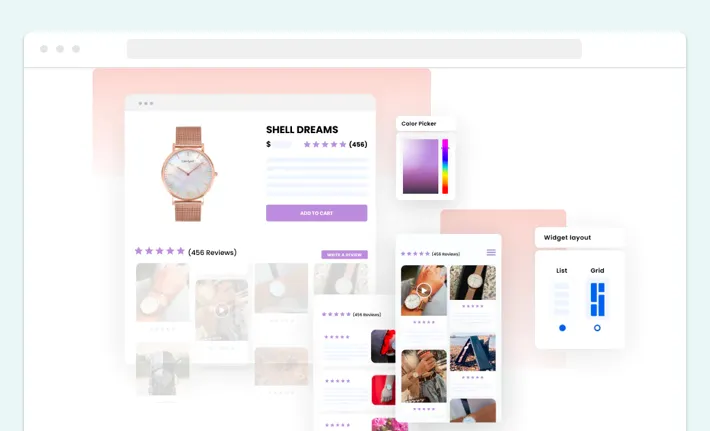 11. Instafeed — Instagram Feed
Instafeed is one of the best Shopify apps for sourcing and selling products via Instagram. This app helps merchants create social proof for their products by displaying Instagram content in their stores. Also, Instafeed generates organic traffic and makes your account more popular among targeted users.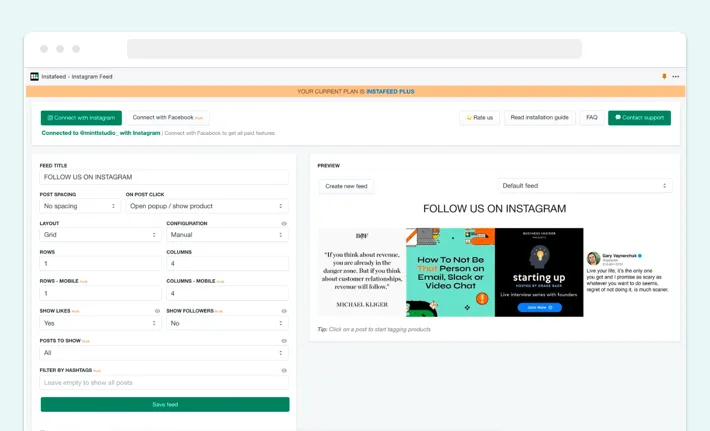 12. Track123 Order Tracking Upsell
Order tracking is another crucial aspect of every online retail business, which can be easily handled with Track123. This Shopify app provides merchants with a branded shipment tracking page displaying delivery dates for customers. Besides, it offers multiple dropshipping integrations and helpful upselling and cross-selling features on the order status page.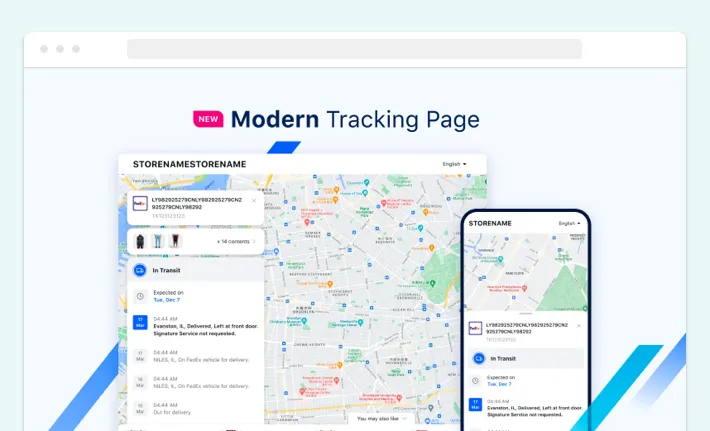 13. T Lab — AI Language Translate
The T Lab app will come in handy if you need to translate your store's content to multiple languages. This solution allows for manual and automatic translation thanks to Google Neural Machine Translation technology with 130 languages available. The app will help you significantly expand your audience, enter the global market, and sell in over 160 currencies.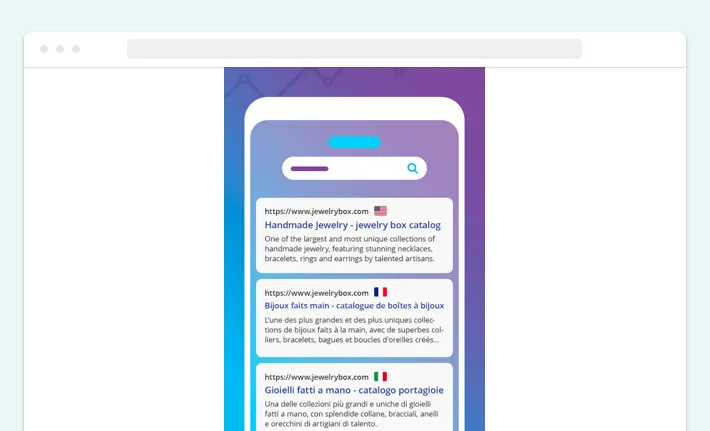 14. Shopify Email
Email marketing is an integral part of any eCommerce business. And the Shopify Email app is one of the best solutions in this regard. It allows store owners to create branded emails within a drag-and-drop editor and use ready-made templates to facilitate workflows. Additionally, the app enables businesses to run, manage, and track effective email campaigns.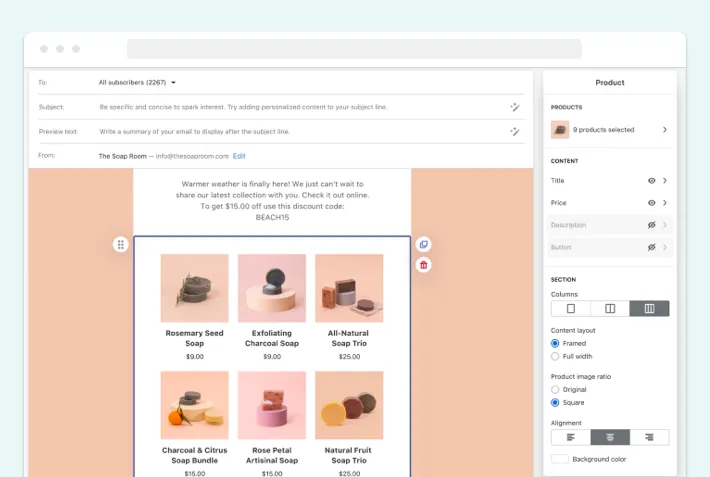 15. Timesact | Discount Pre-Order
Timesact will enhance your product pages by keeping your customers informed about the goods' availability and current status. In particular, you can add specific tags to your products, such as "Pre-order," "Sold Out," "Coming soon," "Backorder," "Pre-sale," and "Out of stock." These options will help you retain your customers and make them return to your store for the desired items.
Read more: TOP 10 Essential Shopify Scripts
16. Product Filter and Search
This app will help you empower your internal search with additional custom filters to let your customers seamlessly travel through your store. The offered filtering options allow categorizing products by variants, tags, metafields, etc. Also, the app provides a smart search with instant suggestions, spellcheck, and catalog redirects. Finally, you can display your products immediately in the search bar or search results page.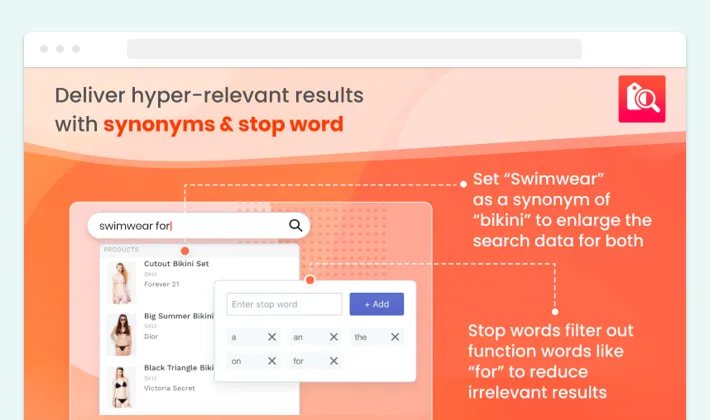 17. Booster: Page Speed Optimizer
Your website's loading speed may significantly affect user experience and retention. According to a recent study, 1-3 seconds of load time increases the bounce rate by nearly 30%. However, the Booster app can address this challenge. It offers one-click page speed improvement with no coding required.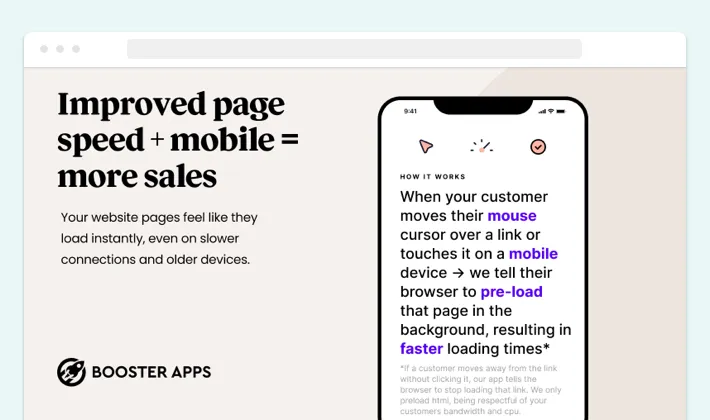 5 Best Free Shopify Apps You Need to Install Immediately
Opting for the best paid Shopify apps can significantly enhance your business capabilities allowing you to scale up your online store. Please note that our team is ready to help you with the scaling and maintenance of your Shopify store.
However, those solutions require significant investments, which is not always possible for newly created companies looking for more cost-effective growth. In this case, it's worth starting with free applications you can adopt immediately.

Luckily, you can use plenty of Shopify Store apps at no cost. Let's look at those options in more detail.
1. Klaviyo
Klaviyo is one of the must-have Shopify apps offering a comprehensive platform for running email and SMS marketing campaigns. It can synchronize your Shopify store's data, send targeted SMS and emails, and provide fully customizable automation.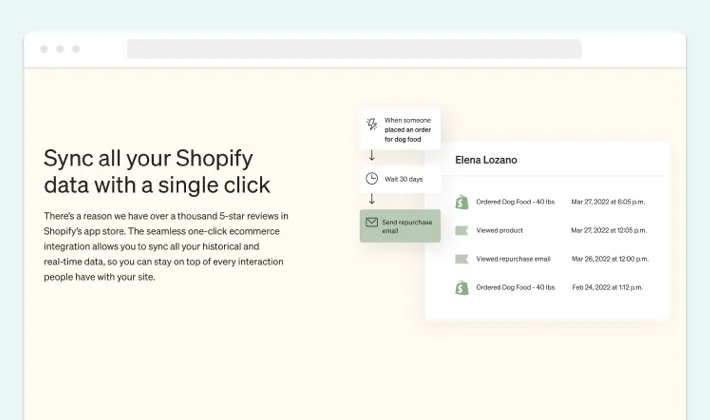 2. UpPromote
UpPromote is a great affiliate and influencer marketing solution enabling merchants to build effective customer loyalty programs, turn customers into affiliates, and track referral orders.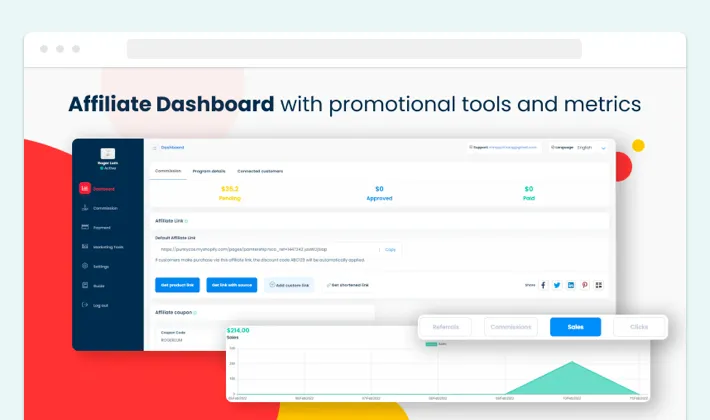 3. Joy
Joy helps merchants boost customer service and run effective loyalty or rewards programs. These features will encourage customers to keep buying in your store and improve their shopping experience.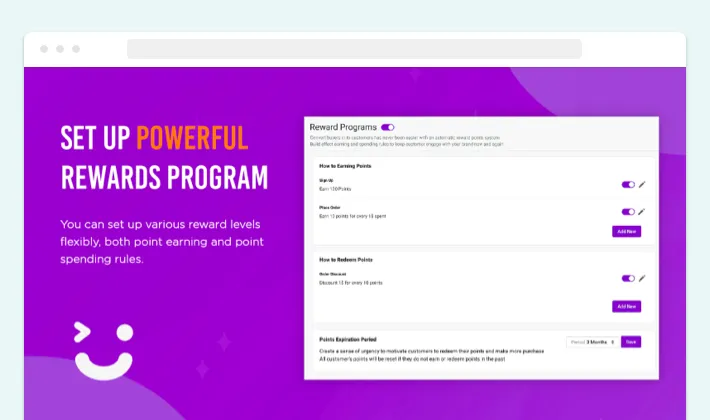 4. AfterShip
AfterShip is the best Shopify app for tracking orders and automating shipping notifications. In particular, this free application allows for monitoring page and order lookup, using a drag-and-drop email editor, and protecting shipments.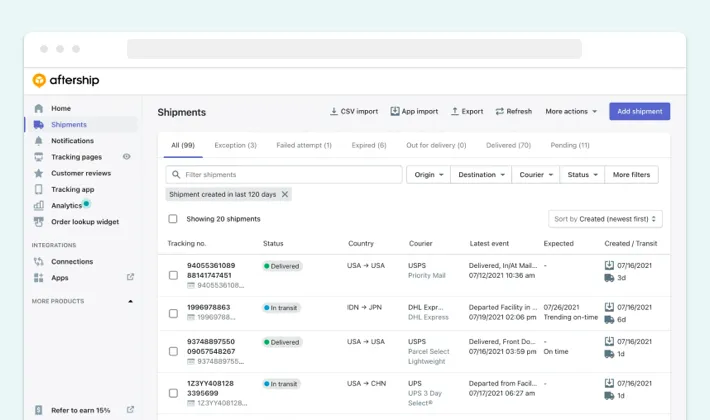 5. PushOwl
PushOwl is an effective app for a Shopify store to send push notifications and recover abandoned carts. This tool allows to bring back shoppers who left at the checkout, send automated email notifications, and integrate with other Shopify apps.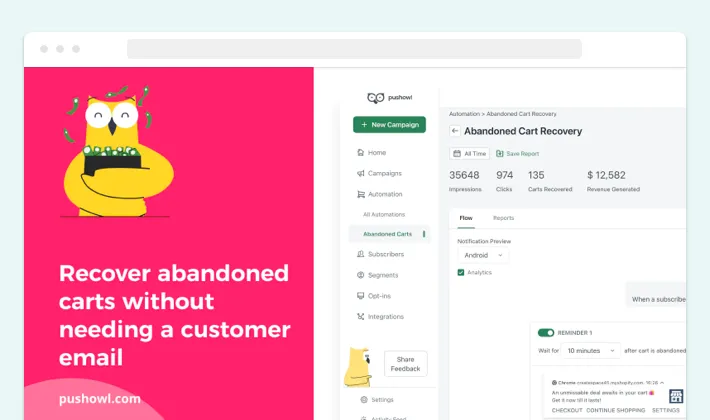 How To Choose The Right Shopify Apps for Your Online Store
When choosing the best app for a Shopify store you're running, it's easy to get confused as hundreds of options are available. So let's look at the most crucial factors to consider when deciding which application is essential for your individual business goals.
Stick to your goals. Prioritize your business goals and think of your store's most challenging aspects you would like to address. For instance, you may want to improve conversions, optimize your SEO, or enhance the checkout experience.
Search for the best options. Every app has its features and focuses on different business, marketing, or tech aspects. So pay extra attention to the core functionality and app's convenience.
Consider reviews. The merchants' reviews can provide helpful insights revealing the tool's reliability, usability, efficiency, and value for a business. Thus, you can evaluate similar applications' benefits and drawbacks.
How GenovaWebArt Can Help Your eCommerce Store
GenovaWebArt is an experienced Shopify design and development company with rich expertise in various Shopify-based services, from re-platforming and store expansion to Shopify Plus migration. That is why we regularly deal with Shopify apps, help our clients pick the best options, and integrate those solutions into their stores.

However, finding the right Shopify apps for your store isn't always easy. In some cases, it's worth applying a custom approach. For example, when migrating the Kit&Kin store to Shopify, our team had to develop a custom solution tailored to the client's individual needs.

Kit&Kin is an online shop offering high-quality mother and baby products. When working on this project, we understood that the existing solutions in Shopify App Store don't match Kit&Kin's business model. So we created a unique subscription system with custom emails, analytical reports, and subscription plans for specific product sets.
Read Also: How to Migrate to Online Store 2.0 on Shopify
Optimize Your eCommerce Store with Shopify Apps
Shopify apps are a must-have for store owners aiming to expand their website's functionality, enhance user experience, and boost conversions. Whether you need to run effective marketing campaigns, optimize your product pages, or provide users with attractive discounts, you will likely find an appropriate solution on Shopify App Store.

However, dealing with Shopify apps on your own could be challenging. In most cases, an online store requires multiple tools, plugins, and integrations, and syncing them isn't a cakewalk. Moreover, in some cases, you may need an individual approach that a ready-made solution cannot provide. So it's worth having a reliable tech partner by your side.

Looking for an experienced Shopify development team? With GenovaWebArt, you won't have to worry about any tech aspects of your online store. We can help you pick and manage the required Shopify applications or build a unique solution tailored to your needs. Get in touch with us, and we will come up with all the necessary solutions to meet your unique requirements.
Frequently Asked Questions
How to Increase Traffic with Shopify Apps?
You can drive traffic to your store with specific types of Shopify apps. In particular, these are the apps for optimizing SEO, running effective ad campaigns on Google or social media channels, and improving content marketing.
What Are the Best Paid Shopify Apps?
Shopify apps vary due to their type, purpose, and offered pricing plans. Today, there are over 7,000 solutions available on the Shopify App Store. Some of the most popular Shopify apps are AllReviews, Judge.me, Pinterest, Google Channel, Shopify Email, and more.
Which Shopify Apps to Choose to Improve Your Store's SEO?
What Is the Optimal Number of Apps to Install for a Shopify Store?
The number of Shopify apps required for an online store depends on your individual business goals and needs. However, keep in mind that a basic Shopify website is limited in functionality, so important apps are worth empowering. Some stores use over twenty applications to meet users' needs and boost sales. However, please note that a big number of apps can affect the site speed.