In this regard, Shopify is the platform that helps to boost sales, improve conversion, and expand the audience. Here are some stats:
Around 28% of all UK stores

on Shopify sell clothes, being the number one market for the platform.
The platform has approximately

2.1 million

daily active users.
Fashion Nova, one of the most popular clothing brands on Shopify, has generated over

$2.4 million

in sales revenue
To let you see how successful your Shopify clothing store can be, we at GenovaWebArt have collected 30 different examples of online fashion stores and listed remarkable features about each of them. We have also calculated for you how much it would cost to launch an e-commerce site.
GenovaWebArt continues sharing the best Shopify store examples from various industries to guide and inspire you in building your own shop. Reach our team's expertise to turn your ideas and ambitions into a digital solution that beats all these clothes stores using Shopify!
BlackMilk: The Best Shopify Clothing Store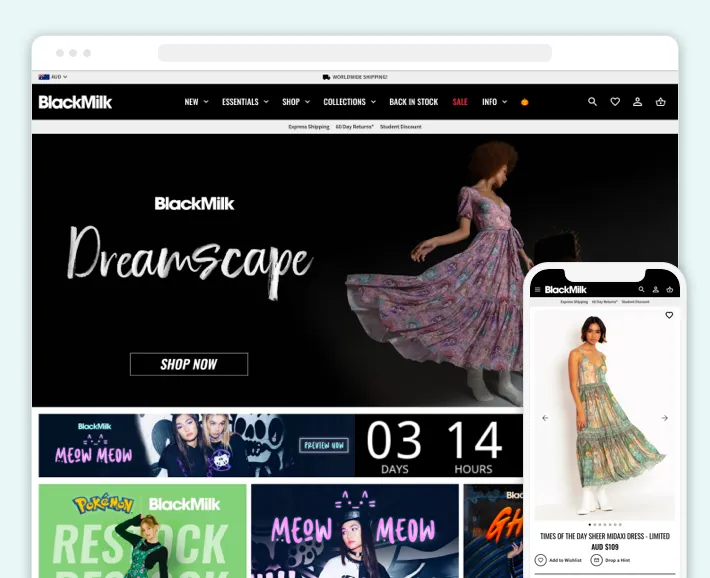 It's hard to choose the best of the best—but in our opinion, BlackMilk Clothing is worth being the one. The fashion brand has a remarkable story: after creating iconic muscle leggings, it developed into a profitable brand relying on a content marketing strategy with storytelling, social proof, and community building. For this, the basic Shopify functionality is enough for the store.
Ten Thousand: The Best Shopify Plus Fashion Store by GenovaWebArt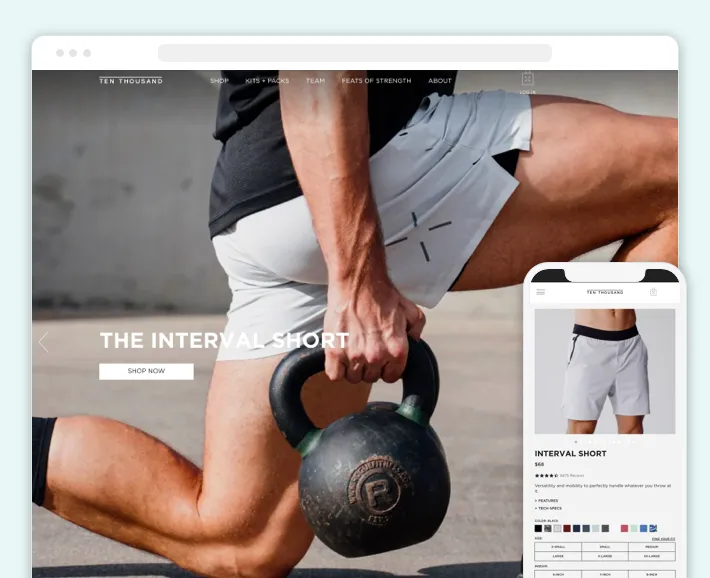 Among several fashion stores on Shopify Plus we've built, Ten Thousand adopts all the best features of an online sportswear brand. It has various product categories for men, from shorts to accessories, has intuitive navigation, and offers shopping field-tested gear from famous athletes. Our specialists worked on Shopify Plus development and ongoing support for this store. Ask us to create a similar clothing website for you.
Good American: The Best Shopify Plus Fashion Store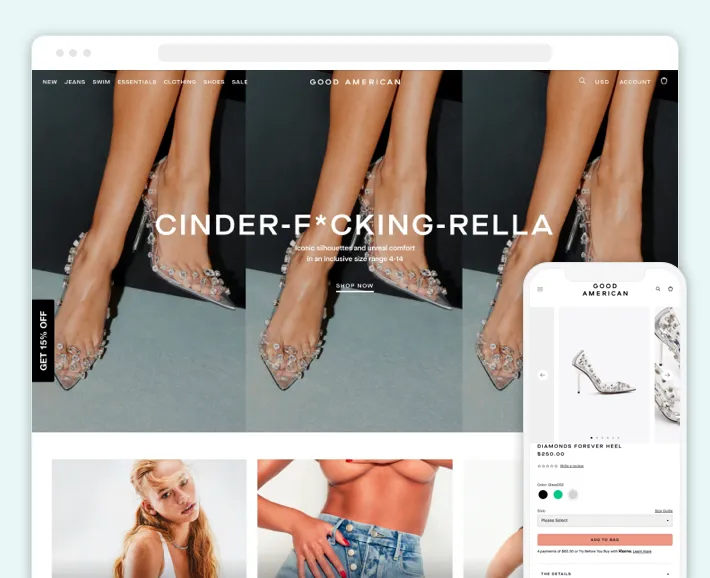 Good American, a clothing brand for all women, is a great example of leveraging Shopify Plus functionality. In addition to celebrity marketing (the brand is promoted by Khloe Kardashian and Emma Grede), it was able to collect $1 million on the first sales day thanks to Shopify Plus support of this high-volume enterprise.
Jaded London: Top Shopify Clothing Store for Autumn 2023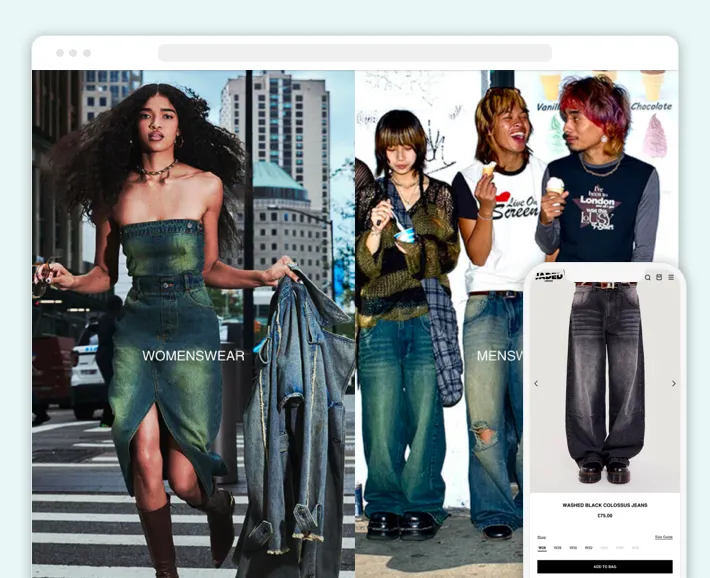 This autumn, Jaded London has must-watch clothing for urban London culture. The brand relies on eye-catchy designs and Instagram promotion campaigns to win customers' hearts. And to engage more people to turn into customers, the store employs the "buy now pay later" feature and free delivery for costly purchases.
Fashion Nova: The Best and Popular Shopify Dropshipping Clothing Store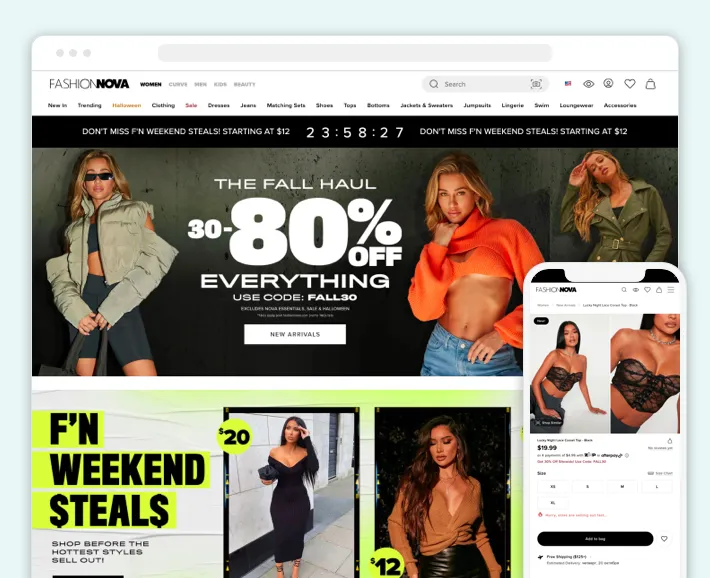 Fashion Nova is one of the most popular Shopify stores in the dropshipping domain and the fashion niche in general. The remarkable features of this clothing giant include rich and high-quality content, a user-friendly collection view, Instagram-like buttons, and blogging. To keep so many elements in one place, the brand uses the Shopify Plus platform.
ModCloth: The Leading Shopify Women's Clothing Store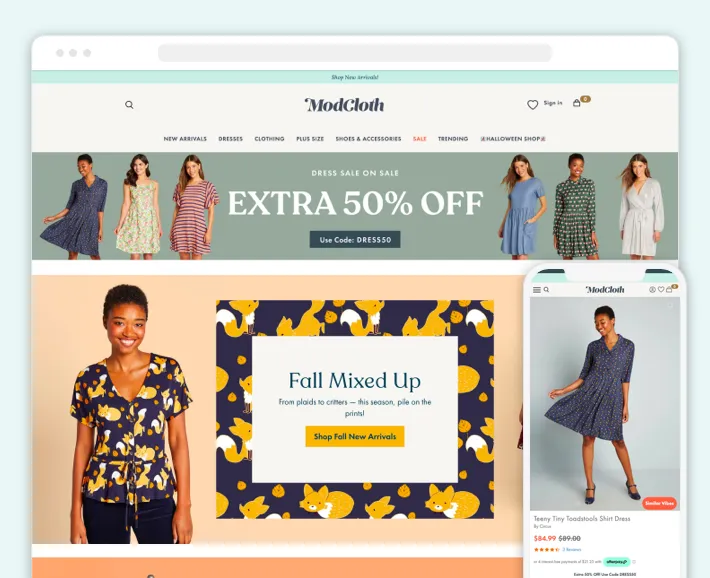 Since 2002, ModCloth has promoted inclusiveness and body positivity in women's clothing. The brand promotes joy, charity, love, and support, and the whole Shopify website corresponds with these values in colors, styles, product photos, and UX design. This store is a most successful example of building a Shopify store consistent with your branding.
Bee Inspired: Shopify Wholesale Store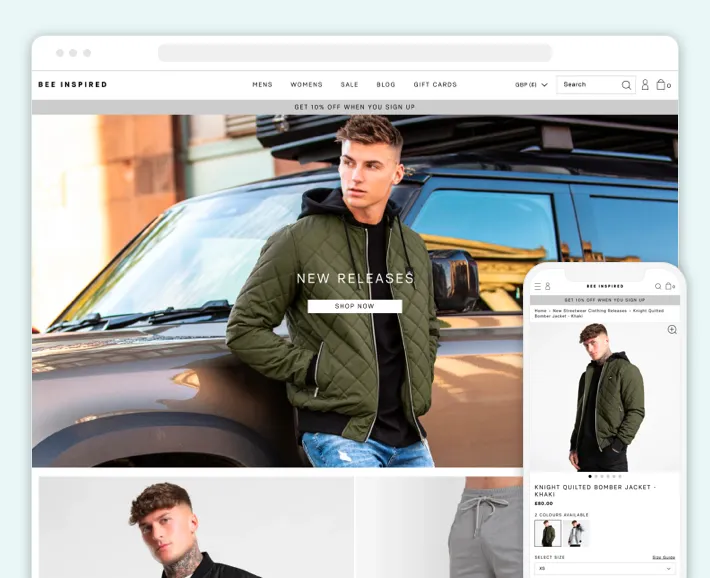 Bee Inspired is an international brand selling various streetwear categories, including jeans, hoodies, shirts, shorts, footwear, and sportswear. The company mostly relies on the discount campaign, offering markdowns for special product categories, discounts for students and mobile app users, and price deals for retailers on buying clothes for wholesale prices.
Jimmy Jazz: The Best Shopify Fashion Store in USA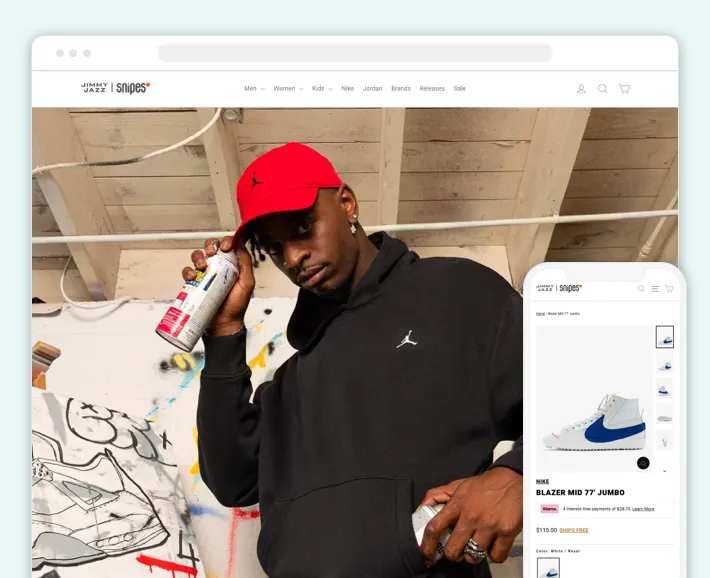 In the US market, Jimmy Jazz is a bright representative of hip-hop street culture, offering streetwear, sportswear, footwear, and designer clothes. The brand is also a place to shop for international brands, including Nike, Jordan, and Adidas. The Shopify theme used by Jimmy Jazz is minimalistic, focusing on the products and upcoming releases, just like selling in the hip-hop music industry.
Love Luna: Ideal Fashion Store Shopify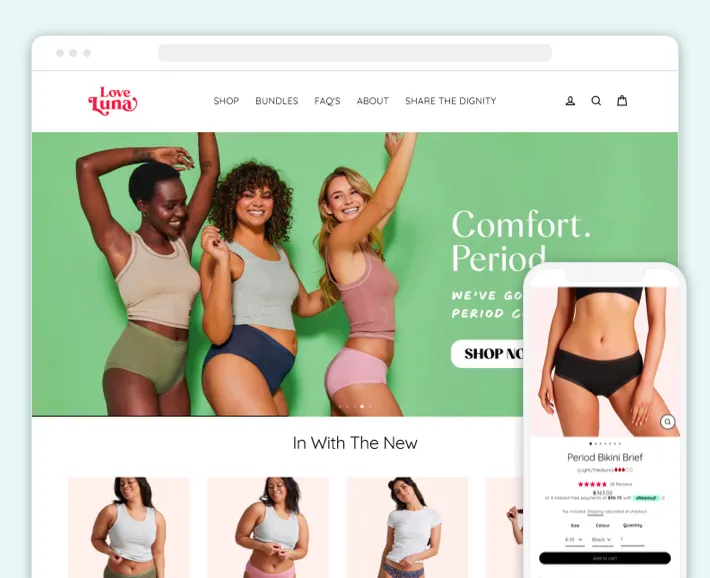 Everything Love Luna has is as it should be: bright colors, intuitive UI/UX, and a well-targeted website for its audience. And there you have it, the perfect example of a clothing store. But Love Luna has even more: the store clearly cares about its social and environmental footprint. All these features correspond with the business aim of selling reusable sanitary products and clothes for women. The company uses an upselling strategy to boost sales and offers free shipping.
Judith and Charles: Top Fashion Store on Shopify for Women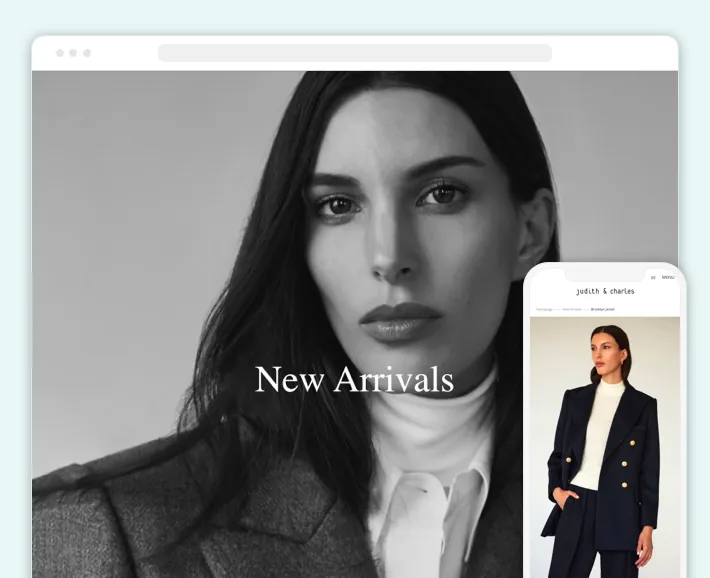 Judith & Charles is a highly successful fashion store for females from Canada. The Shopify theme chosen corresponds with the brand's high-fashion products: all the images are big, bright, and eye-catching, and the rest of the website is white, muted, and simplistic. The remarkable thing about this store is a "complete the look" feature that is based on the website recommendations.
Zanerobe: Men's Fashion Shopify Store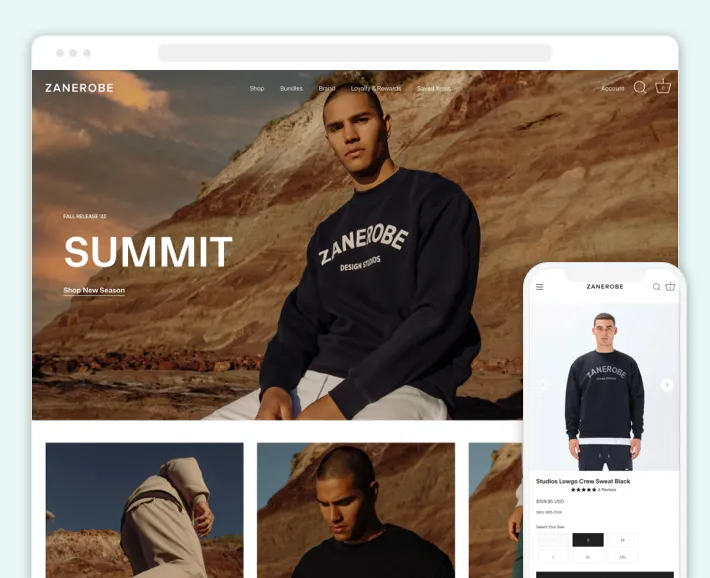 For men, Zanerobe offers pants, tees, shorts, jackets, shirts, and accessories focusing on sustainability. In addition to customer-friendly support and easy checkout, the brand has an engaging editorial section with exciting content for the target audience, professional young men. All in all, the brand sells products by promoting its clothing as a lifestyle.
Motel Clothing: Promising Women's Fashion Store on Shopify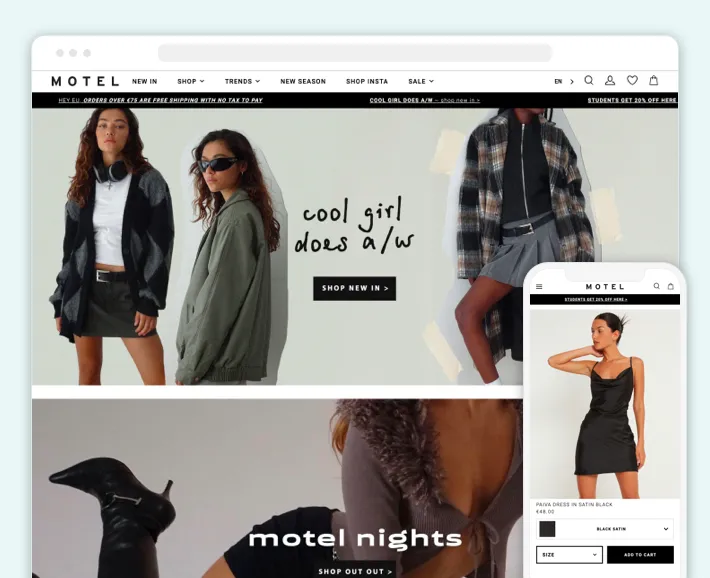 Being not as popular as other Shopify fashion websites in our list, Motel Clothing has great potential to become one of the best clothing stores on Shopify in 2023. The store sells fashionable clothing on different platforms, including ASOS, MotelRocks, and several physical stores. Its website colors change depending on the release styles and mood, focusing on the latest collection and attracting fast fashion lovers.
Proozy: Online Fashion Department Store on Shopify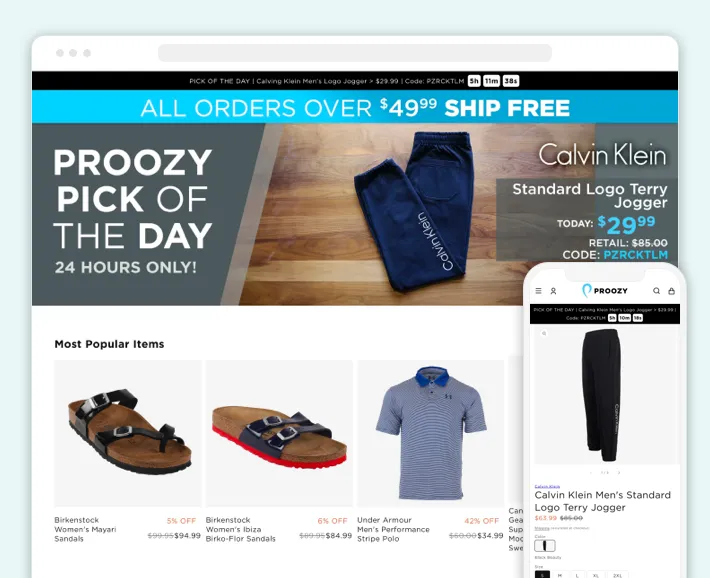 Proozy sells various types of products, including clothing, footwear, accessories, bedroom, kitchen, and electronics. The online outlet store relies on email marketing to engage its customers, adjusting daily discounts, arranging product collections, and investing in attractive, high-quality images. This personalization strategy makes Proozy a good example of how to sell to a wide and diverse audience.
Hardgraft: The Best Men's Fashion Online Store in Europe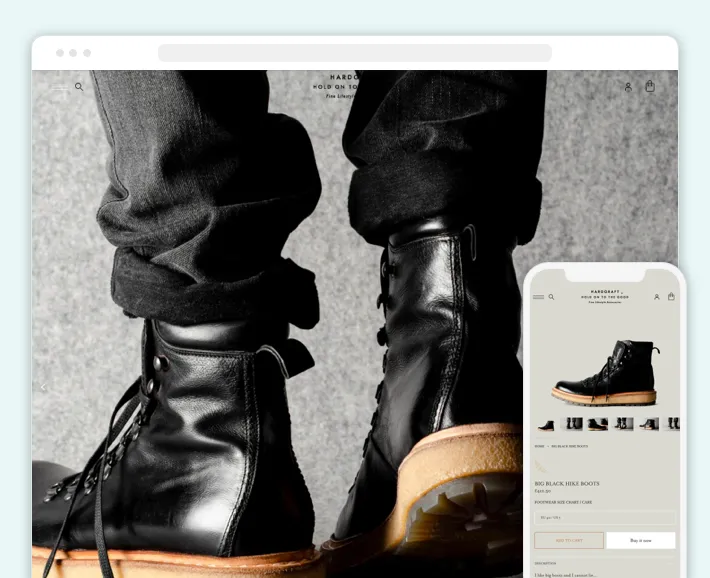 For European buyers, Hardgraft offers a unique set of elegant clothes and accessories. To become one of the best fashion stores on Shopify, this brand added several custom elements to its platform to highlight its style, including navigation menus, instant FAQ section pop-ups, and outstanding product photography. As a result, consistent branding and heavy investment in the admiring design increase trust.
Skinnydip: The Best Women's Fashion Online Store in the UK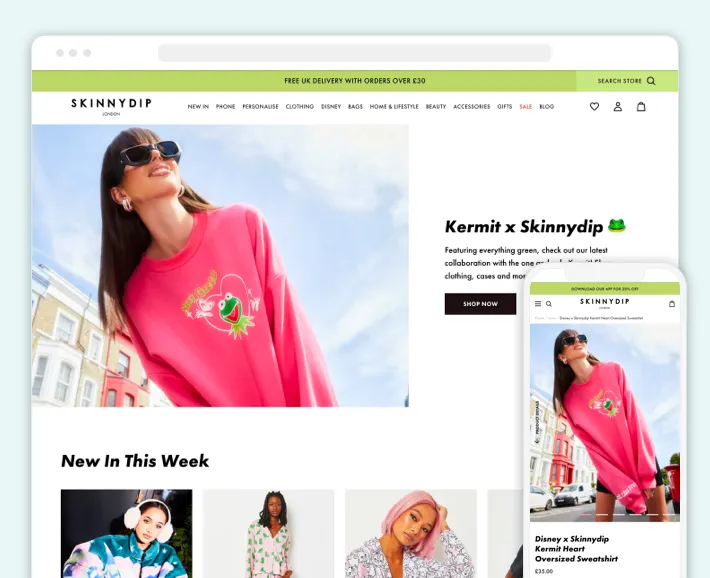 A London-based brand Skinnydip offers accessories for girls. The brand sells iconic fun phone cases and uses Shopify Plus to manage its online platform. The fashion store has bright, fun colors, customized checkout to make the purchase as simple as possible (Guide to customizing the checkout page), and easy navigation. Also, website clients can enter 'Nail Club' to join the community and get the latest fashion news.
White Fox Boutique: The Biggest Fashion Shopify Website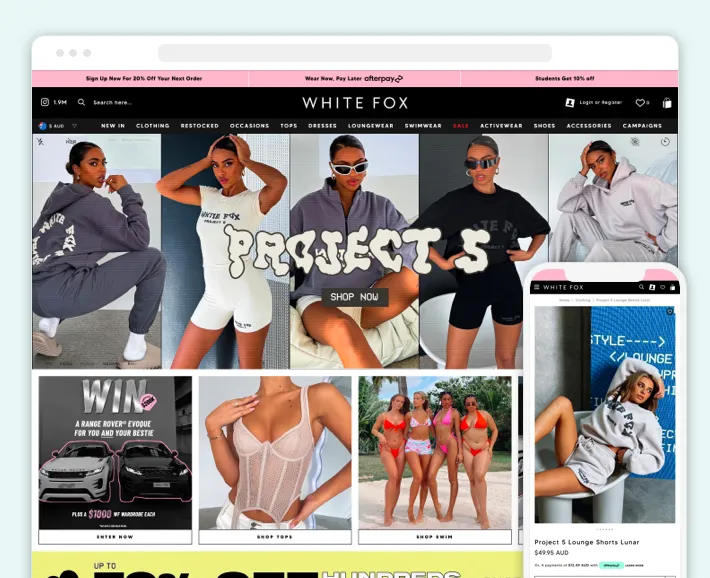 Among prominent Shopify fashion eCommerce stores, White Fox Boutique is one of the leaders in the Australian market, offering everything from apparel to accessories. The homepage shows the latest arrivals, highlights from social media, and the most trending items. These are the basics of a successful eCommerce fashion website well-done by White Fox Boutique.
Read more: Setting Up Shopify Markets for Global Selling
Sarah Haran: Successful Shopify Clothing Store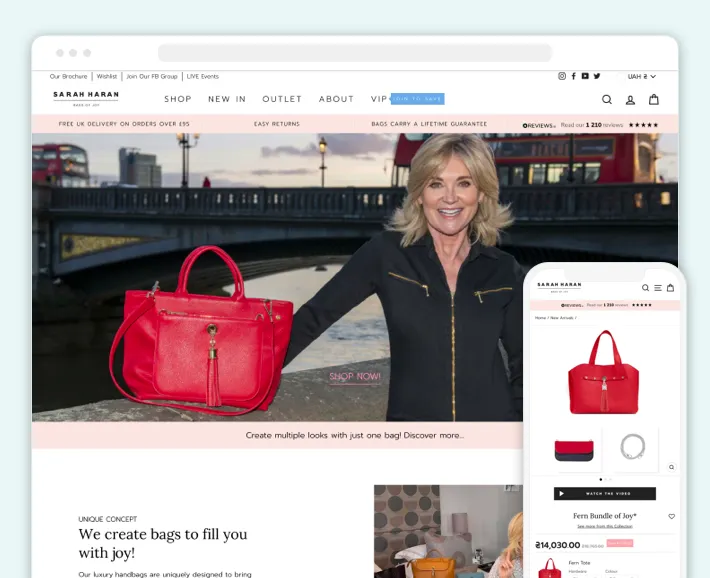 The success of the Sarah Haran brand shows how important it is to provide detailed and user-friendly overviews of your products. The handbags on the website have comprehensive product bundles, customizing the information displayed to each customer and offering to change colors in the bundle. Sarah Haran shows a good example of how to smartly adopt the upselling strategy.
Black Halo: Best Online Clothing Store with Shopify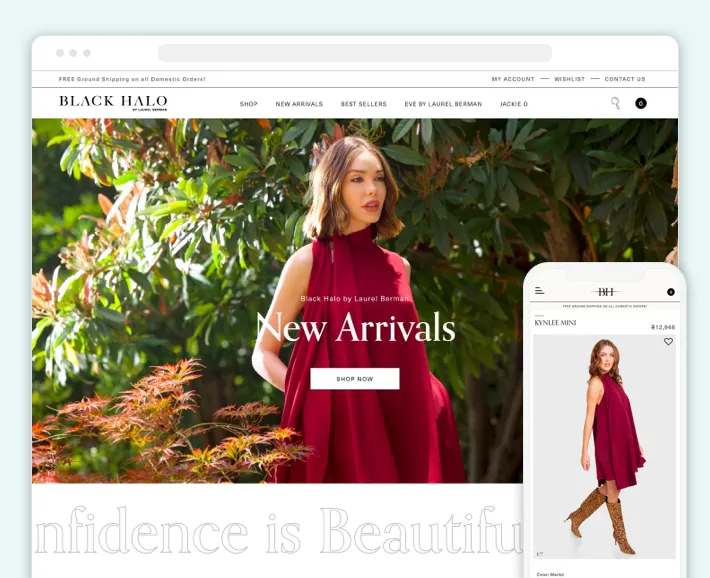 By using Shopify, Black Halo manages to unite several clothing categories, including customized dresses, business outfits, and evening wear. To promote the brand, the store heavily relies on Instagram, investing in high-quality photos and cooperating with influencers. Also, Black Halo makes good use of email marketing, empowered by automation tools.
SM Global Shop: Top Selling Clothing Store on Shopify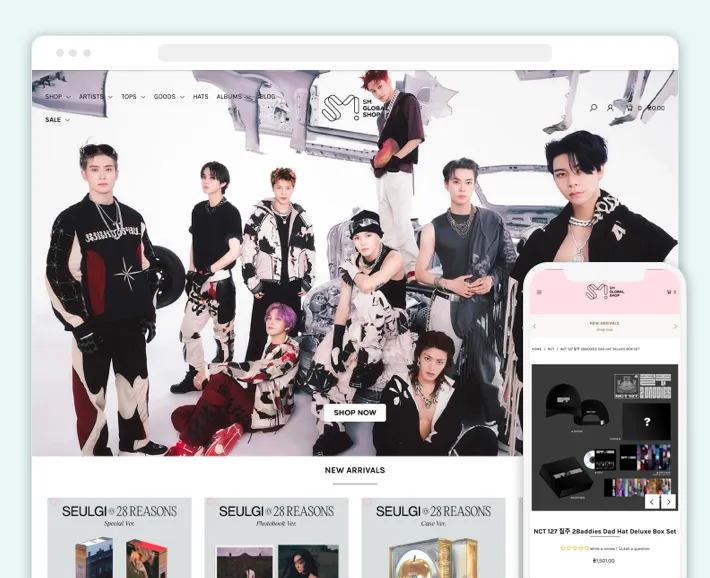 SM Global is the most successful K-Pop merchandise store these days. By occupying a highly popular niche for a specific audience, the brand has an official K-Pop apparel distributor as its partner to let its website visitors buy clothes directly from their idols, making K-Pop fans loyal to the shop. Everything left is to let website visitors easily navigate and buy what they came for!
Sunday Somewhere: The Best-Selling Shopify Clothing Store in the US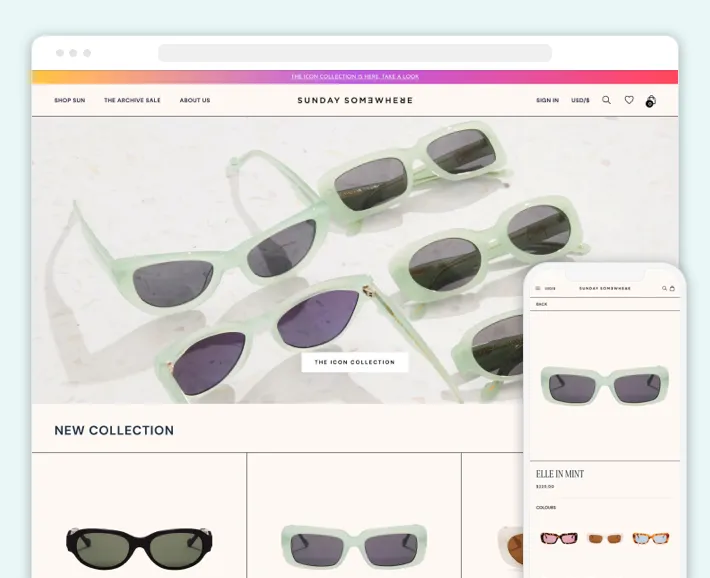 Being picked by American celebrities like Beyonce and Kate Hudson, Sunday Somewhere is a very successful shop on Shopify Plus. The premium-class brand offers sunglasses for adventurous and spontaneous people, and all the photos give this mood to website visitors. The remarkable features include informative product images, showing sunglasses from different angles, and a well-built purchase flow.
Tentree: The Best Women's Clothing Shopify Store in the UK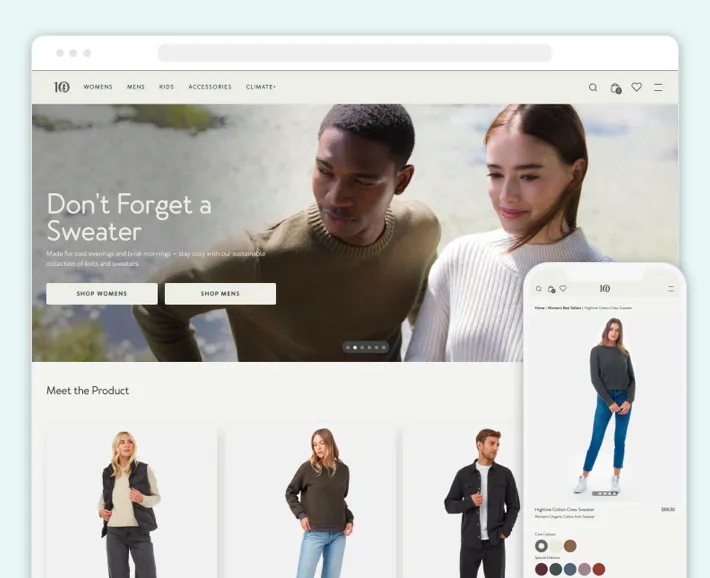 Tentree is a cool example of Shopify clothing store that cares about nature and its buyers, offering women and men various types of cozy clothing and aiming at selling a billion trees by 2030. With this strong and attractive messaging, the website navigation and product purchases become extremely meaningful for UK female customers.
Huxbaby: The Best Children's Clothing Shopify Store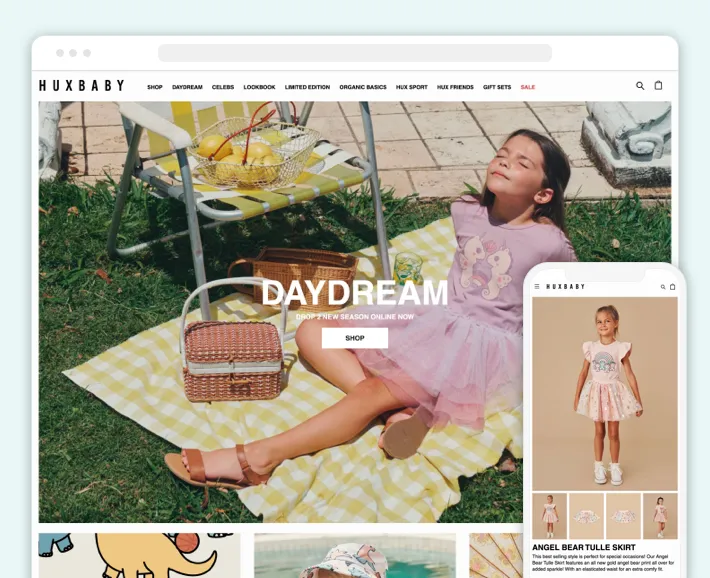 Huxbaby is an Australian online store offering organic, high-quality clothing for babies and kids. Like several other fashion shops in this list, the brand emphasizes its devotion to caring about our planet and encourages parents to let their kids be planet-friendly from a young age. With intuitive navigation and colorful photos, Huxbaby ensures that environment-conscious kids will be stylish.
Natural Baby Shower: Best Shopify Store Kids Clothing in Europe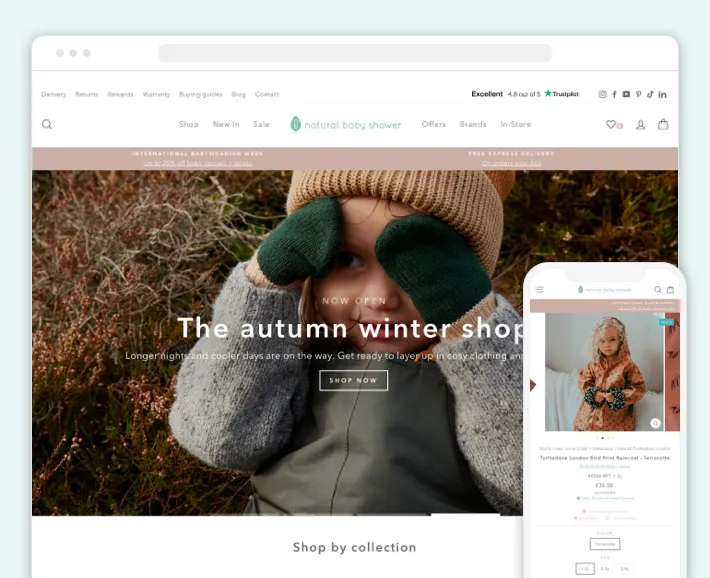 Among Shopify clothing websites for kids, a UK-based brand Natural Baby Shower is focused on natural products, gentle care, and gaining family trust. In this regard, the brand offers informative product descriptions, affordable prices, and friendly customer support. With its huge catalog, Natural Baby Shower aims to become the one and only place to shop for baby products.
Rhone: Popular Apparel Shopify Store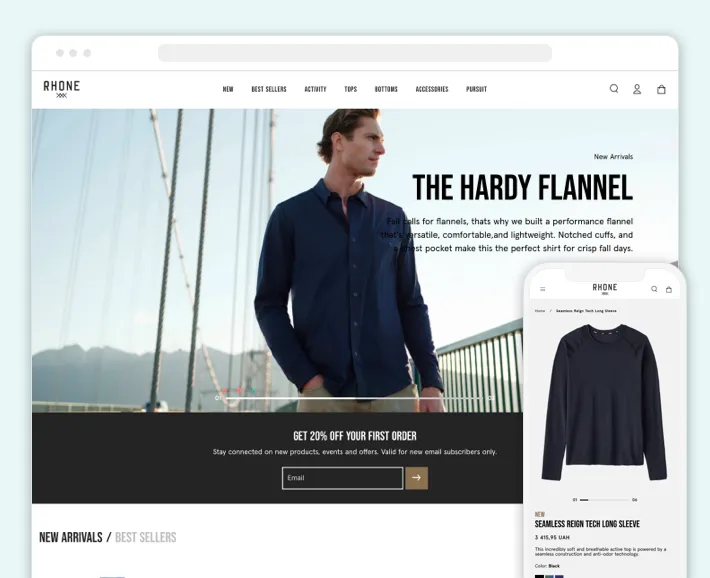 In the list of apparel Shopify stores, Rhone stands out as the shop that invests in meeting its target audience in any possible way. In particular, it offers apparel and gear for every possible level of activity, aesthetical needs, and lifestyle dynamics. To ensure product quality, Rhone makes clothes with antibacterial protection. With these attributes, all that's left is a Shopify online store that nicely arranges these products.
Victoria Beckham: Legendary and Popular Shopify Store for Clothes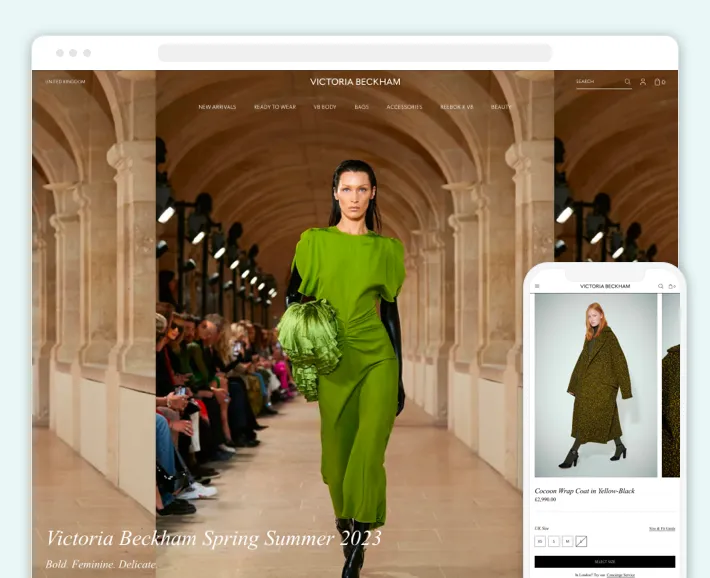 We couldn't omit Victoria Beckham's legendary brand from our list of the best Shopify fashion stores. Launched in 2008, the store has international fame, is presented in over 50 countries, and generates tremendous sales. On the Shopify Plus-powered platform, the Victoria Beckham store has dynamic visual content, luxury UX, and elegant use of fonts and other design elements.
Alo Yoga: The Best Shopify Store for Sportswear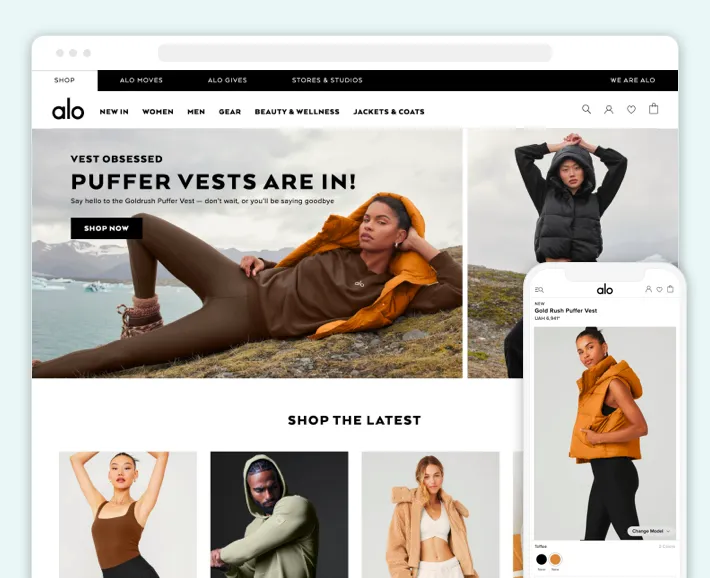 In the sportswear niche, Alo Yoga is a remarkable example of upselling its offerings with related beauty products and equipment for training. Brand consistency can be also seen in supporting a non-profit organization that promotes activity and mindfulness and selling yoga classes. This successful Shopify online store example is pure inspiration for building an entire ecosystem around a clothing brand.
Jolly Costume: The Best Shopify Store for Costume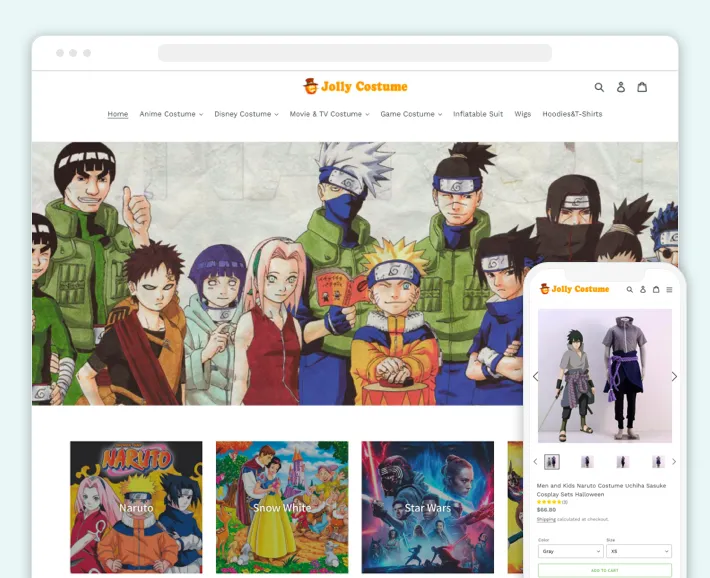 If you're selling costumes, check out Jolly Costume. This brand has several menus for different costume themes, including anime, Disney, Star Wars, Super Mario, and many others. This navigation lets website visitors quickly find what they want and buy the complete clothing package for their special occasion.
Adored Vintage: Vintage Clothing Shopify Store No.1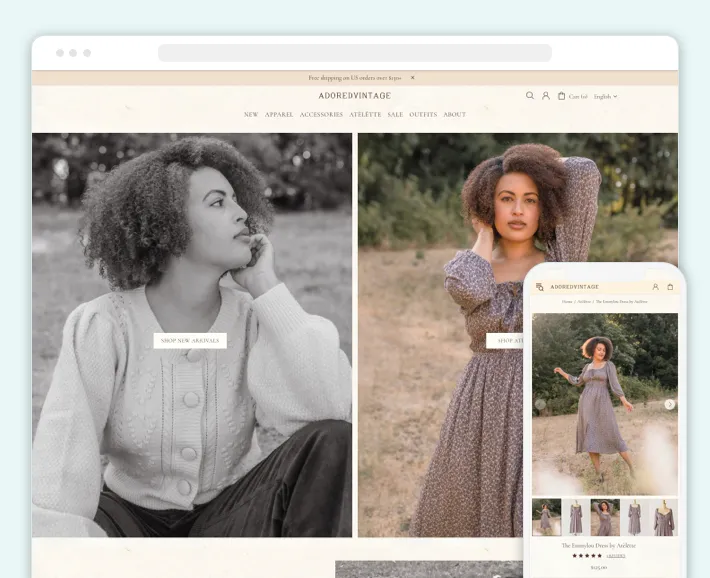 Vintage clothing is a specific request, and Adored Vintage keeps being the best Shopify store at meeting it. The store contains stylish photos, zoomable product images, and easy product navigation. Also, the vast product selection is another major reason why the brand has become one of the leaders in the vintage niche.
PinkBlush: Maternity Shopify Clothing Store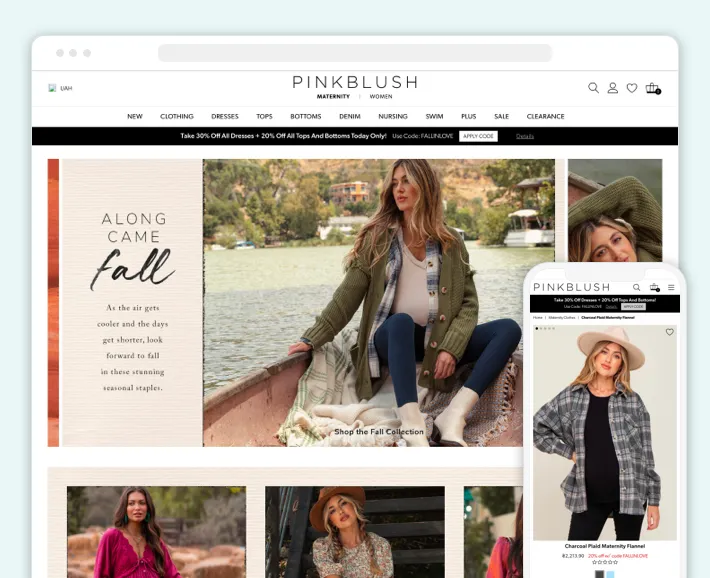 Among the best Shopify clothing stores, PinkBlush Maternity manages to sell maternity clothes in the most natural way possible. The brand offers maternity clothes along with women's clothing with clear navigation and sells various types of clothing for any occasion, from swimsuits and jeans and tops. Also, the store has nice maternity fashion photos on the website and from their Instagram clients.
Kerrits: The Most Successful Shopify Clothing Store in 2023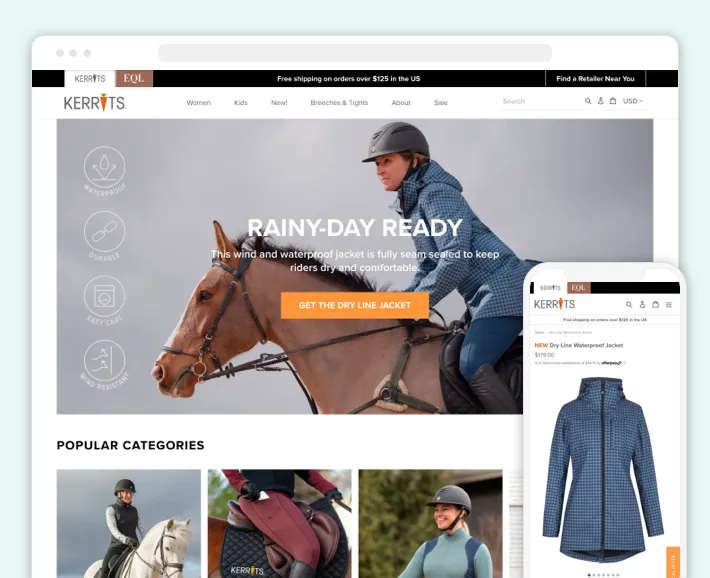 This year, Kerrits showed how a successful Shopify store should look, managing to reach success and offer innovation in clothing for horse riding. Since its launch, its equestrian apparel for women and kids has become extremely popular, letting the brand switch from a wholesale strategy to becoming direct-to-consumer with personalized email marketing and a 'Shop the Look' feature.
How to Customize Your Most Successful Shopify Fashion Store with GenovaWebArt?
If you want to incorporate some of the insights from these Shopify fashion online stores into your website, we're ready to help! With vast experience in the clothing and fashion industry, our experts know how to build online stores on Shopify and add custom visual elements to them.
The full list of our Shopify-related services includes:
Contact us, and we'll create a visual layout for your website, create UI/UX, develop a theme, build custom features and create private apps, and integrate all the required software and relevant pixels. We build Top Shopify stores that address your needs and support your business growth.
Read Also: How to Migrate to Online Store 2.0 on Shopify
Final Thoughts
As you can see, the best Shopify clothing website should correspond with the brand identity, engage the target audience, and offer some special features to stand out and boost sales. The 2023 trend is about inclusiveness, sustainability, and minimalistic design. Yet, niche products, colorful websites, and online department stores can also be profitable. The choice is all yours—but don't damage the basic sales-generating elements like content quality and navigation.
If you want to improve your Shopify store with the features from our list or customize it to your unique needs, we are ready to cover your request! Just drop us a line, and we'll build the best Shopify fashion website for your customers.