Even if you're satisfied with your Shopify store's performance, it can become even more successful with a powerful product bundling strategy. Shopify product bundles directly affect sales and conversions by encouraging customers to add more items to their carts. Thus, you can increase the average order value and retain shoppers thanks to extra discounts.

Product bundling is an effective retail tactic that involves grouping your products into specific sets or Shopify discount kits. For instance, upsells and cross-sells persuade people to purchase more valuable, related, or complementary goods.

But how to create bundles that will drive sales and retain customers?

And what can you do to optimize product bundling on Shopify?

You will soon find out. Thanks to GenovaWebArt's rich experience in custom bundling solutions, this post will explain all the essentials of Shopify product bundles with real-life examples below.
Some Facts About Product Bundling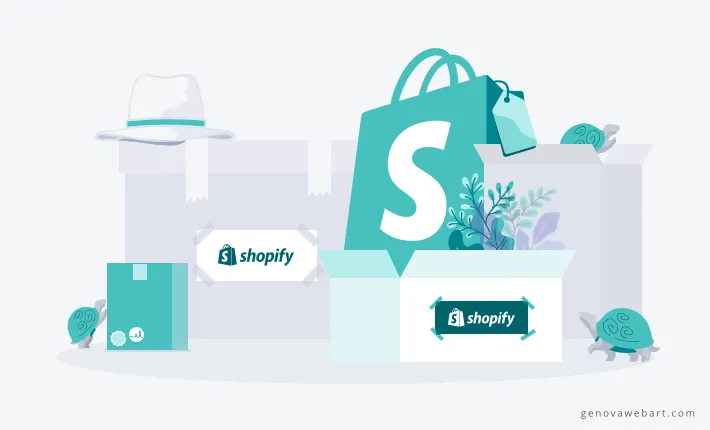 Before diving deeper into the topic, let's learn several facts about the effectiveness of product bundles and upselling offers for retail businesses.
Benefits of Using Product Bundles for Your Shopify Store
Did you know that it may cost you five times more to attract a new customer than to retain an existing one? Active shoppers familiar with your store are more likely to trust your brand, so you can keep them involved without significant investments.

And that's where powerful product bundling on Shopify comes in handy. Effective product bundles will help boost sales, increase ROI, and streamline customers' shopping experiences. So let's look at the critical product bundling advantages for your Shopify business.
Increases the Average Cart Value
You can significantly increase the average cart value by offering your users to buy related or complementary products. The shoppers will likely add more items to their carts if such products are displayed together.

For instance, McDonald's customers like Happy Meals because combining their favorite food and drinks and creating a single order instead of picking each item individually makes sense.
Enhances Your Conversion Rate Using Discounts
Product bundles make the shopping experience more streamlined, convenient, and personalized. People are more inclined to trust a store taking care of their potential needs instead of offering irrelevant goods. As a result, adequately created bundles can boost conversions and turn first-time visitors into loyal customers.
Boosts Sales by Encouraging Customers to Buy Immediately
As mentioned above, Shopify product bundles directly impact your sales. That's because your customers don't have to look for every item separately. Instead, they can shop for multiple goods at once without wasting time searching for what they need.

Moreover, bundles can encourage people to make more purchases and receive attractive discount.
Product Bundling Examples on Shopify
There are many ways to empower your Shopify store with product bundles. Thanks to appropriate Shopify apps and custom services provided by Shopify development teams, every website may opt for a unique solution fitting their requirements.
Let's look at several examples of Shopify product bundles we at GenovaWebArt implemented for our clients' online stores.
Ten Thousand Store. Kits and Packs
Ten Thousand Store provides customers with high-quality sportswear. The GenovaWebArt team created the website with a Kits+Packs section offering several products that perfectly fit each other. For example, this bundle on Shopify contains paired t-shirts and shorts with $10 savings.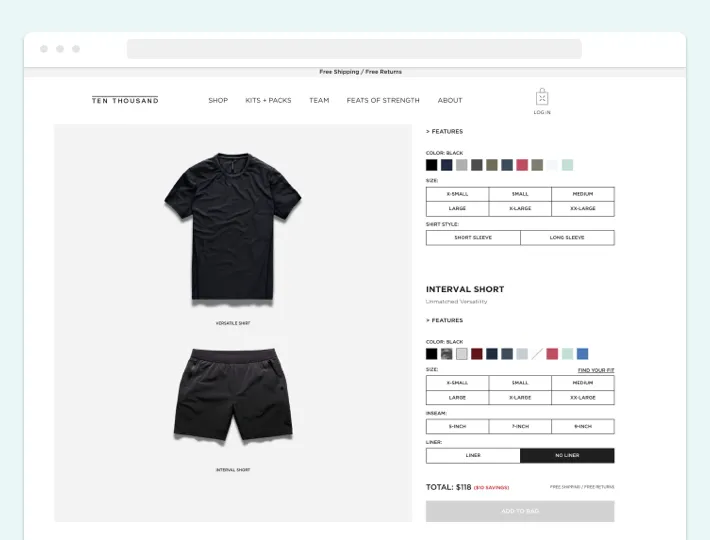 Winky Lux. "Pairs-well-with" Offers
Winky Lux, a popular cosmetics store developed by GenovaWebArt, offers to buy lip oil and gloss together with lipstick. It's another excellent Shopify product bundles example focused on providing several goods that perfectly fit the chosen item.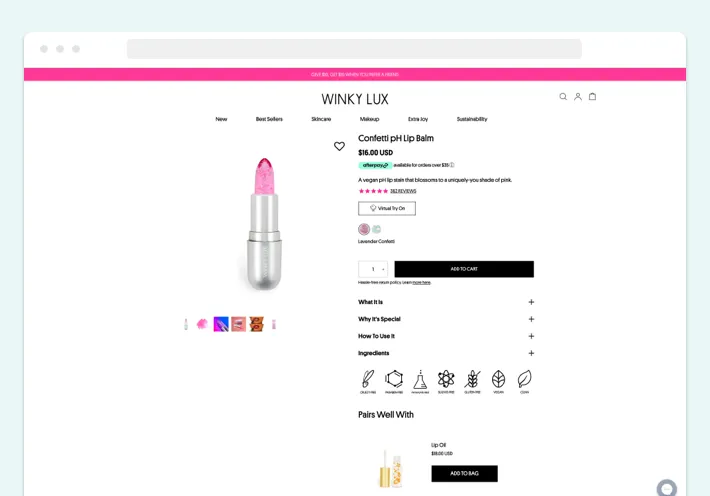 Bird and Blend Tea Co. Custom Bundles
Bird & Blend Tea Co. is a UK-based tea mixologists' store developed by GenovaWebArt. This example of a product bundle is a "pick and mix" offer where customers can build custom bundles consisting of ten different types of tea.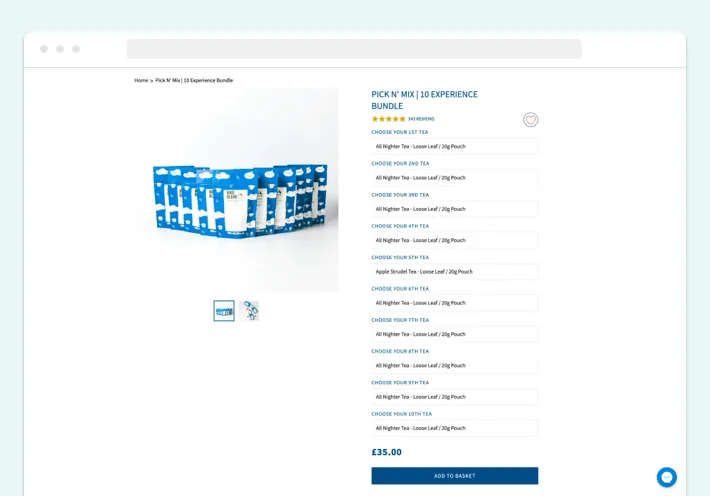 Types of Shopify Product Bundles
Product bundles in Shopify vary due to their approach to combining products and offering them to customers. Here are the most widespread types of bundling you may apply in your store.
Automated and Manual Bundles
Automated bundles group items based on specific algorithms that examine which product combinations are the most relevant. This technique suits stores with extensive catalogs or new merchants seeking a streamlined approach to bundling.

In contrast, manual bundles allow you to combine products by yourself. This method is quite flexible and, perhaps, more efficient. However, it also requires more effort from store owners.
Frequently Bought Together Bundles
"Frequently bought together" is a standard title for Shopify bundles and one of the most result-driven bundling techniques. It combines products that perfectly match each other and encourages customers to add more items to their carts. Such an approach significantly streamlines the shopping experience and helps people find goods they might not even see before.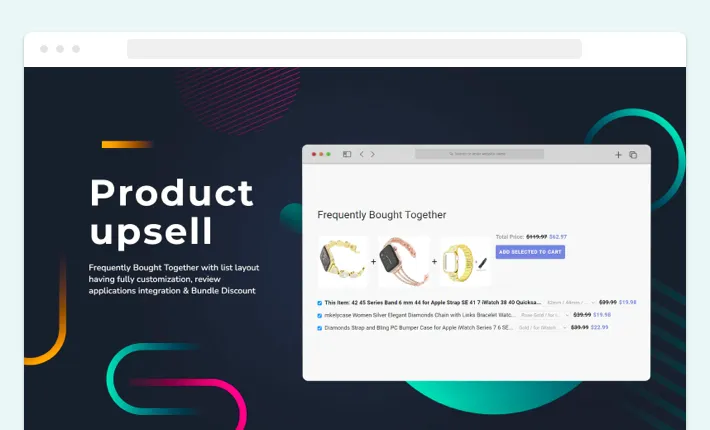 Mix and Match Bundles
The mix-and-match technique is even more flexible since it allows customers to add more products to their carts instead of picking the whole set.

For example, a store may propose to combine a smartphone with a case, headphones, and a selfie stick. Thus, shoppers can choose which of those products they want to add to the cart and get an encouraging discount.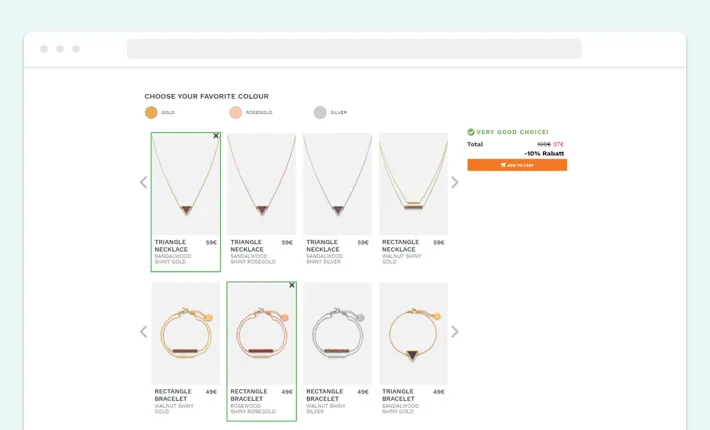 Variant-based Bundles
This bundling technique also gives your customers more freedom of choice. With variant-based bundles, shoppers can customize the offered sets of products and tailor them to their needs. For instance, when choosing a cosmetics bundle, a person can optimize the collection by picking appropriate colors and shades of lipstick and eye shadow sticks.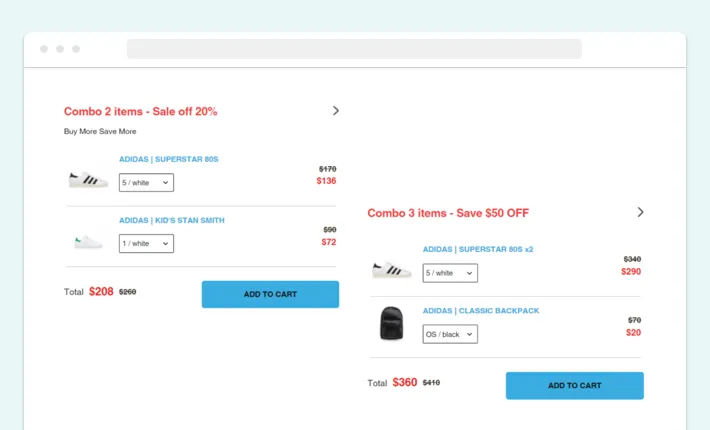 Product Kits
A Shopify product kit is an advanced bundle type allowing customers to choose a set of related items based on various combinations with different discounts. Such a move will provide shoppers with a more comprehensive choice, increasing the chances that one of the options will persuade them to purchase.

For example, a store may offer the following variants:
T-shirt and jeans for 10% off
Three t-shirts, two pairs of jeans, and a jacket for 30% off
Combo Products
A combo product is a single product page offering a set of closely related goods. For instance, your store may promote a product consisting of three items like a blanket, two pillows, and a bed sheet. Such an option will suit customers striving to buy several items together without looking for the required goods in other stores.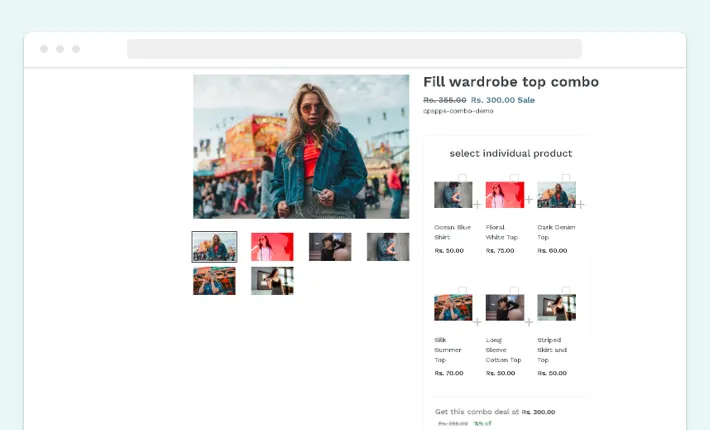 BOGO Bundles
The "Buy One Get One" bundle, also known as BOGO, is one of the most popular and practical approaches to upselling. This technique involves offering a significant discount or an additional free product if a customer makes a purchase. For example, a store may encourage shoppers to buy a suit and get a tie for free or for 50% off.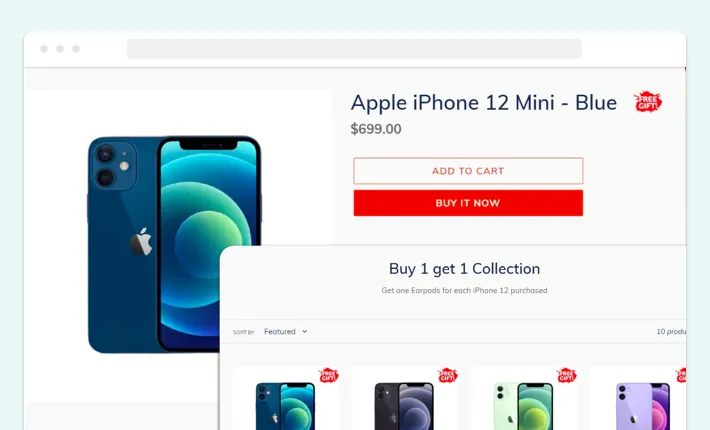 What Features Do Shopify Product Bundles Apps Offer
When selecting an app to create bundle products for the Shopify store, pay extra attention to its core functionality. Here are the most important features you will likely need to create powerful Shopify app bundles.
1. No Need to Sync Inventory or Changes
This feature will automatically synchronize inventory for all deals and Shopify retail bundles, so you will reduce manual work and significantly facilitate workflows. Also, if you change your catalog, those modifications will be instantly applied to every offer.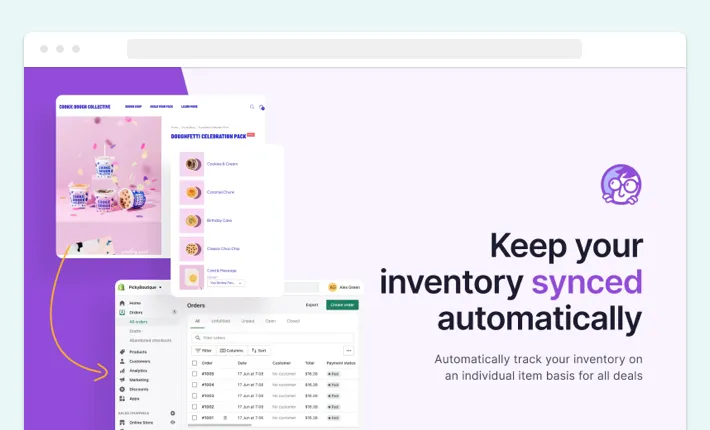 2. No Duplicates
This feature will allow you to avoid unwanted duplicates in product bundles, causing inconsistency and confusing customers. When you create a new modification of a product bundle, the older variant will be removed automatically.
3. All Themes Compatibility
It would be frustrating if a chosen bundling app didn't suit your Shopify theme, right? Thus, ensuring that an application is compatible with all Shopify themes, including Shopify Online Store 2.0, is essential.
4. Automatic Discount at Checkout
Placing discounts on bundles at checkout is crucial for customers' purchasing decisions. An appealing offer like BOGO or free gift will encourage shoppers to buy more products, which increases your store's average cart value.
5. Match Cart with Multiple Bundles
You may need to apply several bundling strategies, such as BOGO, variant-based bundles, mix-and-match bundles, etc. So your Shopify store should be capable of adopting all those offers, making it possible to combine or change bundles if required.
6. Different Approaches to Applying Shopify Bundle Discount
As mentioned above, two main approaches to applying bundles are automated and manual bundling. With their help, you can either set up specific algorithms for creating bundles or build them yourself. And it's a great advantage if a Shopify app can handle both.
7. Combo Product and All Variants Bundles
Another excellent feature is enabling various Shopify bundles, such as a single product consisting of several items or a variant-based bundle. Both options can be highly beneficial. So it's worth having a chance to combine them or test which one works better for you.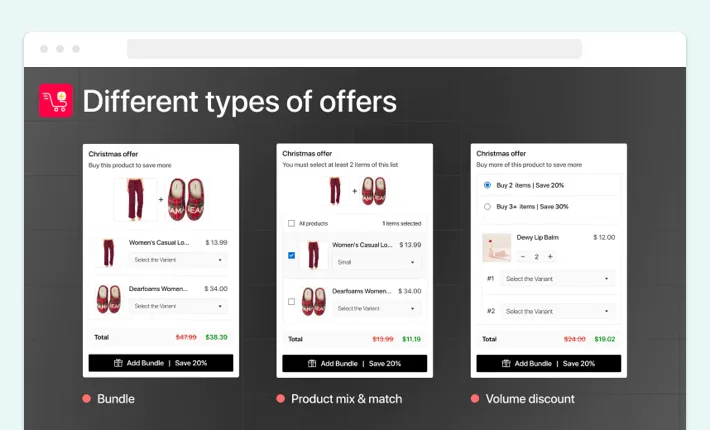 8. Displaying Bundles Anywhere on Product Page
This feature will allow you to place bundle offers anywhere you like, making the solution more custom and manageable. Thus, your decision on where to display an offer will correspond to your website design and streamline user journeys.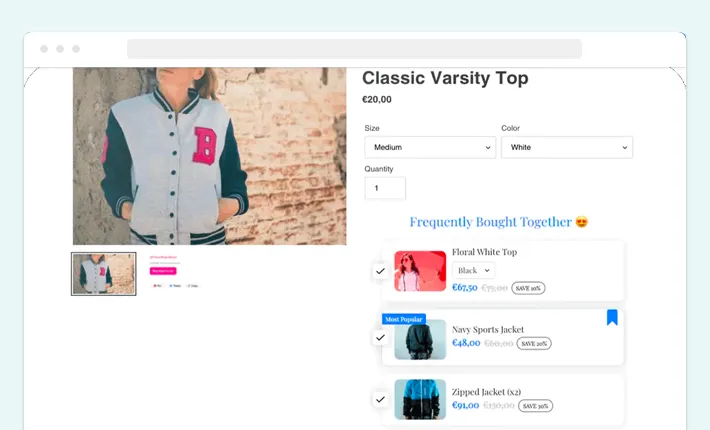 9. Displaying Bundles in Different Languages
Enabling your customers to view your website's content, including product bundles, in multiple languages will help you grow your business and enter the global market.
How to Create Product Bundles on Shopify
If you're wondering how to bundle products on Shopify, here are the two most common approaches.
In most cases, a well-functioning application, such as Bundles, Bundle Products And Discounts, or Upsell and Cross-sell, is enough to cover the basic needs and empower your store with efficient bundles. However, if you need a more custom approach and want to tailor product bundling on Shopify to your business requirements, an experienced Shopify development team like GenovaWebArt will get the job done.

Now, let's look at how to create bundles on Shopify.
1. Decide What to Bundle
You can apply several methods to ensure your future bundles will increase average order value (AVO) and boost sales.
Select the least popular product categories.

Combining them with frequently bought products will improve inventory and sales.

Apply discounts based on quantity.

For example, a "buy two for the price of one" technique will increase AVO and help you sell out stagnant goods.

Do some research.

Tracking key metrics based on your customers' shopping behavior will allow you to learn more about your products and improve your bundling strategy.
2. Calculate Bundle Price
To estimate the optimal bundle price and set reasonable discounts, calculate each product's gross margin. Use the following formula:

Gross Margin = Ticket price - Cost of goods sold (COGS)

Hence, you will learn which discounts will work best for your business. Note that 15-20% discounts fit brands with no less than 50% average gross margin.
3. Name Your Product Bundle
Picking the right title for your Shopify product bundle is crucial since it significantly impacts your customers' buying decisions. Therefore, it's a good idea to focus on a special benefit the shoppers will gain if using a bundle. At the same time, the name should be straightforward and concise.
Analyze the Results of Shopify Product Bundles
To create Shopify product bundles that boost sales and retain your customers, keep a close eye on corresponding data. Collecting and analyzing information about your bundles' performance will help you optimize your offers and address the audience's expectations.

Let's look at the most effective ways to monitor and test Shopify product bundling.
Conduct A/B Tests for Your Product Bundles
A/B testing is a result-driven technique allowing merchants to compare two approaches to their marketing campaigns and understand which one works better. Thus, you can choose the most productive strategy to increase conversions and attract more customers.
Define KPIs for Product Bundles
Setting key performance indicators will help you track the most significant changes regarding your bundles' efficiency over time. In a while, you will see if the chosen strategy works well and what you can change to improve it.
Pick the Right Bundle Locations
When it comes to upselling your products, the bundles' location on your website is critical. That's because depending on your store's specifics and audience's needs, the optimal placement of such offers may vary. Customizing the position of bundles and trying to put them on different pages will enable you to understand which strategy works best.
How We Can Help You With Product Bundles on Shopify
GenovaWebArt is an experienced Shopify design and development company with deep expertise in all tech aspects of Shopify-based digital solutions, including product bundles. We often deal with customizing those offers to our clients' unique expectations and tailoring them to the projects' specifics.

For example, when working on the Kit&Kin store selling natural baby care goods, we helped them create custom bundles allowing customers to pick the preferred items via convenient subscriptions.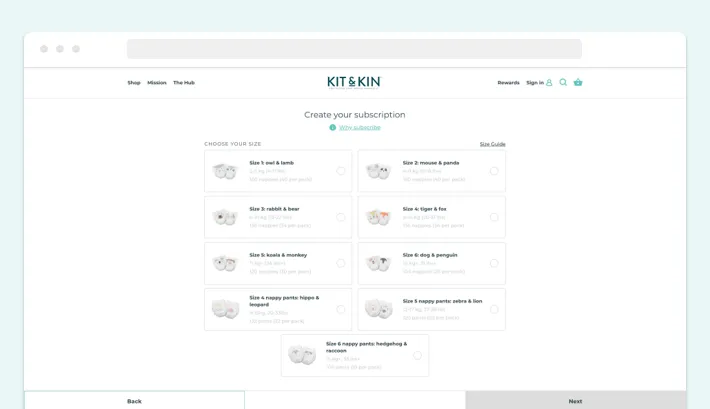 Another example is the Workout Meals online restaurant. In this case, we developed a unique solution with meal packs based on the shoppers' goals, such as weight loss, muscle gain, etc.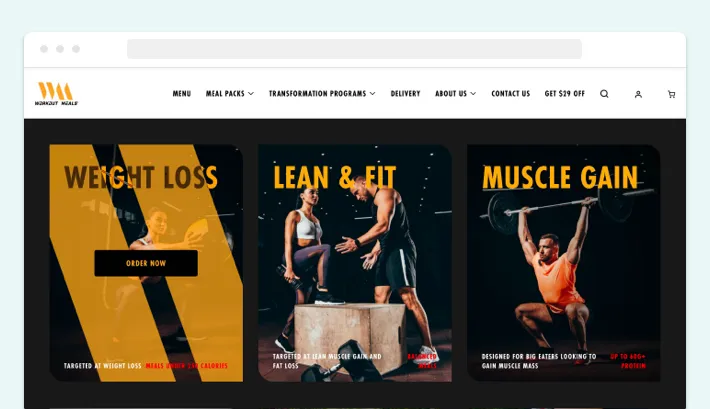 Optimize and Manage Your Product Bundles with GenovaWebArt
Shopify allows for numerous opportunities to create compelling product bundles that retain customers, improve their shopping experiences, and drive sales. However, you should apply and optimize Shopify product bundles based on your needs and business specifics. Sometimes, standard Shopify apps' functionality isn't enough, so it's worth finding a reliable tech partner to save the day.

Want to create product bundles in your Shopify store?
GenovaWebArt experts are ready to help you out! We are an experienced Shopify development company providing all related services, including custom development, design, re-platforming, and store migration. Besides, we deal with upcoming support and can improve every aspect of your Shopify store, including your product bundles.

Contact us now, share your ideas, and we will develop solutions relevant to your unique requirements.
Frequently Asked Questions
Is It Possible to Create Product Bundles on Shopify Without Apps?
Yes! If the apps' functionality doesn't suit you or you need a more custom approach to product bundling, a Shopify development team like
GenovaWebArt
can help. Shopify developers will come up with various solutions on how to optimize and manage your bundles.
How to Pick the Best Shopify Product Bundles App?
There are numerous apps allowing merchants to bundle products in Shopify. Some of the most popular options are
Bundles
,
Bundle Products And Discounts
, or
Upsell and Cross-sell
. When choosing an app for your needs, pay extra attention to the following aspects:
◦
Functionality
◦
Pricing plans
◦
Reviews
◦
Relevance to your store's specifics
How Much Will It Cost to Implement Product Bundles in My Shopify Store?
It's almost impossible to tell the exact price of product bundle creation since it depends on many different factors. If you decide to pick a dedicated Shopify app to create bundles, its price will vary depending on the chosen plan. However, if you want to create custom Shopify product bundles, the price will be based on your individual needs, such as the chosen bundle type and store size.