Have you ever wondered why this or that page brings more conversions? How do you determine whether a button makes a user want to click it and buy a product? Can one image make a user stay on your Shopify site longer and another, on the contrary, causes a desire to leave the page?
Default Shopify theme and generic ads do not work; you should be above that and try to understand your audience better. We recommend that you read our guide on how to successfully select a Shopify theme that will increase your shop conversion rate.
Customizing your store or creating engaging advertising campaigns are processes that require the time and effort of your team. The key to success is a unique approach and ideas.
What if we said there is a way not to take a shot in the dark but analyze what may attract your customers? Shopify A/B testing is just about that.
Instead of spending your employees' efforts on ineffective methods to increase the conversion rate or copying other businesses' approaches, you can try out your unique ideas. Using Shopify A/B testing tools, you can determine what is right for your store, brand, and audience.
Just think about it: A/B testing of landing pages resulted in a sales increase for 70% of companies.
So how to implement an A/B test on Shopify? Learn more about it in our article.
Why Don't We Use Shopify A/B Testing Apps and What Are The Alternatives
Shopify A/B testing is a method store owners use to increase conversion rates by testing two versions of a website element. It helps see what items get the most conversions from a particular audience. Another term for this method is split testing for Shopify online store.
There are many Shopify A/B testing apps on the market today, and we would like to highlight the following: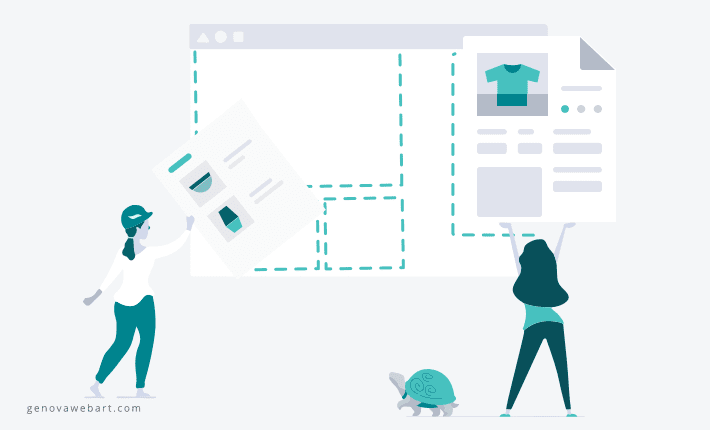 Google Optimize. It is a free tool, except for multivariate testing. This platform allows the creation of different types of tests for both large and small scale businesses and budgets. In addition to simplicity and ease of use, it is designed to work together with Google Ads and Google Analytics.
Optimizely. Although it is a rather expensive digital experience platform, it allows running A/B tests even for non-technical users. It also has a Stats Engine, which facilitates the processing of testing results.
Neat A/B Testing. It is an application that is ideal for simple tests. It allows you to conduct A/B testing on the main pages of the Shopify store or its basic elements, such as the product theme or page. Anyone may use this app because of its user-friendly design.
VWO. This application offers a convenient editor that even beginners can easily handle. Features include heat maps, form analytics, and SmartStats to facilitate test results analysis.
All these applications work well with A/B testing in Shopify, and they only differ in pricing and usability level. After analyzing each app, you will be able to compare it with your business goals and choose the one that suits your budget and needs.
Don't forget that your shop is unique, so there is no guarantee that at least one of the apps will be perfect for you. But what are the alternatives for doing A/B testing on Shopify?
First, you can do manual A/B testing, but it is time-consuming and rather challenging. Second, you can hire a dev company to create an A/B testing tool that would perfectly meet the requirements of your store.
How Does Shopify A/B Testing Work in Practice?
We've briefly explained what A/B testing is and how to A/B test on Shopify. Let's now figure out how it works in the world of eCommerce.
When you run Shopify A/B tests in your store, you show one version of your asset (a page, publication, etc.) to 50% of your visitors and the second version of the asset to another 50% of visitors.
Version A is the original version of your asset, and it is called "control", and the second, version B, is called "variant."
The version that achieves the goal set before the A/B test takes the cake. These goals can be different: higher conversion rate, more purchases, more leads, more content interactions, or CTA clicks. For example, if the banner of option B wins according to the test results, you start showing it to 100% of your audience.
Based on the A/B test results, you can make data-driven decisions and learn more about user behavior, engagement rate, pain spots, and your customers' satisfaction with the online store features.
Shopify A/B Testing vs. Multivariate Testing: What's the Difference?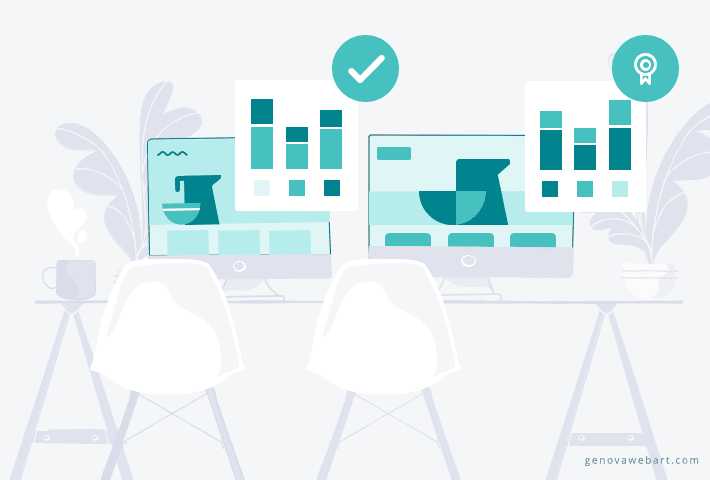 An A/B test on Shopify is a concept closely related to multivariate tests, but there is a significant difference between them. Let's talk about it in greater detail.
A/B or split testing aims to test only one specific element of your online store. For example, it could be the color of the "Add to cart" button, location of the image in the section or content, banner on the landing page, CTA text, or headline copy.
Multivariate testing compares changes in several elements of your website at once, and such tests are significantly more complex than A/B ones on Shopify, increasing the sample size. Unlike a simple A/B test, you can compare combinations of variations: instead of A and B options, you also get C, D, E, F variants, and so on.
Due to the extensive sample size, it becomes more challenging to collect statistics. Nevertheless, multivariate tests allow you to immediately compare the effectiveness of combinations of changes.
What can be an example of multivariate testing?
For example, you can analyze the following changes:
Picture A and button A
Picture B and button A
Picture C and button B
Picture D and button C
Multivariate tests on Shopify are best to perform when you have sufficient traffic on the website since you need enough data to test all variables accurately.
How Long Should A/B Tests Take to Run for Shopify Store?
We recommend conducting Shopify split testing during at least one business cycle. The ideal option would be to do this over two complete business cycles.
Remember not to stop testing on Shopify stores when you think you see a significant result. Also, keep in mind that your test should match your pre-determined sample size. And another tip: run A/B tests at weekly intervals.
Now we will explain why it is best to run tests for two complete business cycles.
First, during this time, you will be able to consider buyers who are hesitant to make purchases.
Second, you need time to assess different traffic sources, such as social networks, e-mail, etc.
Third, this way, you consider deviations from the plan, such as holidays.
So, we hope that we justified this testing duration. But to finally support our statements, let's talk about the sample size. What did we mean here?
Your A/B tests in Shopify should have statistical value, which is impossible if you do not calculate the sample size in advance. Otherwise, you conducted an invalid test.
How to Run A/B Tests on Shopify Store in 5 Easy Steps?
You now have an idea of how long A/B testing on Shopify should take. We've already mentioned how such tests work, but now let's learn how to start A/B testing in Shopify. To do this, you need to follow a few easy steps.
Step 1. Define Your Hypothesis
The very concept of A/B testing is that you make assumptions about your store. This hypothesis also concerns whether your customers will like the planned changes. However, remember that even your assumptions must stem from data, which can be:
Heat maps
Polls
Interviews
Web analytics
User behavior researches
It all starts with the so-called null hypothesis. For example, you think it's best to move the "Product Features" button up. At the same time, you could rely on data from the heat map, where users browse your store for a long time, searching for the product's characteristics.
Step 2. Select and Install the A/B Testing Tools with Shopify Plus
Running a test directly on your website is a technical process, and a simplified A/B test procedure is only available to Shopify Plus users. Other store owners need to implement third-party tools to conduct such tests.
We told you about the most popular A/B testing applications on Shopify above. However, we strongly encourage you to engage with professionals like us to develop a custom A/B testing app for your special store.
Read Also: Shopify vs Shopify Plus:​​ 8 Key Differences
Step 3. Create the Tests
Creating tests is about transforming your hypotheses into specific realizations. In this step, you should already know what you need to do. Here you think more about how to implement your ideas.
In the first step, we talked about the "Product Features" button and that you decided to move it higher. But where exactly? How will it look? It would be best to answer these and more questions at this stage.
Step 4. Start Testing
So, now you have a ready-made test on your Shopify store: two variants of one element. You can now launch it right away.
At this point, you need to determine how long the test will take. As we have already mentioned, it is best to run a test for two complete business cycles. Here, you also need to determine the sample size and the goals you plan to achieve.
Step 5. Analyze Testing Results
It is the last step to help you determine which variant won. But how can you figure it out? It requires a comprehensive analysis.
As a rule, store owners determine the winner according to the previously set goals for the test. But this is not always the right approach. It is also essential to consider such indicators as:
Add-to-cart conversion rate
Abandoned-cart rate
Net profit
Also, don't forget about data segmentation. Here you divide the data according to user type, device type, etc. The next section of our article will elaborate on Shopify A/B testing analysis.
How to Analyze A/B Test Results in Shopify stores?
So, you had a hypothesis, set up Shopify A/B testing, and now you wonder which variant is better. It is significant to focus not on the winner itself. What you should also think about is the valuable data both variants contain.
It will be fundamental to determine whether segmentation is required during the analysis. In any case, your test will correspond to at least one segment. Here are some of the segments to consider:
New visitors
Returning visitors
Social media visitors
Logged-in visitors
iOS visitors
Android visitors
Desktop visitors
Tablet visitors
Chrome visitors
Safari visitors
Organic search visitors
Etc.
This list goes on and on. You can also segment by age, gender, geographic location, etc.
It may happen that your hypothesis will appeal only to a particular segment of the audience. You should also take this into account. By analyzing results of tests by segments on Shopify, you get a deeper idea of your audience and its needs.
Thus, the key to practical analysis is the segmentation of results. Then, you can dig deeper and find out your audience's actual demands.
Few words about your audience's demands: the latest trend in Shopify stores is the use of 3D models.
Optimize A/B Testing for Your Shopify Store
What insights should you get about conducting a split test in Shopify? Let's talk about the key ones.
Don't chase "winners"
The A/B tests help you better understand your brand, audience, and products. The A and B options can give you valuable information about your customers. Even if one variant wins, they still both benefit your business.
Focus on fundamental A/B tests on Shopify
Our advice to you: do not waste money and time. First, determine which website elements you want to change and set your priority. Next, pay more attention to the A/B tests responsible for these fundamental elements. Of course, you can do a lot of tests, but do you really need them?
A/B testing is a continuous process
Of course, you can't open a store once and change nothing in it. Your business as a living organism must grow and develop. That is why A/B tests must constantly accompany this development.
Think about privacy
Users are very concerned about their privacy. For A/B tests, you need data about your customers particularly. After all, based on that information, you make your hypotheses. The main thing here is not to overuse it and think about your users. That is, ethical A/B testing is our preference.
Final Thoughts on Shopify A/B Testing
Of course, you do not want your online store to stand still. But to make any changes to its look, you must first know what your users need. After all, it is your audience that brings you profit.
How to find out the opinion of your customers without asking them directly? Perform A/B tests on your Shopify store. Thanks to them and their careful analysis, you will understand what needs to change on your website.
For about a decade, we at GenovaWebArt have specialized in building one-of-a-kind designs, developing custom apps for online shops, and conducting numerous A/B tests. So, if you need help with A/B testing, you may contact us directly.