Imagine that instead of one-time purchases from random website visitors, your Shopify store can get scheduled recurring orders from loyal customers on a monthly or weekly basis.

Sounds too good to be true?

Well, it can be quite realistic with the creation of subscription boxes on Shopify.

A subscription-based business model can boost sales, increase retention, and enhance customer loyalty without significant marketing efforts. Moreover, launching a subscription box is suitable for any retail company, from a cosmetics store to a food delivery restaurant.

Today, the interest in subscribing to various online products is greater than ever. According to Invespcro, over 54% of Internet shoppers use a subscription box service.

But how to start a subscription box on Shopify that will meet your business requirements? And which subscription model should you choose for your products? Thanks to GenovaWebArt's expertise in Shopify-based solutions, this post will help you find out!
Shopify for Subscription Boxes in Examples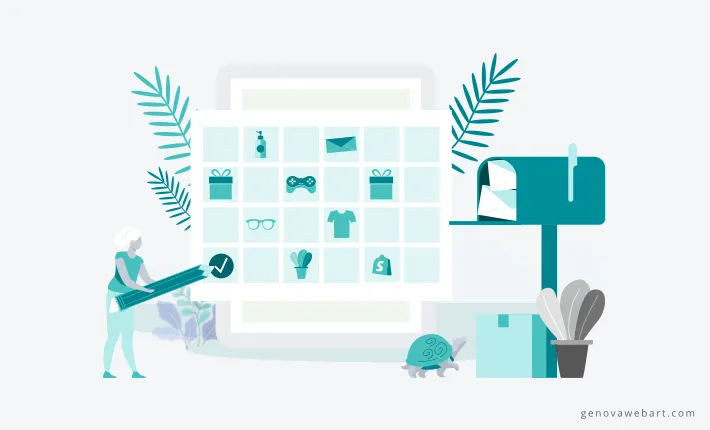 A subscription box is a set of products combined into a single package and sent directly to a customer on a regular, scheduled basis. Subscription boxes on Shopify can be an excellent marketing strategy for subscription-based eCommerce businesses. This approach helps distribute products streamlined and effectively, boost customer loyalty, and increase sales.

Luckily, merchants have multiple opportunities to build result-driven subscription boxes on Shopify. Whether running a beauty shop on Shopify, a food delivery business, or an online book store, you can apply a specific type, category, and schedule of subscriptions to cover your individual goals.
Best Shopify Subscription Box Examples
Let's look at several great examples of Shopify subscription boxes varying due to the specifics of a particular business.
1. Subscription Box of Style by Rachel Zoe
Here is an excellent example of a quarterly lifestyle subscription box presented by the Rachel Zoe Shopify store. It contains luxurious clothing and accessories for every season, with exclusive access for regular customers to attractive discounts and special prices.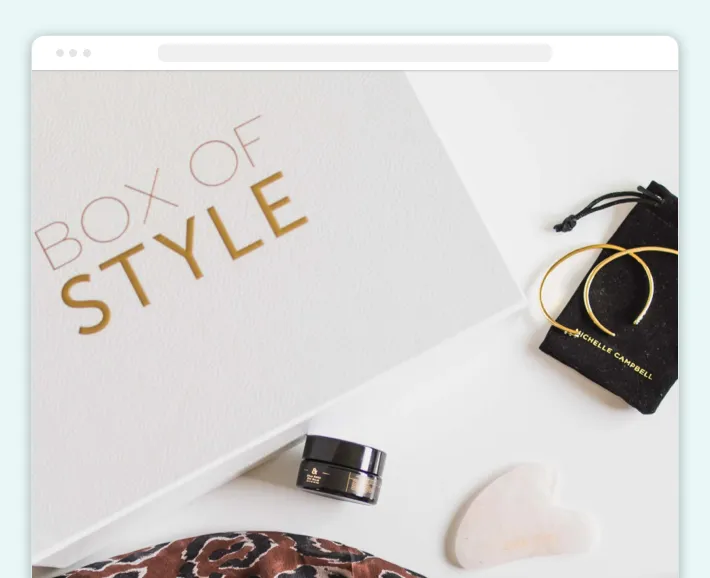 2. Tea Tasting Club Subscription Box by Bird and Blend Tea Co.
Another excellent example of a subscription box on Shopify is the "Tea Testing Club" box created by the GenovaWebArt team for Bird & Blend Tea Co. It offers a monthly subscription providing three different variants of boxes with distinctive flavors for high-quality tea fans.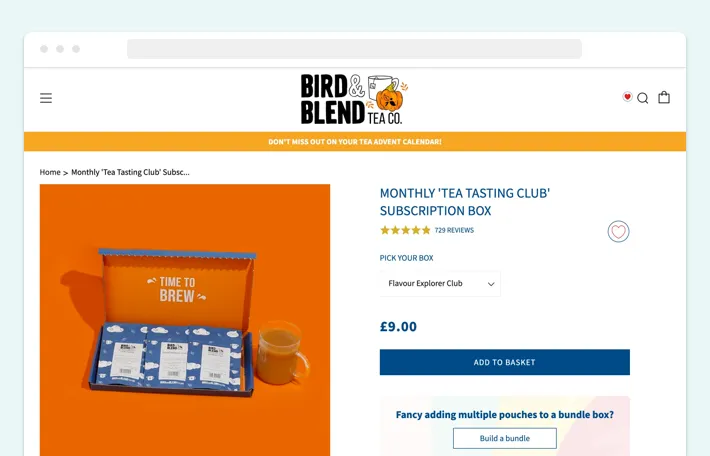 3. VIP Soup Dumpling Club by The XCJ
A real-life example of how to start a subscription box on Shopify. The XCJ, an authentic US-based street food restaurant designed by GenovaWebArt, offers a custom subscription box. The customers can pick the desired dumplings and sauce on their own. On top of that, the restaurant provides monthly and every-two-month subscription options for customers with different needs.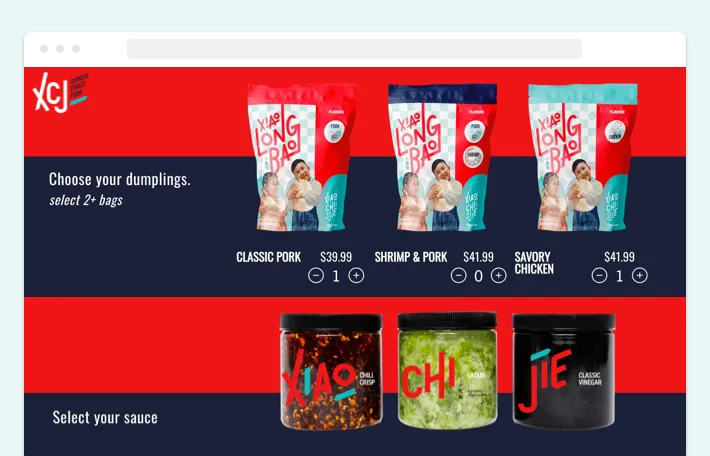 Why You Should to Create a Subscription Box Business on Shopify
According to a recent McKinsey survey, 15 percent of online shoppers in the US signed up for a subscription to regularly receive their favorite products. Moreover, the subscription market growth shows no signs of stagnation. By 2027, it's expected to reach up to $65 billion, with an impressive CAGR of over 18%.

But is this eCommerce segment getting so popular among retail businesses? And is starting a subscription box business on Shopify a good idea for a merchant? To make it clear, let's look at the potential advantages of the Shopify subscription box model for your Shopify business.
Consistent revenues
The Shopify subscription box model will allow you to predict your monthly, quarterly, or yearly income. Thus, you will improve inventory management and planning of further investments. Also, such an approach can enhance your analytical capabilities and help you effectively monitor your sales.
Full payments
Subscriptions are beneficial both for customers and merchants. Online shoppers can get attractive discounts on bundles and become VIP members of your community. In turn, you will receive full payments for your goods in advance.
Less marketing investments
When you sell each product separately, you should make every effort to promote your goods and constantly invest in various marketing campaigns. Meanwhile, you can save some customer acquisition costs with the subscription-based business model. The statistics prove that the existing customers are 50% more likely to purchase in your store than the new ones.
Customer loyalty
If customers regularly buy the desired goods in your store, you can easily monitor their typical behavior and shopping habits. Thanks to that, you will be more likely to serve customers' needs and meet their expectations. In addition, it will strengthen your connection with the audience, allowing you to provide a higher quality, personalized service.
Enhanced upselling and cross-selling
Upselling and cross-selling are highly efficient techniques enabling you to sell more goods to your customers and increase the average order value (AOV). Thanks to subscriptions, you can boost people's trust in your brand and persuade them to purchase more items in your Shopify store or subscribe for bundles.
Subscription Business Models for Shopify Stores
Although there are numerous kinds of Shopify subscriptions, depending on your store's and products' specifics, this business model can be divided into three main types:
Curation
Replenishment
Access
Each model has its benefits and downsides. So if you want to launch a Shopify subscription box, it's worth learning more about those approaches and choosing the one that suits your objectives best.
Curation business model
This is probably the most widespread type of Shopify subscription box. It offers customers to subscribe to the chosen group of products after studying the customers' needs and preferences.

Such an approach allows people to enjoy personalized shopping experiences by discovering new items matching their interests. The curation model is the most popular among food, beauty, and apparel businesses.
Pros:
Sales growth. This business model can scale up in no time thanks to its simplicity, flexibility, and ease of use. You can apply it to products of any type and cost.
Cons:
Higher churn rates. Customers may churn due to lack customization, or if the products appear unnecessary.
Additional expenses. Subscription boxes may require extra inventory, packaging, shipping, and delivery investments.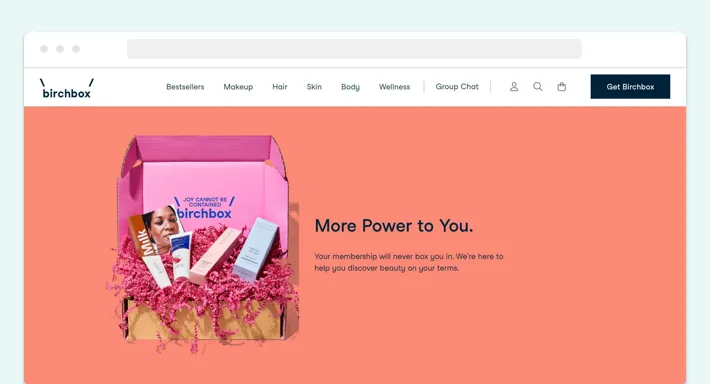 Replenishment business model
Replenishment services are highly effective when it comes to selling essential goods. This business model enables people to subscribe to the products they regularly need, often with a significant discount. Unsurprisingly, such Shopify subscriptions are typical for vitamins, nappies, pet food, etc.
Pros:
Increased conversions. The ability to subscribe for must-have products encourages first-time visitors to become your loyal customers.
High retention rates. Once customers subscribe to the needed products, they will likely stay with you for a while.
Cons:
Low-cost goods. When applying the replenishment Shopify business model, merchants often compromise their products' prices to attract more customers. Thus, you risk losing profit if you don't sell enough goods.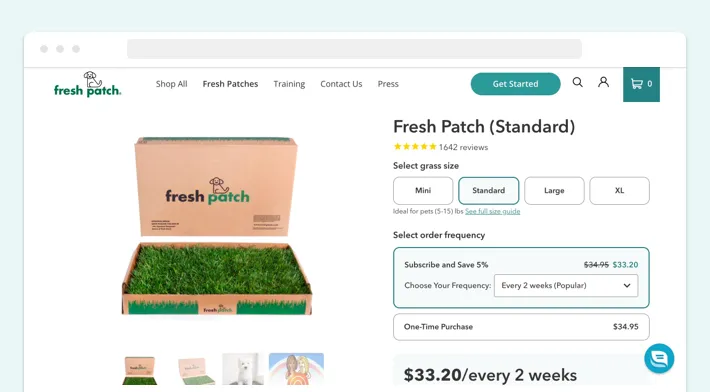 Access business model
This model encourages customers to become VIP members and get exclusive benefits, such as attractive discounts, free shipping, or gifts. This approach is trendy among food and apparel businesses.
Pros:
Customer loyalty. People like to get exclusive perks as members of a club or community. Quality interactions and personalized customer service will increase the shoppers' loyalty to your brand.
Cons:
Challenging maintenance. With this business model, you will need to invest time and money in developing your products' value and special offers.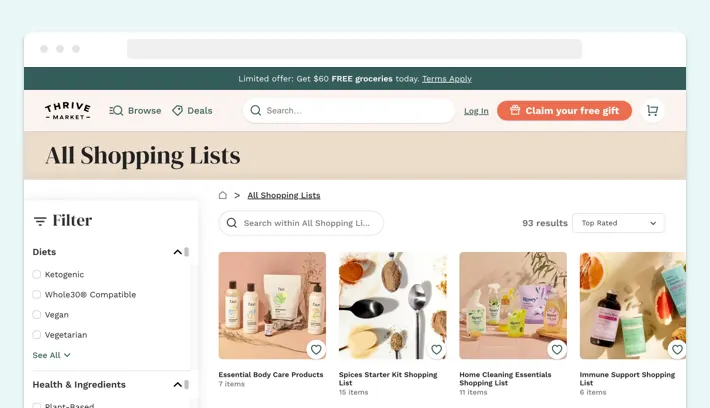 Tips and Tricks on Starting Subscription Boxes on Shopify
Now, let's look at several key tactics to help you create efficient subscription boxes for your Shopify store.
Offer Convincing Benefits
Your customers should clearly understand why your Shopify subscription box is beneficial for them. Here, you can adhere to one of the following tactics:
Offer a free trial. This move will likely convince your customers to give your service a shot.
Provide attractive discounts. Online shoppers want to see your offer's convenience and benefit. So make sure your subscription box has something to encourage them, from a significant discount to free shipping.
Personalize Customer Experience
Ensure your customers feel that you care about their individual needs. According to Epsilon research, 80% of online shoppers are more likely to purchase if their experience is personalized. So if a Shopify subscription box is tailored to the customers' needs, they will be more likely to opt for it.
Apply Appropriate Marketing Techniques
While the subscription box models vary due to their types and business nature, each may require a specific approach to the marketing strategy. For instance, if you are just starting, you may scale up your company and attract more attention with influencer marketing. Alternatively, if you focus on the curation business model, you can take advantage of the affiliate marketing approach. Finally, don't forget about the email marketing channel, which is essential for every eCommerce business.
Track Your Churn Rates
If you want to launch a subscription box on Shopify, keep in mind that a high churn rate is one of the most significant challenges for your business. However, although nobody wants customers to leave, it can help you learn from your mistakes and improve your strategy. So it's worth carefully tracking and analyzing churn. Thus, you can make proper conclusions and enhance your approach to retaining customers.
Read also: Affiliate Marketing for a Shopify Store
How to Create Your Own Subscription Box on Shopify
Supposing you're about to start a subscription box on Shopify. So what should you start with? And are there any challenging technical aspects of this process you need to handle?

Let's make it clear. Here's a step-by-step guide on how to do a subscription box on Shopify.
1. Choose the Right Subscription Model
Initially, you should decide which subscription model suits your business best. Unfortunately, there's no one-size-fits-all solution. So depending on whether you're selling clothing, food, cosmetics, toys, or books, the right approach may vary. Remember that each model has its specifics and potential drawbacks mentioned above.
2. Decide on the Products for Your Subscription Box
Next, pick the products you will offer to your customers regularly. This choice should depend on your audience's specifics and their potential needs. That's why it's a good idea to study your potential customers well. You may also build a sample subscription box company to test your initial ideas and start marketing campaigns.
3. Define the Prices
Before you start a subscription box on Shopify, analyze the market and price your products. Note that the pricing may vary depending on the number of options offered and the box type itself. For example, two sets may differ in the number of proposed items. Also, don't forget about discounts for your loyal customers. For instance, you may offer a lower subscription price for those who have stayed with you for more than a year.
4. Build a Subscription Box App
Now, it's time to choose a Shopify subscription box app for your needs. Luckily, the Shopify App Store is full of convenient and feature-rich solutions. When selecting the app, stick to your core business needs and pick the one that provides appropriate functionality. In particular, here are the most common subscription box application's features:
Subscription-only products
Different subscription schedules
Prepaid subscriptions
Expiring subscriptions
Payment plans
Gift subscriptions
Subscriptions with product options, etc.
5. Add Your Products and Set Up the Subscription Box
Once you've chosen the app for launching your subscription service on Shopify, connect it to your Shopify store via an API. Then, you can create your catalog with subscription products and manage subscriptions in your admin portal. Depending on the app's specifics, you may access various functionality, from shipping details and inventory management to checkout optimization and analytics.

Also, remember that your subscription service management tool should be connected to a payment gateway. Usually, suitable applications enable all key payment integrations, including Shopify Payments, PayPal, Stripe, Amazon Pay, etc.
6. Optimize Your Subscription Box Page on Shopify
After starting a Shopify subscription box, you may need to improve the corresponding website page. It's worth creating an appealing, user-friendly, and convenient customer portal that won't confuse or overwhelm users. Instead, the page should be clear and intuitive. It has to provide all necessary product details, shipping, and discount information, high-quality images, customer reviews, prominent CTAs, and more.
Use an App or a Customized Solution
There are two main ways of building and managing Shopify subscriptions. You can either use a relevant ready-made app or opt for a custom solution. Let's look at both approaches in more detail.
Choosing a Best Shopify App
As mentioned above, top-rated Shopify apps provide every essential feature and enable merchants to manage their subscription boxes via convenient admin portals. There are numerous effective subscription apps, so you should pay extra attention to the chosen tool's functionality, convenience, pricing, and reviews.
Here are some of the most popular ready-made solutions for creating subscription boxes on Shopify: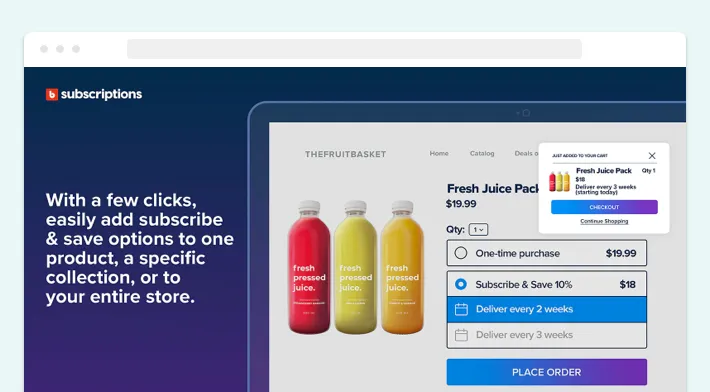 Choosing a Custom Solution
If no apps can cover your business requirements, you may turn to a Shopify development team like GenovaWebArt to build a custom subscription box solution on Shopify.
This approach could be a bit more costly, yet it will pay off in the long run. The hired team will tailor the chosen subscription box model to your individual needs and help you implement unique design components unavailable with ready-made apps. Moreover, Shopify allows developers to build and integrate their solutions via Shopify Subscription APIs and Product Subscription Extension.
How GenovaWebArt Can Help
We at GenovaWebArt have rich experience delivering digital solutions for various Shopify stores, from world-famous cosmetics brands to unique online restaurants.
In particular, we worked on numerous projects where it was necessary to build high-quality custom subscription boxes on Shopify suitable for specific business models.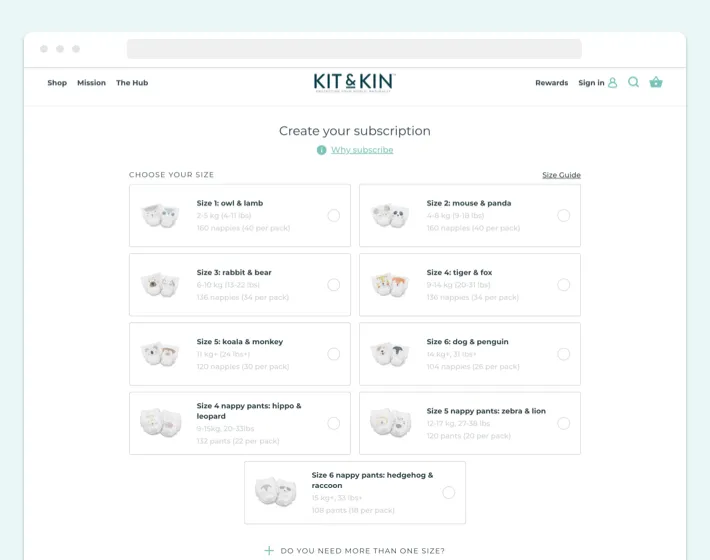 For example, when working on Kit&Kin, an online store offering natural products for mothers and babies, our team migrated the existing subscription solution from WooCommerce to Shopify. On top of that, our goal was to come up with numerous custom approaches for optimizing subscriptions and empowering them with extra features.
Here's what we have done to cover the client's needs:
Created a recurring payment gateway for a smoother customer experience
Provided a custom solution for subscription and sales analytics
Designed a convenient customer portal with several options for subscription management
Still ensure support and maintenance for Kit&Kin store
Create Unique Shopify Subscription Boxes with GenovaWebArt
If you want to sell subscriptions in your Shopify store, it's worth building a consistent, farsighted strategy keeping an eye on your business specifics and individual requirements. If implemented properly, subscription boxes on Shopify can take your online shop to the next level. With their help, you can boost your sales, enhance conversions, and earn customer loyalty.
Looking for a reliable tech partner to help you make a subscription box on Shopify suitable for your needs? We at GenovaWebArt will gladly help you out. Our professional development team is ready to provide Shopify-related services, including custom design and development, re-platforming, Shopify Plus migration, integrations, and more.
Contact us, share your ideas, and we will create an outstanding subscription solution for your store or optimize and support the existing one.
Frequently Asked Questions
How do I manage my subscription box on Shopify?
If you're using a ready-made Shopify subscription app, you can manage your subscription box in the Shopify admin portal. Usually, it's a dashboard containing all necessary information about your subscription box, including subscription management, analytics, and support.
How much does it cost to create a subscription box on Shopify?
The cost of launching a subscription box depends on the pricing plan offered by the chosen Shopify app. For instance, the price of Bold Subscriptions is $49.99/month. However, if you want to build a custom solution, the cost will depend on your project's complexity and requirements.
Can you set up a subscription box on Shopify for me?
Yes! We at GenovaWebArt are experts in building custom subscription boxes for various business needs. So regardless of your online store's type, you can contact our team, and we will help you launch a subscription box on Shopify tailored to your requirements.
How to connect a Shopify subscription box to a payment gateway?
Every top-rated Shopify subscription app should be able to connect to all major payment gateways, including PayPal, AmazonPay, Stripe, and WorldPay. However, in some cases, you may need to turn to Shopify developers to get some additional payment integrations.