Are you active in retail and considering buying the Shopify POS system to manage your store's sales?
Or have you recently launched a Shopify online shop and are looking for checkout software where you can synchronize orders and sales from one place?
This comprehensive guide introduces you to the highly convenient point-of-sale checkout system: Shopify POS.
We at GenovaWebArt would like to share our experience with you to let you understand Shopify POS better.
In this Shopify POS review, you will get all the important information about POS integration with Shopify and all the top benefits of Shopify POS.
So, you will get a clear understanding of whether you really need it. Let's dive into it!
What Is the Shopify POS System? How Does It Work?
So, let's start with the main question: what is it actually? Shopify point of sale is a solution that allows you to link your online shop to your traditional store and manage it centrally together.
All processes, such as the sale and management of orders and products in your online shop and your traditional store, are managed via Shopify. In this way, you can sell not only online but also offline at the same time. To do this, you must add your stationery store as a sales channel on Shopify.
The tool is a kind of control center through which you manage orders, products, customers, get payments, and more. Shopify POS establishes the connection between the point of sale and the back office so you can use a system for online and offline sales. It is pretty easy to integrate the Shopify POS system.
Shopify offers two versions of its POS solution, which differ in functionality and price (below we will consider the Shopify POS pricing).
Shopify POS Lite is included in all plans and therefore does not incur any additional costs. But the range of functions is reduced here. With the Lite version, you have all the functions to handle retail sales. This includes, in particular, the purchase and order processing and payment transactions. The complete product management, customer profiles, marketing, and community functions are also fully included.
Shopify POS Pro is the full version and offers some nice features that, at first glance, may not seem the ones everybody needs, but they are particularly interesting for stationary retail. Because when we talk about how retail can survive in the future, we are talking above all about services.
Here are examples of how Shopify POS functions create added value for customers:
Online purchases can be easily picked up in the store with the Pro version. You can notify customers as soon as the goods are ready for collection and thus meet the needs for convenient online purchases and ever faster availability of goods.
Shopify POS Pro offers the possibility to exchange or return products purchased online or at another retail location in any store.
One can conveniently deliver products selected and purchased in the shop. For this, Shopify POS Pro can specify (custom) shipping fees to calculate the total price quickly. The customer pays in the store and can continue to stroll without carrying bags.
Shopify is more than an easy way to publish and manage your online shop. The tool also supports shop owners on crucial points, such as the integration of additional sales channels, and offers customer support tools (e.g., live chat), and Shopify POS system integration so you will get help with any technical problems.
Examples of Online Stores That Successfully Use Shopify POS
Diverse stores successfully use the Shopify POS system (as well as the Shopify POS app). Those include:
Soeder
Soeder, a Swiss natural care brand, uses Shopify POS in its stores.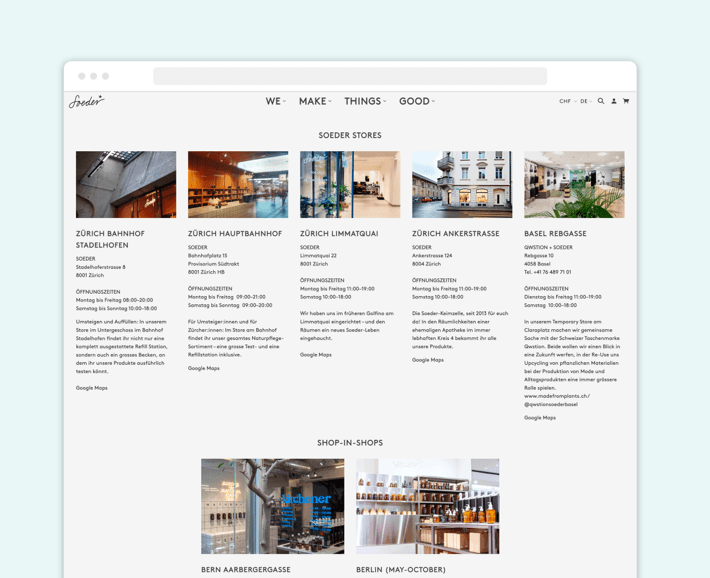 Paper Republic
Paper Republic, a notebooks brand, decided to leverage the power of Shopify POS when they decided to start selling not only online but also offline. The system helped them integrate the data about offline sales into the analytics of their eCommerce store.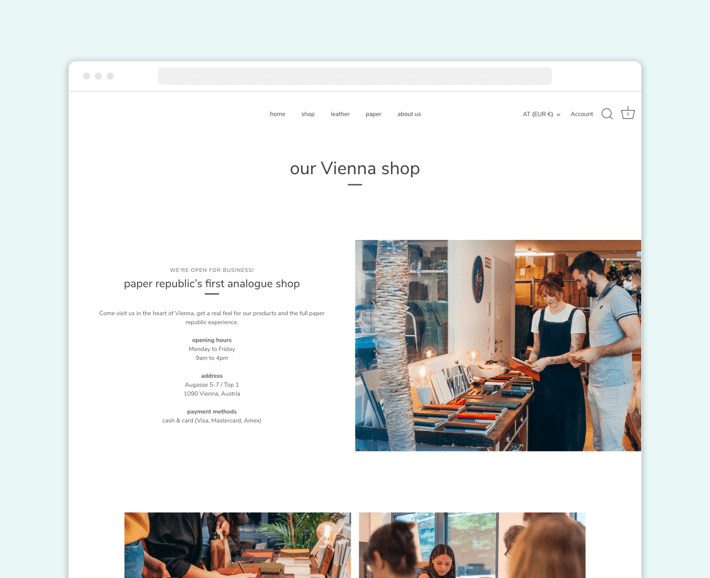 Flower Jam
Flower Jam, a small florist business. During the development process, GenovaWebArt suggested and helped them set up the Shopify POS system. This allows them to safely accept online and offline payments as well as effectively manage stocks. The store has started its eCommerce journey recently.
If you want to implement this solution, you are just in the right place: we can do it for you quickly and easily! Just contact GenovaWebArt professionals to get top-notch Shopify development services.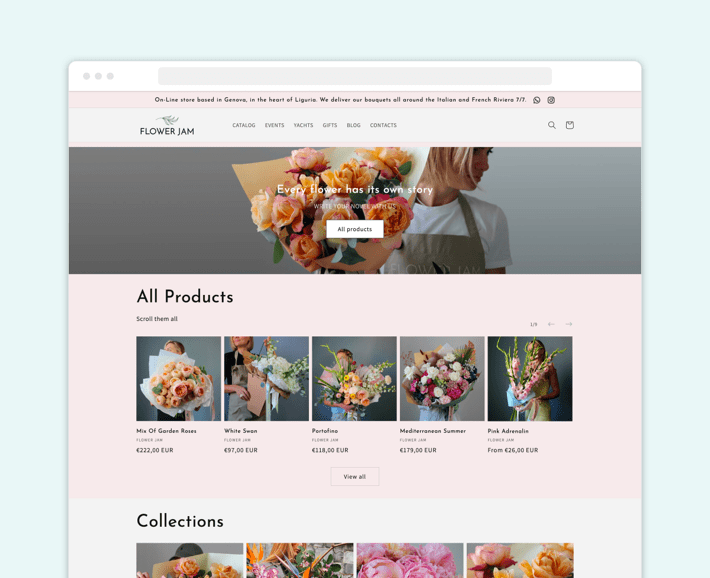 Payment Methods That Customers Use
Those who choose Shopify POS should be aware of payment options. Here are the payment methods available:
If you utilize an iPhone or iPad, any payment method can be used virtually.
Contactless payments and credit cards.
If your business is in Ireland or in the UK, you can use the EMV-compliant Tap, Chip, and Swipe card reader.
US and Canada customers can simply swipe their credit cards to pay.
As you can see, the options are pretty good.
Advantages and Disadvantages Of Shopify POS
Understandably, each solution has both positive and negative aspects. We have gathered the most important ones.
Shopify POS System Advantages
Let's start with the Shopify POS pros, so you know how to leverage this system's power to meet your business goals.
Location-Independent Shop Management From Anywhere, From All Devices
The tool is cloud-based, so you can use it anywhere – even on a smartphone or tablet using the POS app for the Shopify store, which is available for Android and IOS devices.
Automatic Updates
No lengthy and costly updates: Unlike other shop solutions, one of the central advantages of Shopify is that it is a SaaS (Software-as-a-Service) provider and that the software continuously updates itself without having to take action yourself.
So you don't have to drive time-consuming, risky, and expensive updates regularly. This happens in the background.
Manage All Sales from One Place
You can also easily manage your sales and orders of all sales channels centrally in the Shopify backend so that you always have an overview, no matter how many sales channels you have. You can also decide which products to sell on which distribution channel.
Combination With Stationary Trade
Ecommerce and brick-and-mortar retail are not mutually exclusive. At Shopify, there is no "either, or," but a "both, and." If you run a stationery store, you can link it to your online shop and add it as another sales channel. This is possible with Shopify POS.
You can manage both your online shop and your stationary store centrally in the Shopify admin area.
Suitable for All Companies
The tool is ideal for companies of all sizes, from small businesses to large corporations. Shopify Plus is available for larger companies with a high business and order volume.
Keeping Pace With the Time
Shopify is constantly evolving. New functionalities are continuously incorporated and launched. The company continues to work on improving the platform even further.
No Coding and Programming Required
Shops are created and built according to the modular principle. You don't have to program anything or code; all this is already done. With just a few clicks, you can adapt and change the appearance of your online shop according to your wishes and manage your orders. So all you have to do is click.
Focus on the Essentials
Shopify takes over the hosting of the servers itself and offers you complex and professional IT infrastructure. You can fully concentrate on promoting and selling your product. Shopify keeps your back free with regard to IT in the background. That's a big advantage.
What Are the Disadvantages of Shopify POS?
With so many advantages, some things certainly need improvement; however, there are relatively few, and the expression "disadvantage" would not be fair either.
Long Introduction of New Features for Some Locations
A need for optimization results from Shopify being a Canadian company and, therefore, more focused on Anglophone North America. For example, European retailers sometimes have to wait longer to introduce new features.
Need to Ensure the Adherence to Local Regulation Yourself
Before entering a new market, Shopify creates detailed instructions showcasing the legal particularities that sellers need to pay attention to in each location. Regardless of Shopify's extensive guides and attempts to keep all its products up to date, it's still better to manually review all the country-specific regulations to avoid violations that would lead to hefty fines and reputational losses.
Shopify POS Features and Main Functionality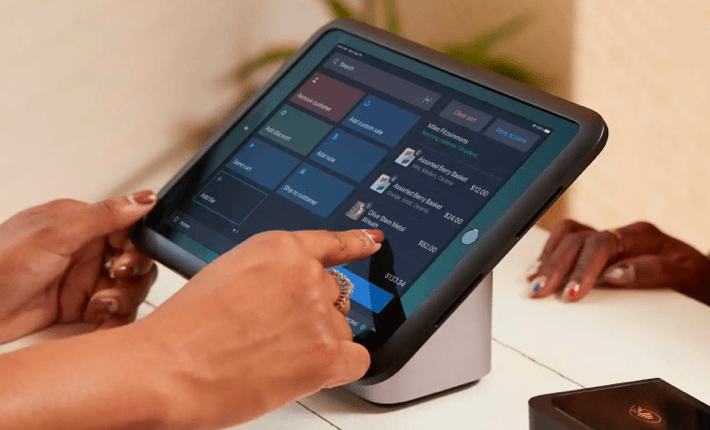 Now we would like to show you in detail Shopify POS features and how you can manage your Shopify shop. So take a look at those before you integrate the Shopify POS system. By the way, all the main functionality is also available in the cheapest plan.
Home. Directly on the homepage, you have an overview of what is going on in your shop. How many visitors do you have? What is the turnover? How much did you sell, and on which channels? And which of your products are most often sold? So you have the most important key figures at a glance.
Orders. The orders are listed as soon as they are placed. The most important information regarding an order is displayed.
Products. You can offer an unlimited number of products for sale, even in the cheapest plan; there is no restriction in this regard.
Categories. If you have a larger product range, you can also create categories.
Vouchers. In addition to (physical) products, you also have the opportunity to sell vouchers in your online shop, which you can create individually.
Customers. The tool has its own customer management system, so you don't need an external tool for it.
Statistics. You always have an overview of how your business is progressing and how it is developing because all relevant key figures are clearly displayed.
Apps. One of the biggest advantages of the solution is the in-house Shopify App Store, with an extensive selection of various apps that facilitate and automate your shop management and relieve you of a lot of work or drive your business forward.
Pages. You can add new pages at any time.
A Shopify POS system allows you to leverage the following advanced features to your advantage:
Accept two or more payment options. Shopify POS allows you to split offers and accept more than one payment type in a single transaction.
Gift cards. You can create your own gift cards, exchangeable in-store or online.
Personalized sales. You can add personalized line items at any time and the price of your choice.
Unlimited product range. Here, everything is clear: the number of products is not limited.
Discounts. Shopify POS allows you to offer discounts at checkout, in percentages or dollars.
Shipping addresses. It is possible to store a customer's address and contact details
Integration with accounting software. Shopify POS can be integrated with accounting software such as QuickBooks and Xero.
Barcode support. Each product can be associated with an existing barcode (or equipped with a new one).
QR codes for certain products. If there is a need, a product can be given a QR code.
It is not the full list of all the features offered: we have selected several main ones. To get a more detailed look at what is offered, visit the Shopify POS website.
How to Select the Best Retail POS System for Your Shopify Store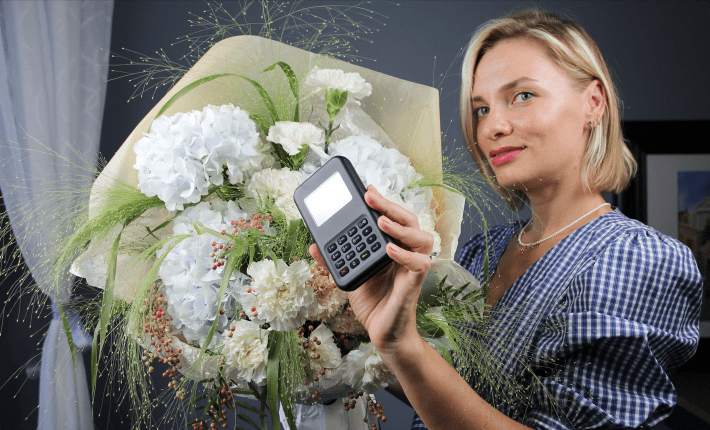 Choosing the best Shopify POS system may be difficult, especially for beginners. Here are our tips on how to make the right choice.
Understand your business activities – list them and understand why you need the POS solution for each. Making a list of problems will also do.
Consider the types of payments you accept most often. Make sure the POS system supports those.
Understand the data you need. You should know for sure what data you need at the end of the day, month, etc., to ensure your POS system provides it.
Take a look at the POS hardware to have a better understanding of what you need. Our professionals will help you make the right choice, but it's better to take a look at the hardware in advance to understand what is offered.
Compare several solutions on the market. Read reviews, ask friends: collect the information you have access to. It will help you make the right choice.
If you are having trouble choosing the best POS system for Shopify and have no idea how to begin, contact GenovaWebArt professionals. We would be glad to analyze your business and its unique needs to assist with the selection of a suitable POS system.
How Much Does the Shopify POS System Cost?
To use point-of-sale software provided by Shopify you can choose between two subscription plans.
Shopify POS Lite
Shopify POS Lite comes with all the Shopify subscription plans, thus, you don't need to pay additional for it. With this plan, you get the following features:
Mobile point-of-sale software
Order and product analytics
Customer profile creation feature
Shopify POS Pro
Shopify POS Pro costs $89 USD/month for one physical location and offers more sophisticated functionality:
Unlimited store staff and staff roles and permissions configuration
Omnichannel selling features
Shopify POS Pro is included for free in all the Shopify Plus subscription plans as Shopify Plus provides the widest selection of all the needed eCommerce optimization features.
How GenovaWebArt Can Help You With Shopify POS System Selection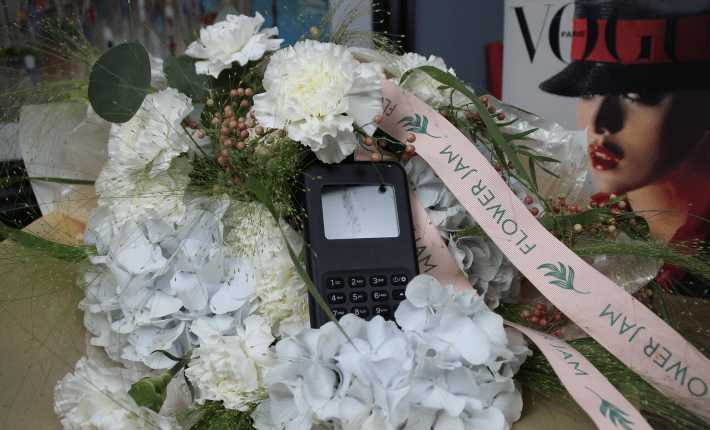 As you see, Shopify POS systems help you simplify inventory tasks, have more control over cash flow, and re-engage in-store visitors with online marketing. And GenovaWebArt is ready to help you with the selection of the right solution, Shopify POS implementation, and Shopify migration!
You can also review our portfolio to see how we've helped numerous eCommerce projects reach their business goals. Our extensive experience makes it possible to implement any solution for businesses of different sizes and in different niches. Thus, contact us if you need any consultation regarding the Shopify POS system or Shopify migration.
Leverage the Power of Shopify POS System
It probably couldn't be easier to set up an online shop: you don't have to code anything, program, or format; you just click. It is of utmost importance to install Shopify POS system. The cloud-based platform allows you to manage your shop from anywhere, regardless of location and device.
Hopefully, this overview of Shopify POS sheds light on the main features and business benefits of the Shopify POS system. If you don't have an in-house tech team to work on the integration of this solution, GenovaWebArt is always glad to assist you on your eCommerce journey!
Frequently Asked Questions
What does Shopify POS system do?
Shopify POS is point-of-sale software that allows Shopify store owners to sell their products in physical locations such as brick-and-mortar stores, pop-up shops, or markets. The app has all the features for safe payment processing and billing cycle management.
Is Shopify POS good for beginners?
Yes, it is good for eCommerce stores that have just started selling their products in physical locations. Shopify POS has an easy-to-use interface and can easily integrate your sales from physical locations into the analytics of your online store. So eventually, you'll have a unified view of your business.
What are the Shopify POS plans currently available?
At the moment, there are only two options available: Shopify POS Light and Shopify POS Pro.
●
Shopify POS Light is included in all Shopify subscriptions, so you need to pay additionally for the basic POS features.
● Shopify POS Pro costs $89/month per location and has more extensive functionality. It's worth noting that Shopify POS Pro is included in the Shopify Plus subscription plan.