If you've started on the Shopify Plus platform, one of its main attractions is Shopify Flow. It is among the most powerful tools for workflow automation on the Shopify eCommerce platform. Previously, Shopify Flow was an exclusive Shopify Plus feature. However, recently it has become available in Shopify and Advanced plans. Thus, more Shopify users can now try this great instrument.

Despite that great news, to reap huge benefits from automating your order fulfillment, you still need to know how to integrate Shopify Flow, become comfortable with the basics, and leverage its full potential for your business. With Shopify Flow, you can automate most of the processes related to managing your store and customer experience personalization in an intuitive and easy-to-use manner designed for store owners.

In this article, GenovaWebArt Shopify developers will help you understand what Shopify Flow is and how to configure this feature for your Shopify store. Since 2014, we have been helping merchants with building online eCommerce stores on Shopify Plus, which frequently includes setting up and working with Shopify Flow. Today, we help store owners with different Shopify plans to get acquainted with the service. And if you'd like to compare Shopify vs. Shopify Plus, learn more about it in our new article.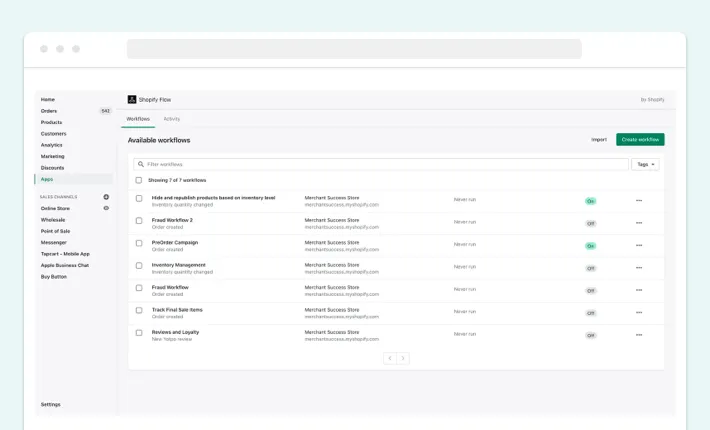 Frequently Asked Questions
How do I use Shopify flows?
To start working with Shopify Flow, you need to add the
Shopify Flow app
to your store and use the interface to start automating trigger events, conditions, and actions. Please refer to the
Shopify manual
for guidance.
How much does Shopify flow cost?
Shopify Flow functionality is available for the owners of Shopify, Advanced, and Shopify Plus plans, so its costs are included in your membership payment.
How do you test a flow on Shopify?
To test triggers, you should activate the workflow, create the trigger, and view the Activity page to see it running.
For which online stores is Shopify Flow available?
Shopify Flow is available for all the Shopify stores that subscribe to Shopify Plus, Advanced, or Shopify plans and use the Shopify Fulfillment Network.